Alexander Clark House
Introduction
Alexander Clark is considered as Muscatine, Iowa's most famous African American citizen. Clark organized and led an African American regiment of soldiers to fight in the Civil War, was the second African American in Iowa to earn a law degree, and fought to repeal exclusionary laws in Iowa and nationally. The historic Alexander Clark House was almost demolished for being an "eyesore" in the 1970s, until historian Kent Sissel bought and moved it in hopes of getting it named a national historic landmark. Today, the Alexander Clark House rests a mere 200 feet from its original location on West 3rd and Chestnut Street.
Images
Side view of the Alexander Clark House Photo provided by Muscatine-tours.com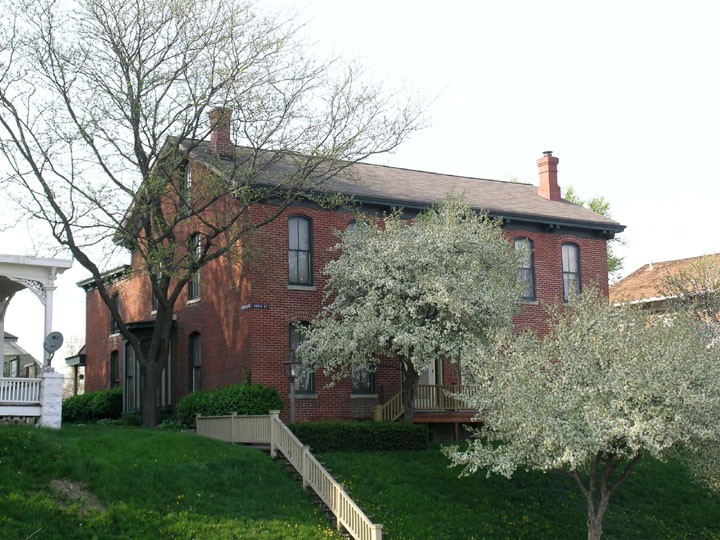 Street view of the Alexander Clark House, Spring 2005 Photo provided by Muscatine-tours.com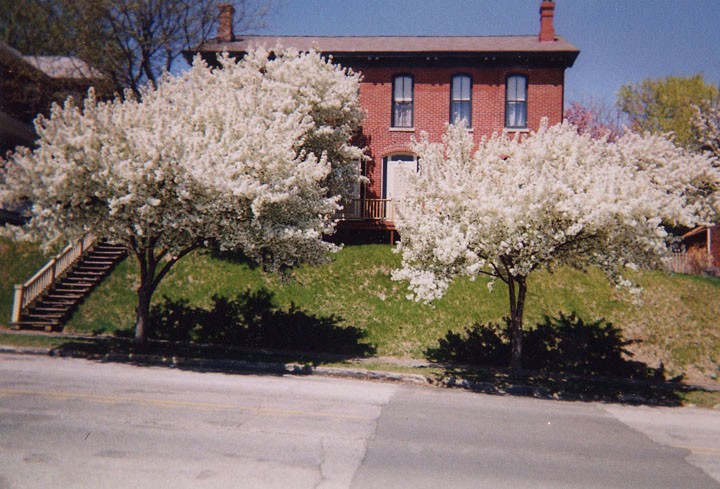 Early 1900s view of the Alexander Clark House at its original location on the northwest corner of W. Third & Chestnut streets (about 200 feet from the present site). Photo provided by Muscatine-tours.com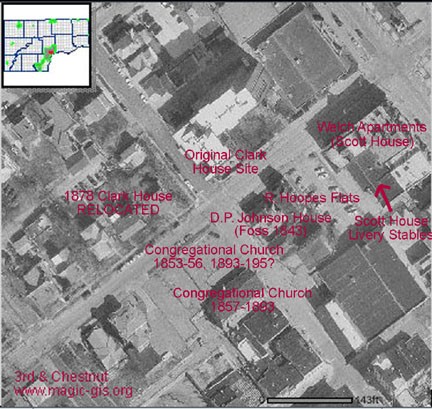 Article from the Muscatine Journal discussing the possible demolition of the Alexander Clark House. Photo provided by Muscatine-tours.com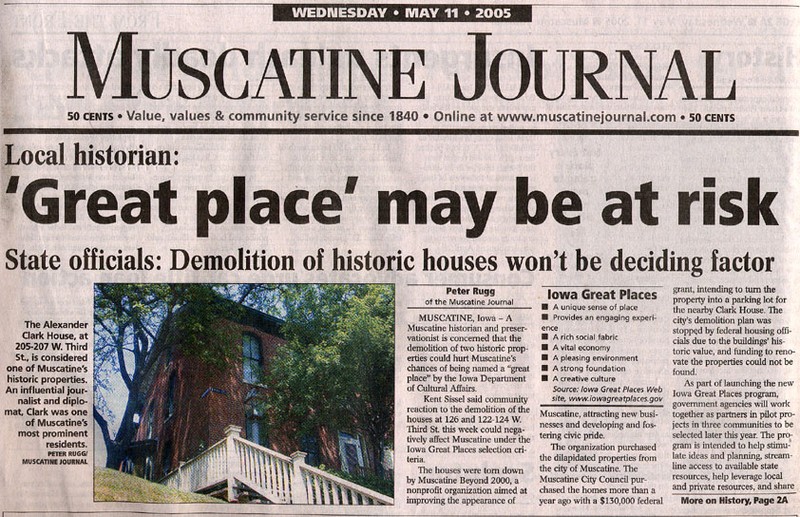 A photo of Alexander Clark From the Muscatine Trolley and Tours website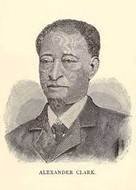 The Alexander Clark House Photo by Larry Fisher/Quad-City Times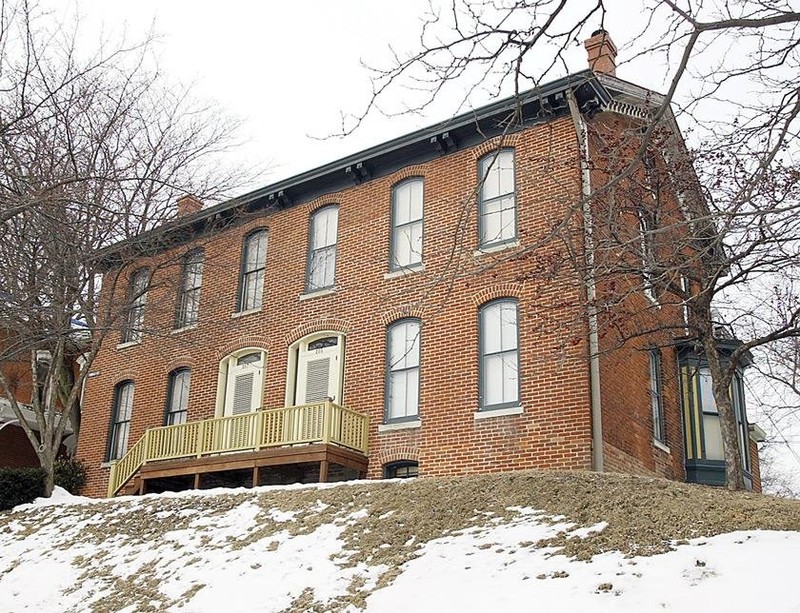 Backstory and Context
Slavery was banned in Iowa in 1838, but that didn't mean that racism didn't persist. Many white Americans living in Iowa at that time still believed African Americans to be members of an inferior race. When Alexander Clark arrived in Muscatine in 1841, African Americans living in Iowa were segregated and were not treated as equals by any means. Clark came to Iowa at a time when African Americans couldn't attend public schools, hold office, or vote. The fear and hatred that white people used against African Americans as a way to block them from reaching full equality rocked Clark. Not long after arriving in Muscatine, Clark decided he would be a voice for civil rights and fight to overturn Iowa's discriminatory laws and desegregate schools.
Despite the racism that he encountered when he settled there, Clark saw Iowa as a land of opportunity. Clark's uncle had taught him to cut hair and got him an education in hopes that he would one day open his own barbershop. When Clark hopped off a steamship and arrived in Muscatine in 1941, he did just that. During this time, African Americans often were only hired to do low-paying menial labor, Clark challenged the status quo by not only opening his own shop but also by investing in real estate. Clark launched his campaign on civil rights in the later 1940s and brought his fight for equality in Iowa to the Rochester National Colored Convention in 1953.
In 1857, Clark started a campaign to overturn Iowa's Black Codes and was one of the 33 delegates at a Black convention held in Muscatine. Delegates there demanded full citizenship and desegregation in schools. Muscatine had a small colored school, but the level of education was poor and Clark wanted his 12 year old daughter to attend a white school where she could get a better education. After his daughter was denied admission to the white school, Clark filed a lawsuit in the district court, asserting that separate does not mean equal. Clark won the lawsuit which resulting in Iowa being one of the first states to integrate public schools. Known as "the colored orator of the West," Clark fought to repeal Iowa's Black codes, exclusionary laws, and segregation. Clark's fight for equality crossed Iowa's state boundaries as he pursued answers to civil rights issues nationally.
Clark's house was targeted for demolition in the 1970s before historian and preservationist Kent Sissel bought it in 1978 and had it moved 200 feet to its present location. It took Kent Sissel 32 years to get the Alexander Clark House named a national historical landmark and today it sits as a symbol of hope and inspiration.


Sources

Clark, Daniel. "If These Walls Could Talk: Then they Might be Able to Tell Us A Lot About Muscatine's Past; But City Efforts to Level Homes it Considers Eyesores Will be a Blow to History." Muscatine Journal (2005).

Frese, Stephen J. "From Emancipation to Equality: Alexander Clark's Stand for Civil Rights in Iowa." The History Teacher 40, no. 1 (2006): 81-110.

Ferguson, Mike. "Man Pursues Historic Designation For Clark House." Muscatine Journal (2010).
Additional Information