Queen Isabella Sculpture
Introduction
Jose Luis Sanchez of Spain originally created this sculpture of Queen Isabella of Castille for the 1964 New York International Fair. However, her statue would later be dedicated on April 14, 1966, for the front of the Organization of American States building. Her authority for declaring Columbus's expedition shaped much of our preliminary understanding of the Americas today. Her advocacy for education supported Christopher Columbus' expedition to the New World, while her emphasis on religion would lead to a regimented government directly affecting the fortitude of the Spanish Empire known today.
Images
The Queen Isabella statue is located outside of the Organization of American States building.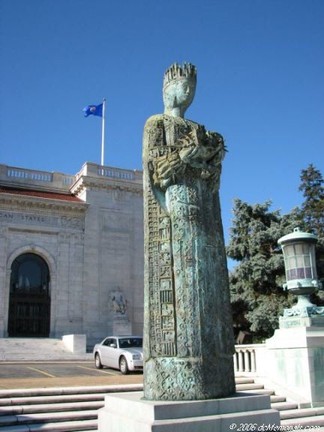 Isabella of Castille poses for her portrait, demonstrating her royal jewels, scepter, and wardrobe she was renowned for by her constituents.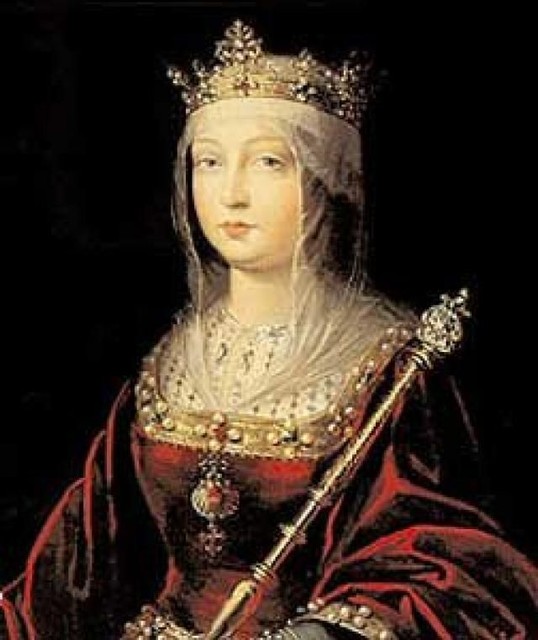 Backstory and Context
The Ysabel I, La Catolica Statue, constructed of marble, was created by Jose Luis Sanchez of Spain. Originally, this sculpture was created for the New York International Fair of 1964. According to Jose Luis Fernandez Del Amo, an art critic, "A personal image of the Queen representing Spain in the work of America had been wanted. What was needed was a full representation that would carry the historical importance of her personality…In the work of Jose Luis Sanchez, the Queen goes to the New York Fair as a legitimate ambassador of our Quixotic adventure." Although Spain's intention was to debut it here, the sculpture would later be moved to Washington, D.C. and dedicated on April 14, 1966. The sculpture remains at the entrance to the Organization of American States which functions to express unity and solidarity among the Americas. Because of this, Queen Isabella's sculpture represents an introduction to the America's history, for her influence instigate Christopher Columbus' expedition to the New World.
Ysabel I, also known as Isabell of Castille, was born on April 22, 1451, in Madrigal de las Altas Torres, Castile. She was the daughter of John II of Castille and his second wife, Isabella of Portugal. Her half-brother, Henry IV, became king when she was just three years old. Despite the time period and connotation of women in politics, Henry IV encouraged her participation and political learning from the time that she was thirteen years old, even though she had a younger brother who would be seen as more suitable for the education. This encouragement and empowerment would shape the rest of her life in political and royal leadership.
While establishing her authority in the political position, Queen Isabella would withstand a four-year civil war. Additionally, upon marrying Ferdinand II of Aragon, "brought stability to the kingdoms that became the basis for the political unification of Spain under their grandson, Holy Roman Emperor Charles V" according to the Waymarking organization. Queen Isabella of Castille used her political position to also emphasize the importance of investment for education, the arts, religion, and human rights.
In accordance with her emphasis on human rights, Isabella spent much of her time defending the rights of Native Americans that Columbus would bring back to Spain as slaves. Of course, without her support, Columbus and his men would have never embarked to the Americas in the first place. The discovery of the Native Americans was an aspect of expansion that Queen Isabella was not expecting, but she would spend the rest of her life fighting for the recognition of their humanity.
Isabella of Castille lived her life impassioned by politics, hoping to better the welfare of her people. Alongside her husband, she would establish Spain as a forthcoming world power. She would work tirelessly for the sake of modern-day Spain until sickness would leave her incapable. To make sure that her intentions were never tampered or misinterpreted, Isabella would leave a will explicitly detailing her work, her passions, and her devotion to her people. Her will and her work carry the legacy that established the beginning of European development in the New World.
Sources
Cavendish, Richard. "Death of Isabella I of Castile." History Today. November 2004. Accessed December 3, 2017. http://www.historytoday.com/richard-cavendish/death-isabella-i-castile.
Highfield, J.R.L. "Isabella I." Encyclopædia Britannica. November 15, 2017. Accessed December 3, 2017. http://www.britannica.com/biography/Isabella-I-queen-of-Spain.
Lewis, Jone Johnson. "Queen Isabella: More Than Just a Patron of Columbus." ThoughtCo. March 11, 2017. Accessed December 3, 2017. http://www.thoughtco.com/queen-isabella-i-of-spain-biography-3525250.
S., Bruce. "Queen Isabella (1451-1504) - Washington, D.C." Waymarking. November 24, 2013. Accessed December 3, 2017. http://www.waymarking.com/waymarks/WMJJGH_Queen_Isabella_1451_1504_Washington_DC.
Additional Information