El Rio Theatre
Introduction
After two years of construction, El Rio Theatre opened in 1915 as the Apache Theatre. Constructed entirely of adobe and wood, this singular 288-seated theatre captures the essence of Springerville and the surrounding area. In addition to the film entertainment the theatre has provided, it has also doubly functioned as a towns center, children's recreational area, and preserver of Arizona's regional history. The theatre has superseded several eras of film. This was recently recognized in their Centennial campaign and celebration.
Images
The entrance to El Rio Theatre of Springerville, Arizona, advertising the current nightly show playing.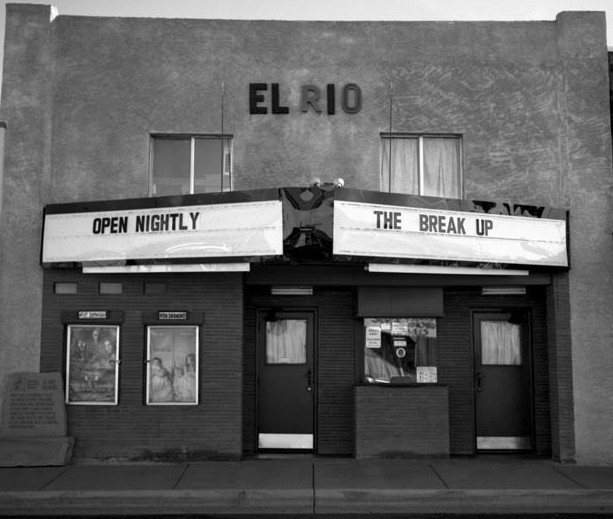 A horse-drawn carriage stands in front of El Rio Theatre as they travel through the Western United States.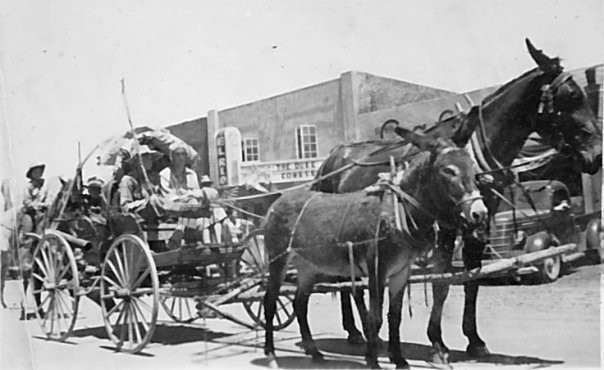 Announced on advertisements such as these, El Rio informed the townspeople of the movies playing each month.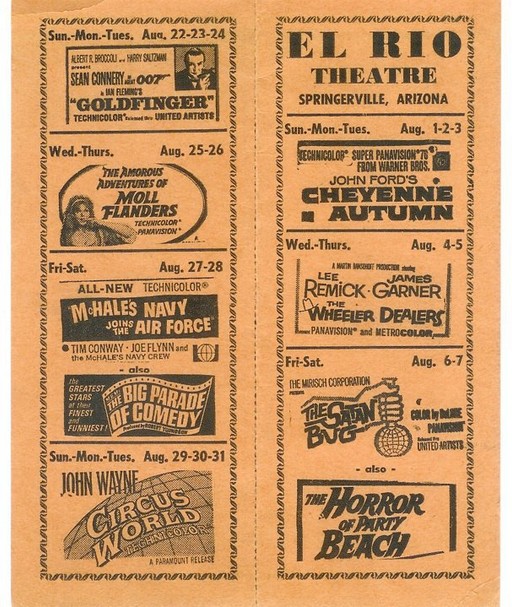 Backstory and Context
During the genesis in popularity of films, Springerville, Arizona began construction of their own theatre in 1913. When finished, the Apache Theatre would open in 1915, being the only one within a 50-mile radius of the area. This theatre was set up entirely in adobe and wood. It holds a singular showing room of 288 seats, whose covers have been preserved from the 1930's. In addition to this, El Rio Theatre continues to use its original popcorn machine, installed in the 1950's. The hope for the theatre was that it would provide a haven and source of entertainment for the surrounding community.
Not only did the theatre edify their community through entertainment purposes, the Apache Theatre also served as a makeshift town center and recreational area for children. Being one of the few community buildings in the area, meetings on the governance and current events of the region were held in its auditorium. Similarly, children spent most of their Saturdays in Apache. Parents would drop off their children with several dimes, and the theatre would play reruns of Tarzan, The Lone Ranger, Roy Rogers, and double-features with Superman cartoons and Movietone News shorts.
Because of the strong connection to its community, the Apache Theatre, now known as El Rio Theatre, has seen several phases of film and has surpassed all of them. This has majorly to do with the regional support it has received, allowing it to reach its recent centennial celebration. In this centennial celebration, a fundraising campaign for fifty thousand dollars took place. As theatres were phasing out of the 35-millimeter film, El Rio faced the challenge of shutting down entirely or buying the necessary equipment for digital movies in their single-roomed theatre. However, the owners – Allen and Ginger Harding – and residents worked to preserve the theater owing to its history. The campaign to save the structure asked residents to "continue the traditions that over time have created more nostalgic memories than just about any other recreational activity for the people of Springerville, Eagar, Gree, Nutrioso, and Alpine."
Sources
El Rio Entertainment. "El Rio Theatre." El Rio Theatre. 2016. Accessed November 13, 2017. http://www.elriotheatre.com/el-rio-theatre.html.
"El Rio Theatre." Cinema Treasures. 2001. Accessed November 13, 2017. http://cinematreasures.org/theaters/1529.
"El Rio Theatre." Historical Marker Project. 2014. Accessed November 12, 2017. http://www.historicalmarkerproject.com/markers/HMOAS_el-rio-theatre_Springerville-AZ.html.
Harding, Allen, and Ginger Harding. "Save the Historic El Rio Theatre." Kickstarter. July 14, 2014. Accessed November 14, 2017. www.kickstarter.com/projects/1592804750/save-the-historic-el-rio-theatre.
Additional Information