University Union
Introduction
The University Union is a building where students can interact with other students, faculty, and staff to advance their learning and college experiences. A plethora of different activities constantly occurs within the Union tailoring to all disciplines and ideas. The Union also houses reference and help desks, various food courts, a bank, and the university store. Finally, offices for student clubs, diversity clubs, greek life, and intramural activities are located within the building.
Images
The article detailing the protest that helped allocated a space, supply items for, and produce funds for the Black Student Union in the 1970s.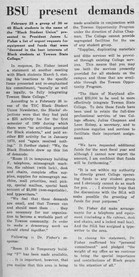 Backstory and Context
The University Union plays a vital role in the advancement of the Black Student Union at Towson University. On February 25th, 1970, a group of African American students representing the Black Student Union of Towson State College stormed the office of Dr. James Fisher, then president of the college. The students brought with them a list of demands that they insisted be meet immediately. The demands included: allocation of a room for the BSU, writing utensils and type writers, a file cabinet, and a private fund for the BSU. The letter also brought to light the fact that members of the Black Student Union had paid activity dues of $25 (over $100 in today's currency) and had received no activities tailored to the African American Community. The President acknowledged these demands and agreed to work with the BSU.

Although the Union was not constructed at the time the demands were presented, the Union is very important to the Black Student Union. When it was built, the BSU received a space today on the second floor of the Union which is referred to as the Center for Student Diversity. The addition of such a space for the Black Student Union in the University Union has greatly increased the productivity of the students within the organization and made their goal planning and execution smooth. The space serves as a safe area for African American students to go and discuss event planning, socialize, and if needed combat racism. All of these are completed without any outside interference from any other organization to suppress their efforts. The Center for Student Diversity also acts as the lesion between the African American population on Towson University's campus by hosting events devoted to honoring African Americans and spreading awareness for their cause.
Sources
"BSU presents demands." The Towerlight, Towson State College, 20 Mar. 1970, pp. 4. Towson University Albert S. Cook Library Special Collections and Archives. Digital File.
"Towson University's Black Student Union." Towson Universitys Black Student Union. N.p., n.d. Web. 03 Dec. 2017.
"Inflation Rate between 1970-2016 | Inflation Calculator." $20 in 1970 → 2016 | Inflation Calculator. N.p., n.d. Web. 03 Dec. 2017.


Additional Information