The Estate
Introduction
Commissioned by Joseph H. Scranton in 1871, the Estate, a Victorian style residence on Ridge Row, would serve as the Scranton family homestead until 1941, when Worthington Scranton left it for the use of the University of Scranton. The Jesuits would claim this building as their place of residence in June 1942 after the Christian Brothers moved out and they moved in, preparing for their administrative takeover of the University of Scranton.
Images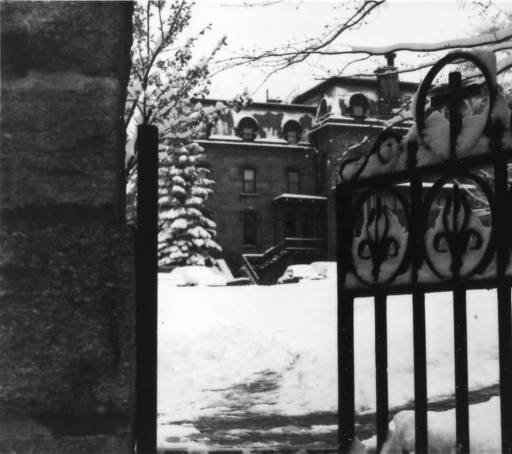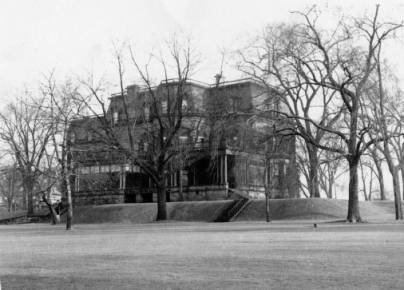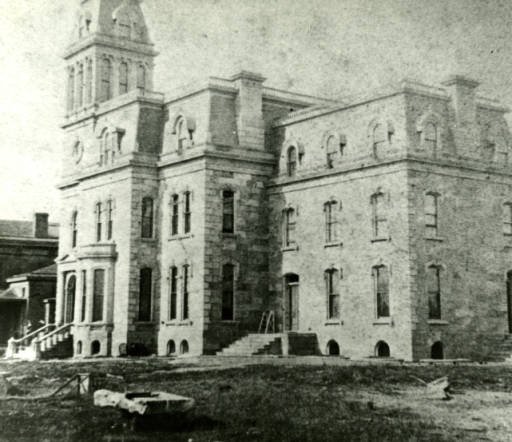 The First Jesuit Community in the Library, 1942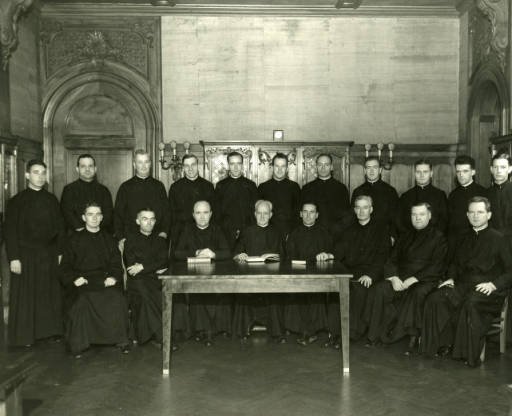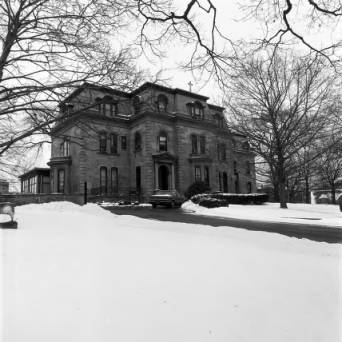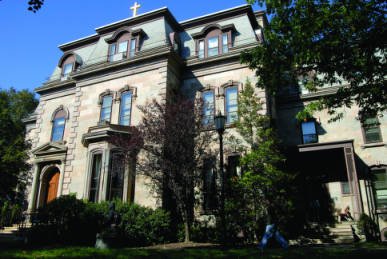 Backstory and Context
The Estate was commissioned in 1867 by Joseph H. Scranton and completed by architect Russel Sturgis under the supervision of W.W. Mannes. It cost over $150,000 to build. The building materials took up three railroad cars, 45,000 bricks were used, and Italian marble was even imported for the interior. The house remained in the Scranton family until 1941, when Worthington Scranton left it to the Diocese for the use of the University of Scranton.

A prime example of the Second Empire style, the Estate has architectural features including a hand-carved, solid mahogany fireplace, hand-painted ceilings, solid mahogany staircases and pillars, a Tiffany glass skylight surrounded by frescoes, and an original Luini painting from the 16th century. The architect, Russel Sturgis, was also known for designing Yale's chapel. The stone masonry was done by William Sykes, and the wood carvings were designed by William F. Paris.

When Joseph H. Scranton died in 1872, just a year after the building was finished, the property passed to his son, William Scranton. He and his wife, Katherine, retained it until Katherine's death in 1935, when it then passed to Worthington Scranton. Worthington and his wife, Marjorie, however, primarily resided in Dalton, PA. In 1941, they donated the residency to the Diocese of Scranton for the use of the University. The Christian Brothers, the then administrators of the University, lived in the Estate briefly until administration of the University passed to the Jesuits in 1942. In June 1942, the Estate became the primary residency of the Jesuits.

The Office of Admissions currently resides in the Estate, which serves as a fitting welcome to prospective Scranton students.


Sources
"Inside The Jesuit Estate." The Aquinas (Vol. 44, No. 3). The University of Scranton. 24 Feb. 1972. Accessed: 15 Sept. 2017. http://digitalservices.scranton.edu/cdm/ref/collection/aquinas/id/4669.
"Estate." University of Scranton Archives and Helen Gallagher McHugh Special Collections. Accessed: 17 Nov. 2017. http://cdm16214.contentdm.oclc.org.cdm/buildingtemplate/collection/p9000coll7/?page=20.
Additional Information