Leper's Grave
Introduction
The Leper's Grave marks the burial site of George Rashid, a Syrian immigrant. After falling ill, George was diagnosed with leprocy and was quarantined at the end of the B&O line in Pickens, WV where he was treated by Doctor James Cunningham until George's death on October 11, 1906. His tent and belongings were burned, his body was covered in lime, and he was buried near the railroad tracks north of Pickens.
Images
George Rashid in front of his tent just outside of Pickens, West Virginia. 1906.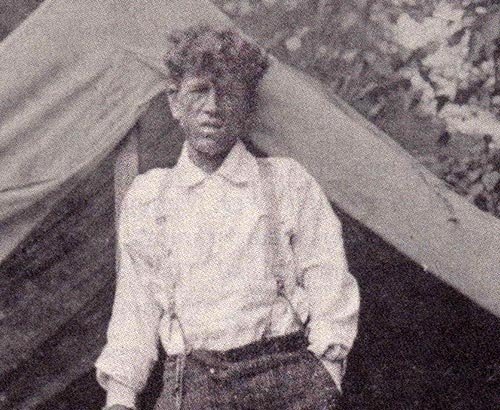 Dr. James Cunningham, the physician for the town of Pickens, who traveled to treat Mr. Rashid and advocated for his safety until George's death in 1906.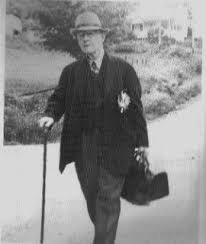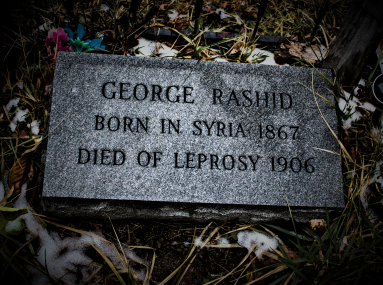 The fence and headstone were added in 1986 by the Pickens Improvement and Historical Society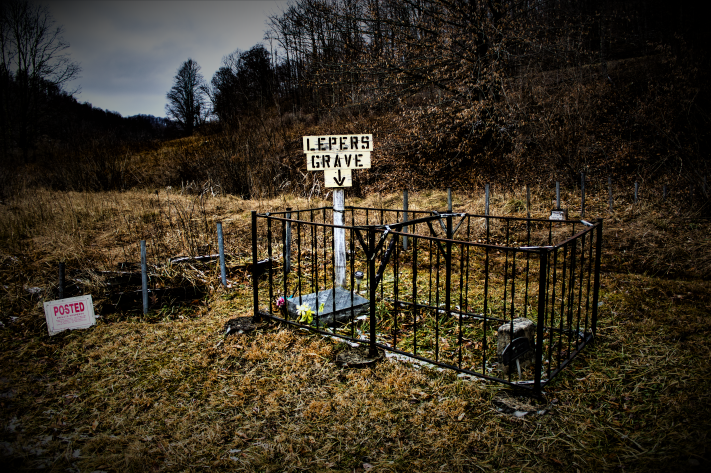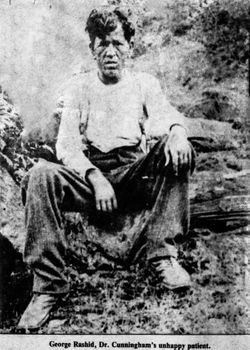 Backstory and Context
The Leper's Grave in Pickens, West Virginia marks the burial site of George Rashid. It is one of the only known burial sites of a leper in West Virginia. George was born in Syria in 1867, and emigrated to the United States in 1902.[1] Some secondary sources suggest that George was banished from Syria, however, others suggest that George fell ill after living in the United States.[2] He arrived in Maine, where he lived until his wife joined him in 1903. George would work for the railroad during his life in the United States. After beginning to notice his symptoms of leprosy, particularly the lesions developing on his arms and legs, George wore long sleeve shirts and gloves at all times, even in the warm summer months. This began to arouse suspicion among his coworkers, forcing George and his wife to leave their home in Maine. George found his way to Elkins, West Virginia, where his brother, Charley, owned a successful store specializing in oriental rugs, tapestries, and linens. George worked for his brother until his symptoms became too difficult to hide. George was then diagnosed by Dr. W.W. "Ben" Golden in his brother's cabin. [3] After word of his affliction spread, George escaped Elkins on a coal train in fear of persecution, but was eventually captured by B&O authorities who were searching for him since his reported disappearance. George was placed in a box car and sent back to Randolph County, where George and his quarantined box car were sent to the end of the line in Pickens, West Virginia. Upon his arrival, George was given a tent and supplies, and his new home was erected on a hill across the Buckhannon River to completely isolate George.[4]
           Dr. James Cunningham, the town physician of Pickens, assumed care for George and his afflictions until George's death. Dr. Cunningham was also a strong advocate for George's safety as well. When citizens of Pickens voiced their concerns that George was bathing in the river that supplied their drinking water, they demanded George's life.[5] Many of the townspeople had little to no medical knowledge and associated George and his disease with the biblical interpretation of lepers. Dr. Cunningham, however, made national headlines when he petitioned to the governor that George's life be protected.[6] Dr. Cunningham treated George's lesions with salves and oils and worked to make George as comfortable as possible. The B&O also provided George with comforts as well. George's wife was given transportation on the railroad to see George on the weekends, they gave George Turkish cigars to smoke, and they also threw candy to him from the passing trains.[7] George kept curious children away from his tent by shouting "unclean" to them and showing them his lesioned hands.[8] George also did not enjoy having his picture taken, however, he allowed some photographers to visit him at his tent in exchange for food or gifts. George spent a great deal of time indoors, especially when the brutal winter arrived in the mountains. Dr. Cunningham again advocated for George's safety and comfort, resulting in the building of a shanty closer to town along the railroad tracks that would provide more protection from the environment than his simple canvas tent.[9] Many citizens of Pickens objected to George's new home, and hostility was directed toward Dr. Cunningham. One account describes a confrontation between local men and Dr. Cunningham in which the men demanded the movement of the leper away from Pickens that ended with Dr. Cunningham dissuading them from further action with the display of his pistol.[10]
           Once George lived in his new quarters, he also was given a new caretaker whose primary responsibility was providing George with meals. Mrs. Mary Warner was given 33 cents per day for her duties and was also provided with single use wooden trays from the county to serve George meals on that could then be burned.[11] She later recounted that George's favorite food was chicken, his favorite fruit was apples, and his favorite desert was apple pie.[12] George continued to stay inside and keep curious children away from his new home. Once he was settled in his shack, he was given a physical examination by Dr. Cunningham who then found that George had a very pronounced heart murmur. Dr. Cunningham had believed that George's condition was actually improving, however, he knew that the new-found heart condition was untreatable. George, who understood the seriousness of the matter, voiced that he would like to return to Syria and bathe in the waters of the Jordan River to be healed.[13] Shortly after, on October 20, 1906, George was found dead in his sleep by his caretaker. Dr. Cunningham ruled that George had passed from a heart attack. He called for undertakers from nearby Huttonsville to bury George, however, the people of the town refused to have the diseased body interred near Pickens. After a long standoff, the body laid where it was found until that night when the undertakers returned and buried George near his shack. The casket was covered in lime, then dirt, and was marked by two stones on each end, while his shack and all of his belongings were burned and the ashes limed as well. George's grave remained marked by the stones until a proper headstone and fence was placed around the grave on 1986 by the Pickens Improvement and Historical Society, both of which remain today.
Sources
Armstrong, Charles Davis. "The Syrian Leper." The Buckhannon Record. December 1, 1984.
Nelson, Arnold E. Haven in the Hardwood. Parsons, WV: McClain Printing Company, 1971.
Sheets, L. Wayne. "The Pickens Leper." Goldenseal, Fall 1997.
"Threaten to Lynch Leper." New York Times. October 7, 1906. http://query.nytimes.com/mem/archive-free/pdf?res=9F05E5DE1631E733A25754C0A9669D946797D6CF.
Image Sources
"George Rashid: The Pickens Leper." West Virginia's Forgotten Folklore. Accessed October 7, 2020. https://wvforgottenfolklore.com/2020/01/30/george-rashid-the-pickens-leper/.

"George Rashid: The Pickens Leper." West Virginia's Forgotten Folklore. Accessed October 7, 2020. https://wvforgottenfolklore.com/2020/01/30/george-rashid-the-pickens-leper/.

"George Rashid." Find A Grave. Accessed October 7, 2020. https://www.findagrave.com/memorial/201687619/george-rashid.

Additional Information