Piqua's Early African-American Heritage
Introduction
Originally settled in 1818 by Arthur Davis and a small number of former slaves, the African American community around Piqua started growing when former slaves from Virginia began moving to the area in subsequent decades. Members of the growing Black community of Piqua established the African Methodist Episcopal Church in 1853. Four years later, Second Baptist church was built by African Americans on Park Avenue. Although African American families were able to place their children in local schools in the 1850s, these children were segregated from the white children until 1885.
Images
Piqua's Historical marker side A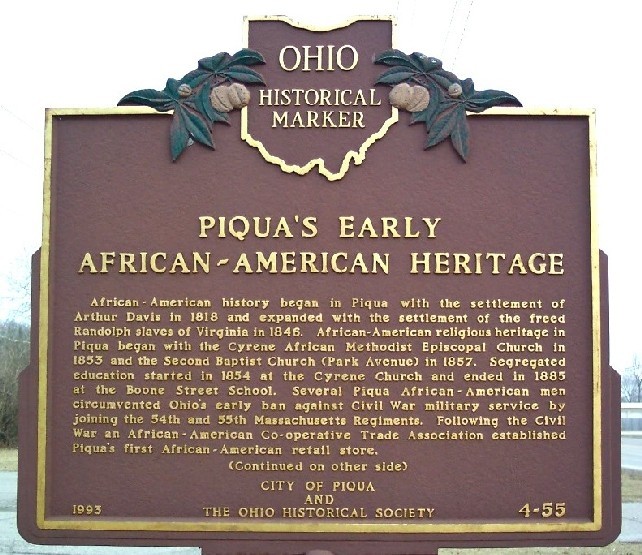 Side B describing the story of Goodrich Giles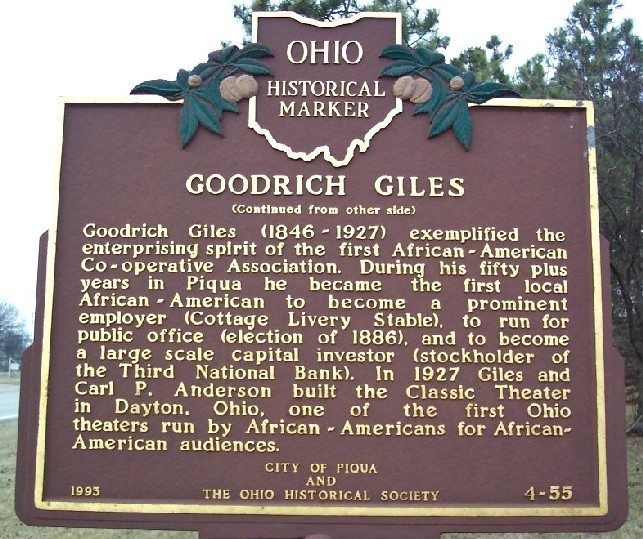 The sign for nearby park dedicated to local Black business leader Goodrich Giles.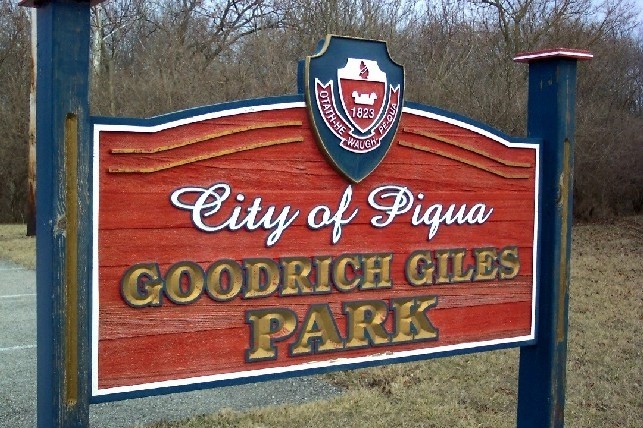 Backstory and Context
During the American Civil War, those African-American men who wished to serve in the military were not allowed to join an Ohio regiment, so they registered in Massachusetts in order to be able to fight on the Union side. After the war, an African-American Co-op was formed to create business opportunities for Blacks. The first Black-owned retail store was established soon after.

One of Piqua's first prominent Black businessmen was Goodrich Giles. He owned the Cottage Livery Stable and employed a number of local residents. He was also a stockholder in the Third National Bank and was a major investor in the area. In 1927, he and Carl Anderson built the Classic Theater in nearby Dayton. The Classic was one of the very first theaters to be own, operated, and attended by African Americans in the country.

John Randolph of Roanoke Virginia, bequeathed that upon his death all his slaves would be freed and land purchased for them. The African Americans who settled in the town of Piqua and other nearby areas were from this group of some 383 individuals made the journey and set up their new homes in this part of Ohio. They founded a community here that grew and thrived as the years went by.


Sources
Wenrick, Wade. Minority Studies: Goodrich Giles. March 22, 2016. Accessed November 13, 2017. https://prezi.com/fjgduxia0y08/minority-studies-goodrich-giles/. Brief articles describing the career of businessman Goodrich Giles of Piqua, Ohio


Additional Information