St. Mary's Episcopal Church
Introduction
St. Mary's Episcopal Church is one of the oldest churches in Kansas City and one of few churches remaining in the Central Business District. The original parish church, founded in 1857, was known as St. Luke's, before the name was changed to St. Mary's in 1879. Constructed in 1887-1888, the current church is the only known work in Kansas City by the prominent New Jersey architect William Halsey Wood. The building is a representative early example of the architectural style known as Late Gothic Revival. The church's website describes it as "a progressive community that is not limited to one race, socio-economic level, age, or orientation. Eclectic and always inclusive, members of our parish share a love of our Anglo-Catholic heritage and a dedication to social justice." It was added to the National Register of Historic Places in 1978.
Images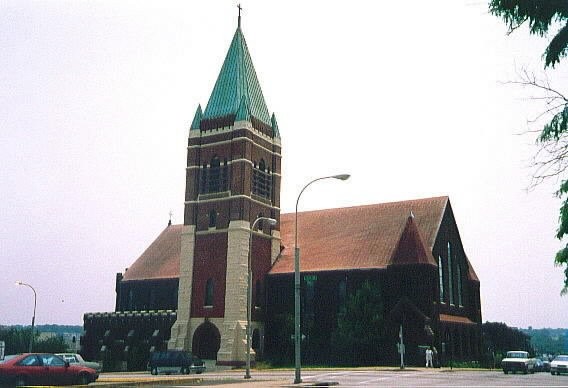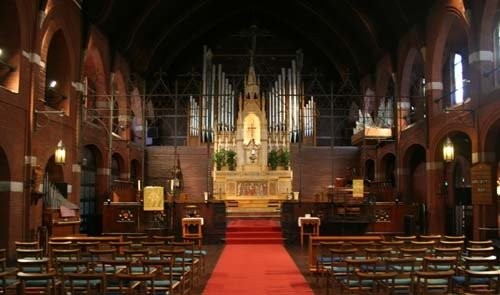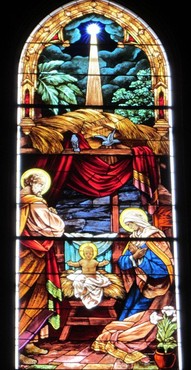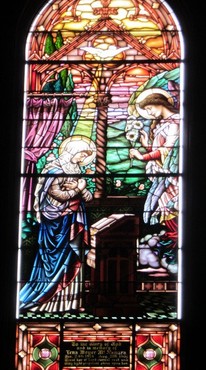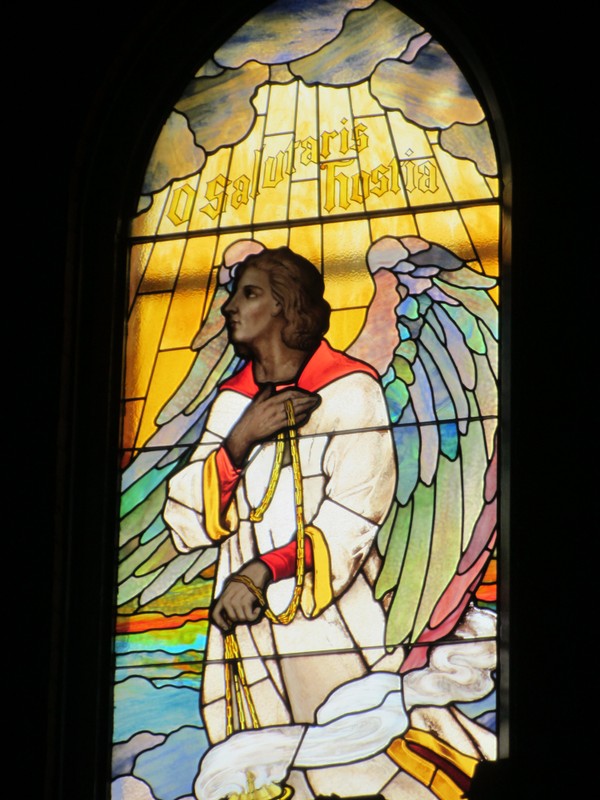 Exterior view of St. Mary's Episcopal Church, with tower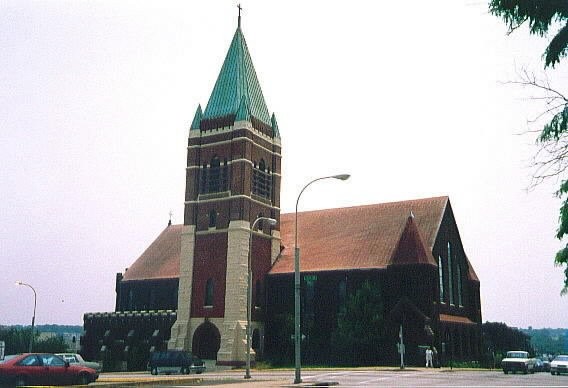 Interior of church - nave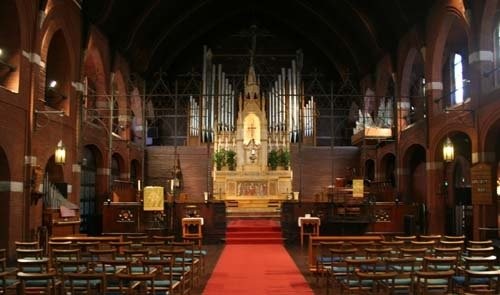 Stained glass - Nativity scene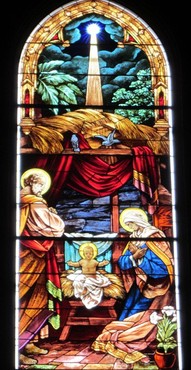 Stained glass - Annunciation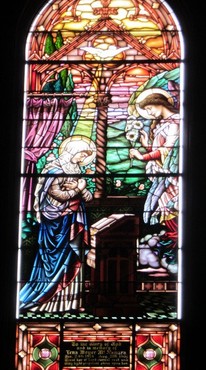 Stained glass - angel with incense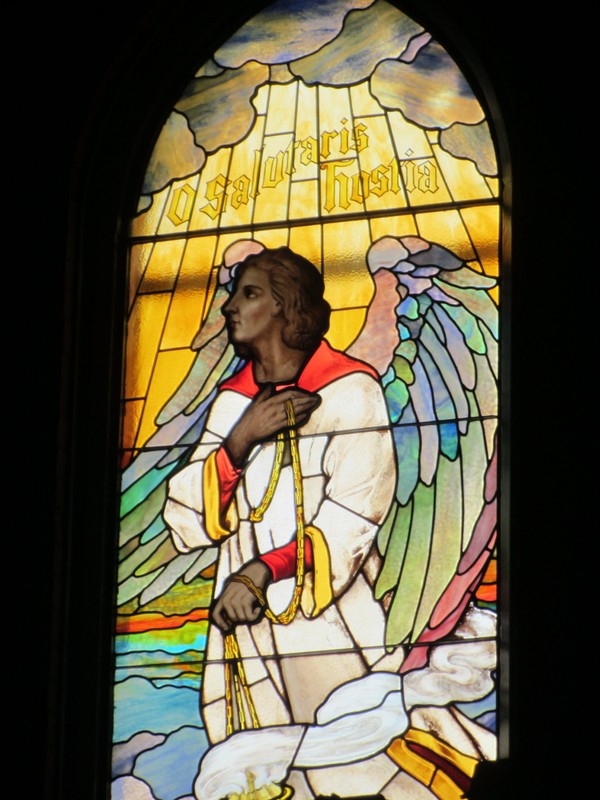 Backstory and Context
In 1867, the first permanent building for this church was established at Eighth and Walnut. A mission church was then established at Tenth and Central (this establishment is now Grace and Holy Trinity Cathedral). The property at its current location was acquired in 1886 for $9000. The parish house and church proper were constructed between 1886 and 1888. However, the church's tower soon began to lean because it was constructed on soft strata, and neither the architect nor the contractor would accept responsibility for this flaw. Reconstruction of the tower was accomplished completely at the church's expense, involving considerable debt. Due to Episcopal Church rules, the building therefore could not be consecrated until this debt was completely paid off; this did not occur until 1938.
Newark, New Jersey-based architect William Halsey Wood designed the church. His works included various churches in New Jersey and New York, including New York's Church of the Redeemer and All Angels Church. He also designed the Carnegie Library for Braddock, Pennsylvania. Wood's professional focus on houses of worship reflected his strong religious faith, and for years he was choirmaster at Newark's House of Prayer. 
St. Mary's serene design and simple silhouette distinguishes it from earlier Gothic revival styles. English motifs, such as lancet windows, are integrated into the overall design. The foundations are of squared limestone. The church and parish hall are both of rectangular structure, built of red brick laid in red mortar with sandstone sills and decorative elements. The west façade, facing Holmes Street, is flanked on either side by short, polygonal towers, topped with turret roofs. Each tower contains an entrance door set within an arch. Above the doors are narrow, arched windows. The north façade, facing Thirteenth Street, is distinguished by a large tower positioned in the center of the façade. The tower is twenty-four feet square and 140 feet high and contains an organ chamber, a bell ringer's loft and a bell chamber. 
The interior of the church consists of a wide nave with flanking side aisles and chapels. The most distinctive feature of the church are the thirty-one impressive stained and painted glass windows. Colored cathedral glass was originally used for the windows, but this was replaced as new windows were dedicated as memorials and thanksgiving windows. Most of the windows are dated: the windows depicting the Resurrection and Ascension are from 1904 and were created by a local firm, the Campbell Paint and Glass Company. A church member, Thomas Boyer Pain, designed the windows; he was an executive and designer for the firm for over forty years. 
Some claim that the church is haunted by the ghost of a former preacher. The main altar, located one bay west of the east gable wall, is dedicated to the memory of the Rev. Henry D. Jardine, who was rector of St. Mary's from 1879 to 1886. (The altar was constructed using a process that infuses color through the thickness of marble by using heat, called the Endolithic Process.) The Rev. Jardine was responsible for increasing parish membership and creating a hospital and schools. But he was also dogged by scandal, including alleged drug use, immoral behavior with young parish women, misuse of funds and emphasizing Roman Catholic practices. After losing a libel suit against a local newspaper, he moved to St. Louis, where his priesthood was revoked, though he contested this decision. Jardine was found dead in 1886, before the current church opened, with a crucifix and a rag soaked in chloroform in his hand.
Said Todd Chenault, the church's unofficial historian, ""Have I heard things? Yes, plenty of times. Have I seen any ghosts? No, never." 
Sources
Piland, Sherry. "NRHP Inventory - Nomination Form." U.S. Department of the Interior - National Park Service. Publication Date: 5/3/78. Access Date: 11/12/17.https://www.google.com/url?sa=t&rct=j&q=&esrc=s&source=web&cd=2&cad=rja&uact=8&ved=0ahUKEwjguMnV7LnX...
"Saint Mary's Episcopal Church - Who We Are" St. Mary's Episcopal Church. Access Date: 11/22/17. http://www.stmaryskcmo.org/who-we-are.html
"Saint Mary's Episcopal Church - Our History." "Saint Mary's Episcopal Church. Access date: 11/22/17. http://www.stmaryskcmo.org/our-history.html
"St. Mary's Episcopal Church Kansas City." Facebook.com. Access date: 11/22/17. https://www.facebook.com/pg/stmaryskc/about/?ref=page_internal
"Death of Wm. H. Wood: Newark's Noted Architect Expires in Philadelphia" (Newark Daily, 14 March 1898). Planet Smethport Project. Access date: 11/12/17. http://www.smethporthistory.org/mainwest/600.block/st.lukes/W.Halsey%20Wood.html.
"The Endolithic Process" William Halsey Wood, Anglo-Catholic Architect. Publication date: 9/18/17. Access date: 11/22/17. https://williamhalseywood.wordpress.com/2017/09/18/the-endolithic-process/
Douglas, Jeff. "St. Mary's Church in Kansas City, Mo., celebrates its haunted history." The St. Augustine Record (Associate Press). Publication date: 10/31/04. Access date: 11/22/17. http://staugustine.com/stories/103104/nat_2674826.shtml#.WhXw90qnGM8
Additional Information