Gunster Memorial Student Center
Introduction
The Gunster building was the University of Scranton's Student Center, and it was a three-story building that was built in 1959. This student center originally had a cafeteria, a bookstore, student activities offices, student and staff lounges, a snack bar, game room, and an auditorium. Within this auditorium, the University and its students would hold many different events. These events would range from plays that were part of the performing arts series, to musical concerts by the University band. This building was named after Joseph F. Gunster, who was an alumnus of St. Thomas College and made generous donations to the University. The Gunster building was taken down in 2001 when there was a need for an expansion of the student center, but there was no effective way of renovating and expanding the Gunster building. Due to this, the DeNaples Center was constructed and completed in 2008. Six glass panels from the Gunster Memorial Student Center are currently preserved in the DeNaples Center.
Images
Exterior of the Gunster Memorial Student Center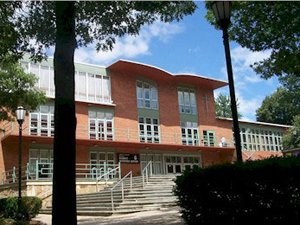 Backstory and Context
The Gunster Memorial Student Center at the University of Scranton was the main hub of student activity from its opening in 1960 to its closing and demolition in 2008. Planning for a new university student center began in 1958. The aim was to house activities that were at the time taking place off campus. Construction of the new student center began in 1959 with a nearly $1,000,000 budget and an estimated cost of construction around $900,000. The architectural design of the building was headed by the firm Bellante & Clauss, and construction was contracted by Gerard & Pettinato Construction Company. The building was completed in 1960 in time for the fall term, at a total cost of $1,030,000. At the time of its opening, the center contained an auditorium, ballroom, cafeteria, bookstore, lounges, a game room, and a rifle room. Future renovations would be needed to accommodate the growing student population.
As the Student Center and main location for student activities, the building hosted many theatrical events, many of which took place in the Eagen Auditorium. Events hosted at the auditorium included performances by the University Players, university music groups, and guest performances sponsored by the University. In December 1980, the student center was dedicated to Joseph F. Gunster, a St.Thomas College alumnus. In the 1990s, the student center received much-needed renovations to accommodate the usage of the University's dining services by more and more students. More dining areas were added and existing dining services were revamped. The Student Center also contained a club-like hangout, called The Archives, that served as an all-day meeting place for students.
Sources
Digitized newspaper clippings from the University of Scranton Digital Collections:
http://digitalservices.scranton.edu/cdm/singleitem/collection/clippings/id/50520/rec/81

http://digitalservices.scranton.edu/cdm/singleitem/collection/clippings/id/32360/rec/99
http://digitalservices.scranton.edu/cdm/singleitem/collection/prpubs/id/1153/rec/2

http://digitalservices.scranton.edu/cdm/singleitem/collection/clippings/id/44400/rec/20
Additional Information