Grand Village of Natchez Indians
Introduction
The Grand Village of the Natchez Indians is a 128-acre site featuring three pre-historic Native American mounds. The complex includes a reconstructed Natchez Indian house, museum, and a gift shop. The vilage offers educational programs for school and adult groups and also hosts the annual Natchez Powwow that includes activities highlighting many different aspects of traditional Native American culture.
Images
This recreated historic Native American village features three munds, a model village, and a museum.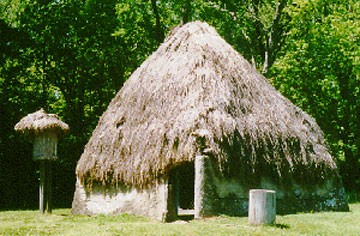 Backstory and Context
The Grand Village of Natchez was located at present-day Natchez and was the main center of ceremonies for the Natchez Indians. The mounds were burial sites for notable Natchez but the village was abandoned following the spread of disease that resulted from contact with people of European descent as well as the attacks on the tribe by the French and others.

The Grand Village of Natchez features three mounds that are eight feet high at the same location of the previous mounds that were demolished and rebuilt in accordance to the ceremonies and traditions the members of the tribe. The Great Sun's mound and the Temple mound have been excavated and rebuilt to their original sizes and shapes. The third mound is called the Abandoned mound. It was only partially excavated after three major archaeological excavations at the Grand Village. There are no further excavation planned for this site.

The Natchez inhabited what is now southwest Mississippi ca. AD 700-1730. Between 1682 and 1729, the Grand Village was their main ceremonial center. During the period that the Natchez occupied the Grand Village, the French explored the region and began to create settlements. The relations between the French and Natchez were generally positive and focused on trader at first. As the French began to change their orientation from trade to the acquisition of land, relationships deteriorated and various disagreements led to violence. A state of tension turned to war in 1716 and again in 1723. In 1729, a pro-English element within the tribe attacked the French colonial plantations and military garrison at Fort Rosalie. The French retaliated in such force that the Natchez were forced to abandon this area.

Sources
"Grand Village of the Natchez Indians -- National Register of Historic Places Indian Mounds of Mississippi Travel Itinerary." National Parks Service, U.S. Department of the Interior, www.nps.gov/nr/travel/mounds/gra.htm.

"Grand Village of Natchez Indians." Mississippi Department of Archives and History, www.mdah.ms.gov/new/visit/grand-village-of-natchez-indians/.



Additional Information