Viola Liuzzo Memorial
Introduction
Civil rights activist Viola Liuzzo was murdered here by members of the KKK on the evening of March 25, 1965, due to her involvement in the Selma to Montgomery March from March 21-25. A mother of five from Detroit, Liuzzo came to Alabama to help drive the marchers to and from Montgomery. On the night of the 25th she and African American Leroy Moton were driving from Selma to Montgomery when four KKK members drove up to her car and started to chase Liuzzo, ran her in a ditch, and open fired on the car. Moton survived by playing dead and Liuzzo was taken to the nearby City of St. Jude hospital but her wounds were too severe to be healed. In 1991 this memorial to Liuzzo was erected by the Women of the Southern Christian Leadership Conference at the location of her death on Highway 80 and is part of the Selma to Montgomery National Historic Trail.
Images
In 1991 the Women of the SCLC dedicated a memorial to Viola Liuzzo for her efforts and sacrifice in the Selma to Montgomery March.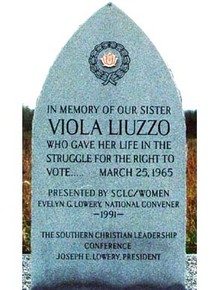 Viola Liuzzo was a mother of five in Detroit who answered Martin Luther King Jr.'s plea for nationwide assistance in the Selma to Montgomery March.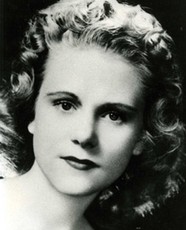 Backstory and Context
Although born in Pennsylvania on April 11, 1925, Liuzzo grew up in Georgia and Tennessee and was a student in the states' segregated schools. During WWII her family moved to Ypsilanti, Michigan and she moved to Detroit when she turned 18. In 1943 she married George Argyris and had two children with him before they divorced in 1949. In 1950 she married Teamster organizer Anthony James Liuzzo who she had 3 children with, making her a mother of 5. In 1965 she was a middle-class housewife from Detroit and was enrolled as a part time nursing student at Wayne State University where she admired the stories told by students who had participated in the Mississippi Freedom Summer campaign in 1964. In March 1965 she was involved in "sympathy marches" in Detroit to show unity with African Americans in Selma, Alabama who were planning the march to Montgomery.
On March 7, 1965, Liuzzo watched in horror as news coverage aired the attack on marchers at the Edmund Pettus Bridge in Selma during their first attempt at a march to Montgomery. It was after this attack and Martin Luther King Jr.'s plea that Americans come to Selma to join the marchers' cause, that Liuzzo and 25,000 others came to Selma. Liuzzo assisted the Southern Christian Leadership Conference in driving the marchers from Selma to Montgomery. On the night of the 25th she and 19 year old Leroy Moton were on their way back to Montgomery to pick up the last of the activists there and take them back to Selma. When they stopped at the red light at the Edmund Pettus Bridge four KKK members, Collie LeRoy Wilkins, William Orville Eaton, Eugene Thomas, and Gary Thomas Rowe, saw a white woman and a Black man in a car from Michigan and decided to reiterate their segregationist views to northerners, Blacks, and liberals. They chased Liuzzo and Moton down Highway 80, eventually shooting and killing Liuzzo 20 miles away from Selma; Moton survived by playing dead.
By the next day the FBI had arrested the four Klansmen and they were indicted on April 6, 1965. However, it was claimed that Rowe was a secret FBI informant and nine days later he was freed and agreed to testify for the prosecution. FBI director, J. Edgar Hoover, became worried of the possible effect Rowe's involvement would have on the FBI's reputation. Rowe had asked a member of the FBI if he could be involved in the events of March 25 and was allowed to even though he had been involved in the beatings of Freedom Riders in 1961 and the bombing of the Sixteenth Street Baptist Church in 1963. In an effort to avoid a FBI controversy, Hoover tried to sway the people from calling Liuzzo a martyr. Hoover claimed that Liuzzo was an "outside agitator," that her and Moton were involved romantically, and to President Johnson he claimed that her husband was a questionable character. When Johnson didn't listen, Hoover ordered his staff to tell their KKK informants about his claims and to inform the press. Due to Hoover's lies, Liuzzo was seen as a bad mother and wife who came to the South only to cause mischief.
Defense Attorney Matthew Hobson Murphy Jr., Grand Klonsel of the United Klans of America, persuaded the jury of Collie LeRoy Wilkins's trial that because Liuzzo was a white woman with a Black man, it was nobody's fault but her own that she was dead. Wilkins, Eaton, and Thomas were cleared of the murder charges, but they were found guilty of violating Liuzzo's civil rights and were to serve 10 years in prison, while Rowe was given immunity and enrolled in the federal witness protection program. In response to Liuzzo's murder, President Johnson demanded an investigation of the KKK and asked Congress to make the Federal Conspiracy Act of 1870 to make the killing of a civil rights activist a federal crime. Liuzzo's murder helped gather support for the Voting Rights Act which was signed on August 6, 1965. In 1977 Liuzzo's family received her FBI file through the Freedom of Information Act and learned that the false accusations made about her reputation had started within the United States Justice Department. In response, her family issued a $2 million negligence claim in which they said the FBI knew of the 4 Klansmen's intentions on March 25 and ignored them, consequently causing the death of Liuzzo; ultimately the Liuzzos lost their claim due to a lack of evidence.
Liuzzo's death caused controversy in relation to a woman's duty to her family and the country as a whole; she knocked down cultural pillars of society by assisting in the efforts for the achievement of African American civil rights. In 1989 her name was added, with 39 other martyrs, on the Civil Rights Memorial in Montgomery in recognition of their brave sacrifices. In 1991 the Women of the SCLC erected a memorial to her at the location of her death.
Sources
"Viola Gregg Liuzzo." Encyclopedia of Alabama. Accessed on November 7, 2017.
http://www.encyclopediaofalabama.org/article/h-1377
Wayne State University. Accessed on December 8, 2017. https://wayne.edu/newsroom/release/2015/04/07/wayne-state-university-to-honor-civil-rights-activist-...

Additional Information