Meade's U.S. Headquarters Marker - Gettysburg, PA
Introduction
This monument was erected on June 1, 1913 by the Gettysburg National Military Park Commission. The monument marks the location of Union General George Meade's headquarters during the Battle of Gettysburg.
Images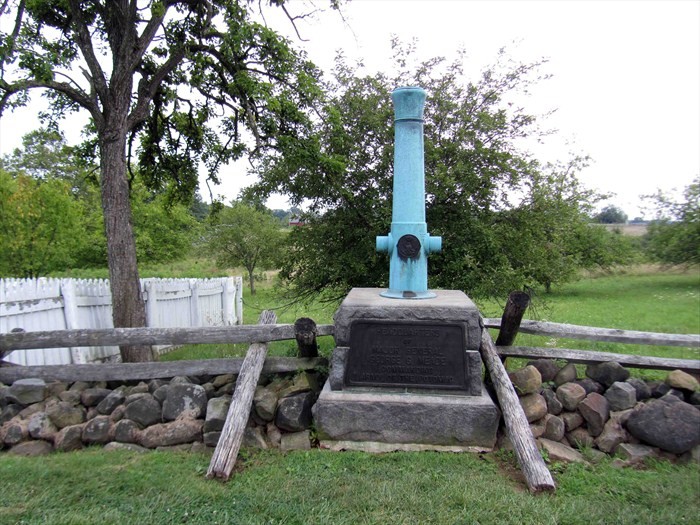 Up-Close Shot of Marker's Front Plaque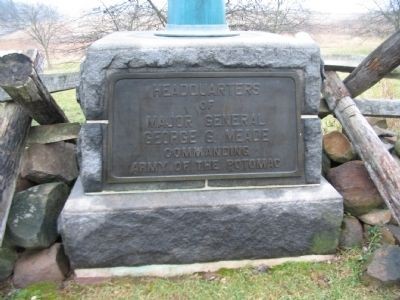 Backstory and Context
Thought of by many as the turning point in the Civil War, the Battle of Gettysburg featured Union forces under the command of Major-General George Gordon Meade who was given command in place of Joseph Hooker only three days prior against Confederate forces under the command of General Robert E. Lee. The Battle of Gettysburg followed Lee's success at Chancellorsville and was an attempt at another offensive to force Northern politicians to end the war. During this battle, Union forces were able to successively drive back the Confederates with heavy losses on both sides.

The significance of Meade's U.S. Headquarters Markers is the marker shows where Meade commanded his troops from and formed strategies with other officers. Though Meade's victory at Gettysburg was somewhat marred by an ineffective pursuit of Lee's retreating forces, his headquarters there certainly gave witness to one of the key points of the war and are therefore important to be marked,

As for the marker itself, it is stone with a plaque on the front that describes that the marker marks the headquarters of General Meade, the commander of the Potomac Army. On top of this sits a 1841 model cannon tube mounted upright. Since the bronze on the cannon tube has long since oxydized, the cannon is now a bold patina color.
Sources
http://www.hmdb.org/marker.asp?marker=16032 http://www.waymarking.com/gallery/image.aspx?f=1&guid=03712d96-ebcc-42ae-bde5-06000d78344e
Additional Information