40th New York Infantry Monument - Gettysburg, PA
Introduction
One of nearly a hundred monuments erected throughout Gettysburg National Military Park Historic District, this monument honors the 40th New York Infantry. This particular monument, which shows a Union sharpshooter in cover, was placed at the position of the 40th New York Infantry when they first engaged Confederate soldiers on July 2, 1863.
Images
40th New York Infantry Monument (Picture 1)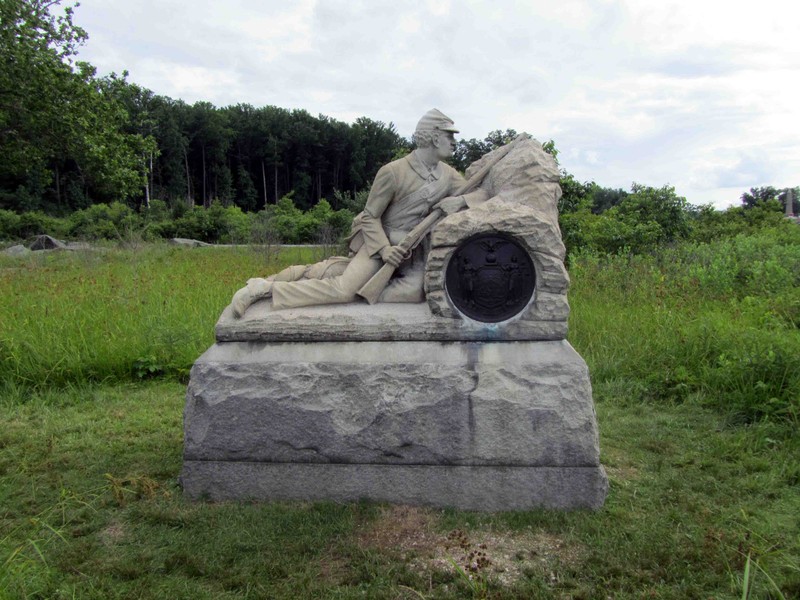 40th New York Infantry Monument (Picture 2)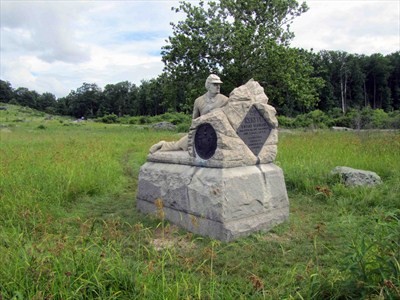 Backstory and Context
On June 21, 1861, the 40th New York Infantry (also known as the Mozart Regiment) was put into service and would remain in service until June 27, 1865. At the end of their service, the 40th New York Infantry had lost a total of 13 officers and 396 enlisted men. At the Battle of Gettysburg, the unit was under the command of Union Colonel Thomas W. Egen. Egen had joined the unit during its formation in 1861 as a private and had been promoted to lieutenant colonel later that year.

At Gettysburg, Egen led a force of 606 men, Out of these men, 23 were killed, 120 were wounded, and 7 went missing. Despite being wounded in the leg at near Devil's Den during the battle, Egen continued to lead his men and help gain a victory for the Union.

On July 2, 1888, the State of New York dedicated this monument to honor the service and dedication of the men of the 40th New York Infantry. The monument itself is made of Westerly granite crafted by R.D. Barr of the Smith Granite Company out of Westerly, Rhode Island. The monument features a sharp shooter behind the cover of a rock. The soldier is dressed in full uniform, and granite rock structure has a bronze New York State Seal on the North facing side and bronze inscription tablets on the South and West facing sides. Also, there are two flanking markers that are both a square foot. Lastly, the monument is located in the Valley of Death, West of Little Round Top and East of Houck's Ridge.
Sources
http://www.waymarking.com/waymarks/WMHN4Q_40th_New_York_Infantry_Monument_Gettysburg_PA http://www.gettysburg.stonesentinels.com/NY/40NY.php http://dmna.ny.gov/historic/reghist/civil/infantry/40thInf/40thInfMonument.htm
Additional Information