Robert Burns Statue (Boston)
Introduction
In the heart of the financial district, near the intersection of Otis and Devonshire Streets, there is a small green area highlighted by an uncharacteristic monument. The buildings on all sides are home to some of the most significant financial centers in the country, including the largest banks and investment centers. However, the sculpture adorning the area is of an impoverished Scottish poet. In 1975, a statue of Robert Burns was moved to this spot from its original location in the Fens (a gardened area of the Fenway neighborhood). Burns is best known for composing Auld Lang Syne, the unofficial theme song of New Year's Eve. The statue was dedicated in 1920 by Massachusetts Governor and future President Calvin Coolidge. For the first 55 years, it was located in the Fens neighborhood of Boston but was moved to its present location in 1975.
Images
Robert Burns and his Border Collie Luath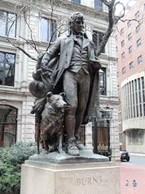 A view of Winthrop Square (from Google Maps)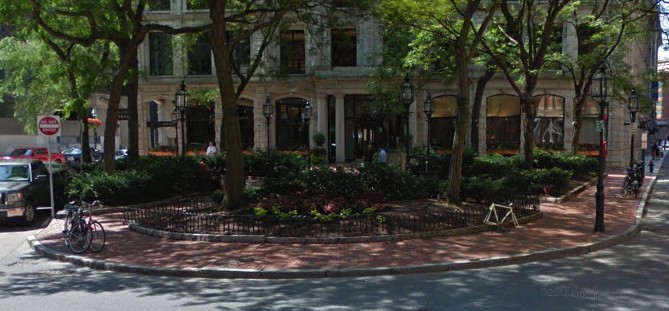 Backstory and Context
In Winthrop Square, there is a bronze statue depicting the beloved Scottish Bard, Robert Burns (1759-1796). He is shown standing with a walking stick in his right hand, a poetry book under his left arm, and his faithful collie walking along at his side. Burns wrote over 300 poems and songs during his short career, including: My Luve is Like a Red, Red Rose and Auld Lang Syne.
The statue of Robert Burns was created nearly a century ago. Its first home was in the Caledonian Grove near the Charles River. There was a ceremony, led by then-Governor Calvin Coolidge, to celebrate its unveiling on New Years Day, 1920. Henry Hudson Kitson sculpted Robert Burns' memorial. Kitson was already well-known in the area for some of his other sculptures, including the Minuteman statue in Lexington, Massachusetts and a memorial to Admiral David Glasgow Farragut, which is located in South Boston's Marine Park.
In 1975, the statue was relocated to Winthrop Square in the Financial District. This was an interesting move since Winthrop and Burns were very different men. In a square named for a pious former Governor, one of the early Puritan settlers, the city placed a statue of a poor, Scottish poet emblazoned by a scandalous love affair. Apparently, when the city established the small park in the early 1970s, they tried to get a statue of John Winthrop that was currently in the hands of a church but formerly sat at the US Capitol. The church would not allow the sculpture to be moved to Boston, so the park's developer and the Boston Arts Commission decided to move the statue of Robert Burns from its original home in the Back Bay to Winthrop Square.
Who was Robert Burns, after all?
Robert Burns was born on January 25, 1759 in Alloway, Scotland. He was the first of seven children born to William and Agnes Burns. The family earned a hard living as tenant farmers. The difficult labor was likely the cause of the heart problems that Robert suffered throughout his life. Young Robert was educated primarily at home. He attended one year of mathematics school as well as an "adventure school" that was established by his father. When he was fifteen years old, he wrote his first poem. He pursued his love of poetry and printed Poems, Chiefly in the Scottish Dialect, in 1786. This book was a collection of poems written mainly over the previous two years. The success of his first anthology earned Burns the accolade as one of England and Scotland's greatest "peasant-poets."
Shortly after his marriage to Jean Armour, the couple and their children settled in Ellisland. Burns worked with James Johnson to create another anthology, the Scots Musical Museum. This collaboration was a collection of traditional folk songs, including My Luve is Like a Red Red Rose and Auld Lang Syne. Burns used several kinds of writing styles: poems, epistles to friends, ballads and songs. Over the course of his short career, he composed over three hundred songs devoted to love, friendship, work, and drink. Many of his songs had humorous tones and were sympathetic to the plights of poor Scottish farmers. Among some of Burns' most famous works are: Tam O' Shanter (a mock heroic written in 1795); The Cotters Saturday Night (1795); The Jolly Beggars (1799); and Burns' Poetical Works (1824).
Robert Burns died when he was just thirty-seven years old, from heart disease. His wife gave birth to their last son, Maxwell, on the day of his death. Burns will always be remembered as the National Bard of Scotland, or as Rabbie Burns, Scotland's favourite son, the Ploughman Poet, the Bard of Ayrshire and in Scotland as simply "The Bard."
Sources
Allis, Sam. Where's Winthrop?. Boston Globe. December 18, 2010. Accessed November 13, 2017. http://archive.boston.com/lifestyle/articles/2010/01/18/whos_standing_in_winthrop_square/.

Robert Burns Statue in Boston's Winthrop Square Honors Famed Scottish Poet. Irish Boston History & Heritage. January 26, 2012. Accessed April 08, 2018. https://irishboston.blogspot.com/2012/01/robert-burns-statue-in-bostons-winthrop.html.

Robert Burns and His Shepherd Dog, "Luath" - Boston, MA. Waymarking,cin. May 03, 2009. Accessed April 08, 2018. http://www.waymarking.com/waymarks/WM6AJM_Robert_Burns_and_His_Shepherd_Dog_Luath_Boston_MA.

Robert Burns. Poets.org. Accessed April 20, 2018. https://www.poets.org/poetsorg/poet/robert-burns.

Robert Burns Statue. Public Art Around the World. Accessed April 20, 2018. http://www.publicartaroundtheworld.com/Robert_Burns_statue_Boston.html.

Additional Information