HersheyPark Stadium
Introduction
Historical Look into the Stadium and Onwards
Images
Concrete pours to build the roof of the stadium.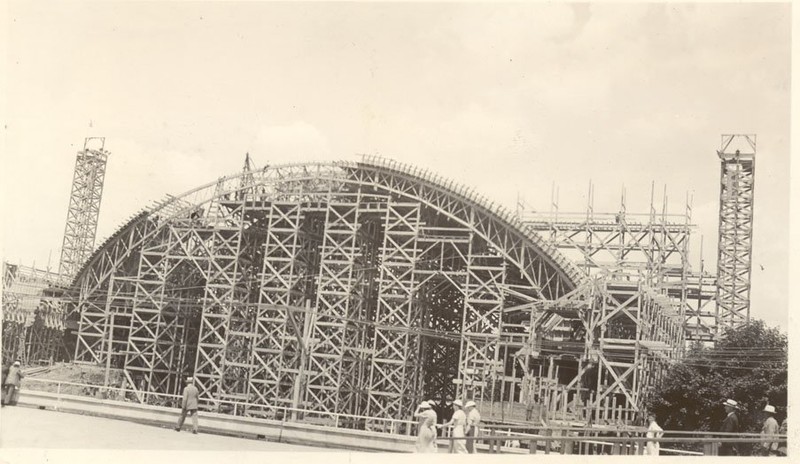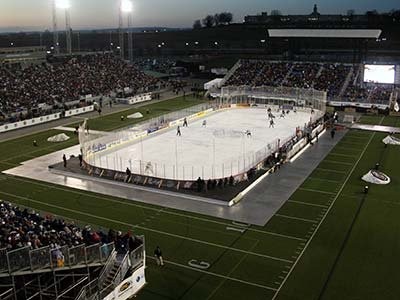 Backstory and Context
The stadium in Hershey, Pennsylvania has some interesting roots. When one thinks of Hershey, PA, one's mind might not go straight to the stadium and it's unusual history, but instead one might think of chocolate or hockey. This combination, oddly enough, is actually all this stadium is made up of. Not literally, of course. There was thousands of pounds of concrete, metal, manual labor, and a few crazy geniuses who were willing to take risks that went into the making of this Stadium and city.
Milton Hershey was a revolutionary man who fought hard for his vision and to bring chocolate to all. After selling his first successful company for one million dollars in 1900, he started the construction of his legacy in Derry Church. Due to the company's growth, the town became known as Hershey, Pennsylvania. He built everything in the town to provide for his workers, from schools and parks, to churches and housing. Hershey cared deeply for all of those who worked for him, including their families and home lives. When the hardest years of the United States seemed to be hitting everyone down to their lowest points, Hershey had a way of fixing everyone's problems, while seeing an opportunity to continue his business. With advice from a few people, he kept the city of Hershey running and full of working people during the Great Depression.
Around this time, the sport of hockey was becoming popular as well, so a need for a stadium for this sport would be readily and happily used. The Hershey B'ars, later the Hershey Bears, were becoming the pride of the city, giving the people a hometown sports team to be proud of and want to go watch live. With the growing demand for a hockey stadium and the kindness and willingness to provide in Hershey's heart, what came soon during this era seems pretty normal for this eccentric man. With the need for more new and innovated ideas, this man was ready for something new and risky: building a stadium in the middle of the Great Depression.
In the beginning of 1936, Hershey was presented with the idea of a huge arena. Hershey gave his stamp of approval and the designer and engineer, Anton Tedesko, got to work on plans and the construction began only two months later. By the end of that same year, the stadium was open.
However, before this stadium, there was never another structure built like this one. So, there was no previous designs to look at, no one with previous experience, no warnings or anyone with any advice to give for this project. This is just another way in which this stadium is legendary, and a huge risk that paid off for all. This stadium was also constructed by citizens of Hershey under the watchful eye of Tedesko. None of the workers under Tedesko had any concrete construction training before working on this stadium. But since this was during the Great Depression, Tedesko had many willing workers to help him build this structure. While Tedesko was stuck supervising every single pour of concrete to make sure it was perfect and safe, slowing down the construction, progress continued to forge on. Four months after the start of construction, the concrete pours for the roof of the stadium began. The pours for the roof took up plenty of time, needing took from two to three weeks to pour, with the average work day being twenty-four hours. It took all day, everyday for at least two weeks to create the roof of this stadium.
Not even a year later, in December of the same year, the stadium opened for the public. Tedesko was known from from that point on as a revolutionary engineer for the barrel shell roof structures. This stadium hosted seating for a crowd of 15,641 as well as eight towers to flood the field with light, from 200,000 to 250,000 watts to be more precise. This gave the stadium the ability to, "turn night into day," and the bragging rights that came with that ability and led to many wide-ranging future uses for the stadium.

Since the creation of this stadium, there have been many uses. The arena became the home ice for the Hershey Bears hockey team, and hosted countless hockey games for the Bears as well as other junior hockey teams. This stadium also hosted many Calder Cup championship games, the title of the American Hockey League. These Calder Cup games include nine of the Bears championship seasons from 1947 to 1997. Hockey was a major part of this stadium
However, while hockey holds a special place in the heart of Hershey, this stadium is not limited to hockey. The stadium has hosted many different sporting events with different legendary events happening in each sport. A tennis match between Bobby Riggs and Bill Tilden, for example. In 1941, the Hershey Park Stadium hosted the Ice Capades as they performed. In 1962, Wilt Chamberlain scored a record of 100 points in the game between the Philadelphia Warriors and the New York Knickerbockers. There were also other performances by the Ringling Brothers Barnum and Bailey Circus and the Harlem Globetrotters. This stadium also has features many musical performances and artists over the years. Another amazing event that happened at this stadium was the celebration of President Dwight D. Eisenhower's birthday. In April of 1979, there was the partial nuclear core meltdown at Three Mile Island. This stadium served as a new home for almost two hundred people for three days.
Overall, the HersheyPark Stadium has a special place in the hearts of many different people. It had a way of connecting many within the community during its construction and spreading outwards after its opening. There have been influences in all areas ranging from it's origins with chocolate and hockey to its expansion to include music, politics, and a safe haven during a nuclear meltdown. This stadium has its legendary roots that continued through its lifetime and is such a wide variety featured in this unique city that it would be difficult to make any of this up if it were not already fact. If there is one thing that is certain, it is that Milton Hershey would be very happy with how far the city has come from its small beginnings as a chocolate factory and a dream. It helped that Milton Hershey had a ton of money to spend, as well as plenty of support and people willing to bend backwards to help bring his dream to life.
Sources
Hershey Arena. Hershey Community Archives. http://www.hersheyarchives.org/essay/details.aspx?EssayId=24&Rurl=%2Fresources%2Fsearch-results.aspx%3FType%3DBrowseEssay.

Hilton Hershey. Biography. https://www.biography.com/people/milton-hershey-9337133.

HersheyPark Arena History. Hershey PA. http://www.hersheypa.com/about-hershey/history/hersheypark-arena-history.php.

Hershey Stadium. Hershey Derry Township Historical Society. http://hersheyhistory.org/news/73-preservation/profiles/674-hershey-stadium.

HersheyPark Stadium History. Hershey Entertainment. http://www.hersheyentertainment.com/hersheypark-stadium/venue-info/history.php.