Mound City Cemetery and Civil War Monument
Introduction
Though Mound City was not the site of any major Civil War battles, its close proximity to many battlefields made it essential to the Union war effort as a staging point for western campaigns. As a result, workers in Mound City produced many ships for Union and was also home ot a large hospital that treated wounded soldiers. Because of this, many of the dead from the Civil War were buried here leading to the creation of Mound City National Cemetery in 1864.
Images
Monument at Mound City National Cemetery
Graves at Mound City National Cemetery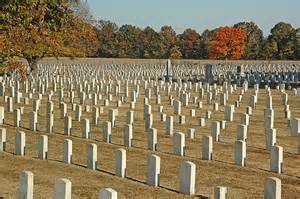 Backstory and Context
Mound City played an important role as a staging area for the Union's western campaigns during the Civil War. In addition to assisting with ship manufacturing, Mound City was also home to a hospital that was housed in a large brick building. This hospital was able to hold between 1000 to 1500 wounded soldiers at a time. Operated by nurses from Notre Dame and headed by Mother Angela, the general hospital and its staff, which also included surgeons Dr. E.S. Franklin and Dr. H. Warder, was considered one of the best general hospitals during the war.

Even though the hospital had an excellent staff, the death rate from wounds and disease was still high. A cemetery was created in Mound City for the sole purpose of burying soldiers from the Civil War. Initially, the Mound City National Cemetery was home to the graves of 1,644 soldiers according to the inspector of National Cemeteries in 1869. The total interned was much larger at 4,808 when including the 2,441 soldiers who could not be identified and were buried here as well.

In 1864, the Mound City National Cemetery became one of the original twelve national cemeteries. These twelve cemeteries were a result of President Abraham Lincoln's Act of June 17, 1862. This act permitted the purchase of land to provide a resting place for those who gave their lives in service to their countries. On November 1, 1874, the General Assembly of Illinois dedicated a memorial monument at the center of the cemetery to honor those who died fighting for the Union.
Sources
Mound City National Cemetery. National Cemetery Administration, Department of Veterans Affairs. . Accessed February 06, 2019. http://www.cem.va.gov/CEMs/nchp/moundcity.asp#top.


Additional Information