Susquehanna Art Museum
Introduction
The sole, full-time art museum in Pennsylvania's capital, the Susquehanna Art Museum (SAM) is located in the former 1924 Keystone Trust Company building which has recently been expanded to meet their needs. The museum relocated to its new home in 2015 after the completion of a 20,000 square-foot, two-story addition to the original historic building. The museum was founded in 1989 and rented or borrowed space for its exhibits, primarily in Harrisburg's Kunkle Building, prior to moving into the former bank building. Without a permanent collection, it now displays rotating exhibits of local, national and international works of art and provides the community with numerous educational opportunities.
Images
SAM melds the old and the new with the building that has been its home since 2015.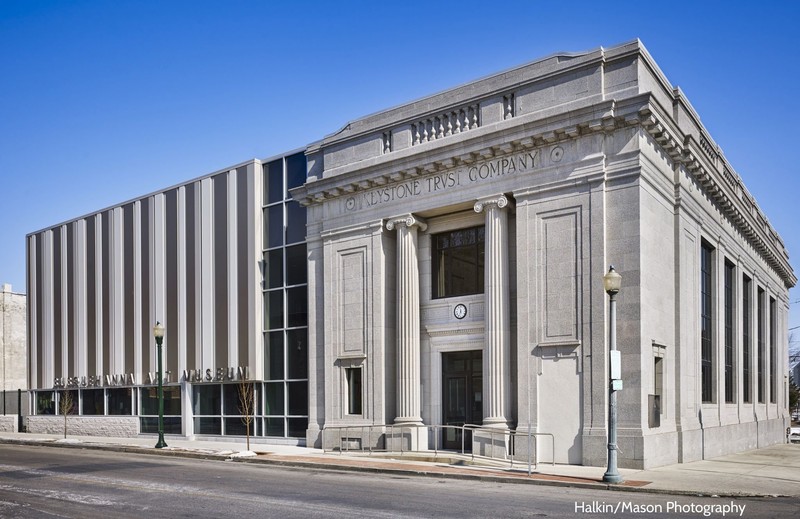 SAM's main exhibit space resides within the edition added to the former Keystone Trust Company building.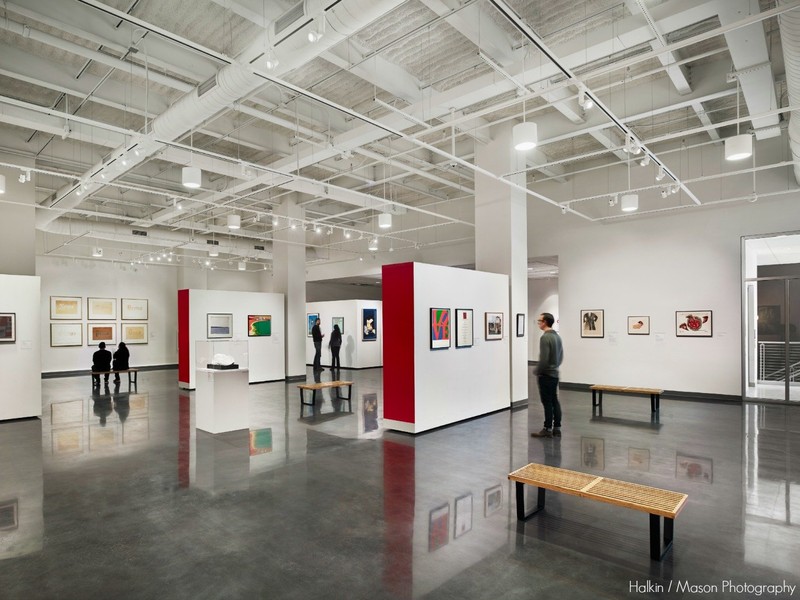 The former bank's original vault and clock are now part of SAM's entrance lobby.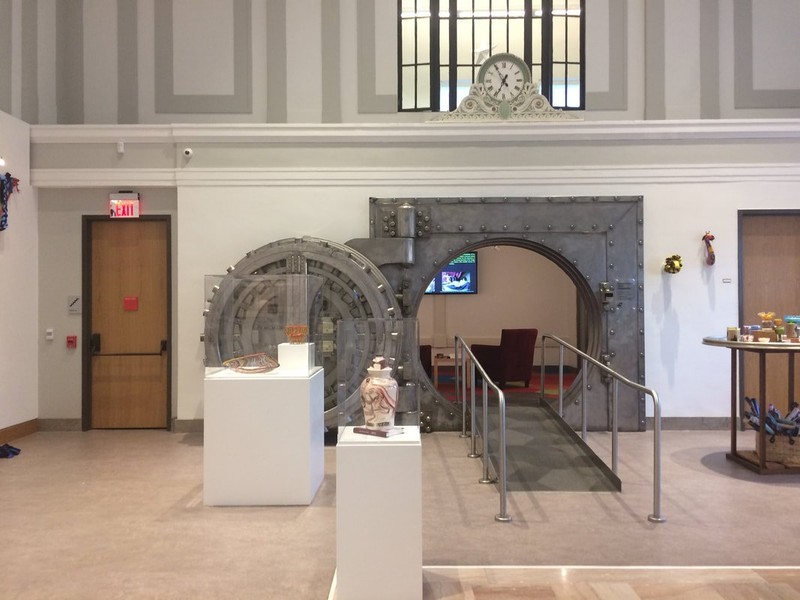 SAM lit up at night while patrons inside enjoy its latest exhibit.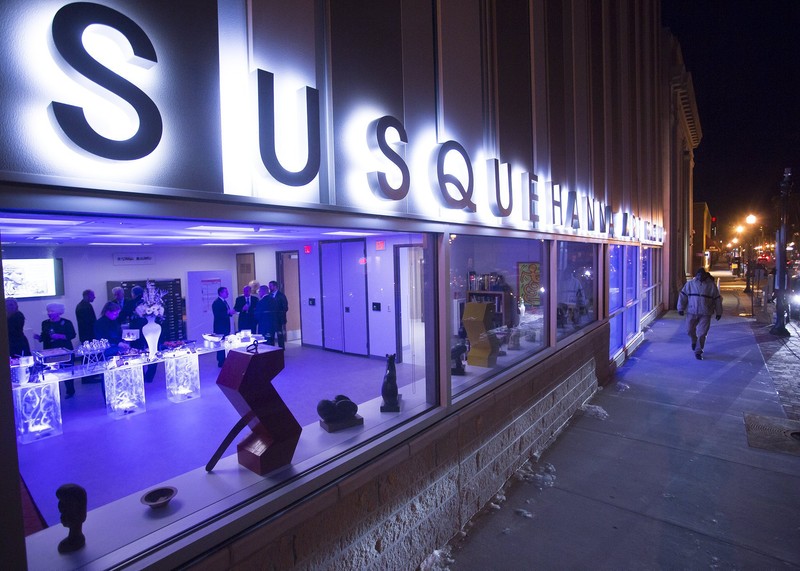 This SAM sponsored mural brightens up a Harrisburg neighborhood.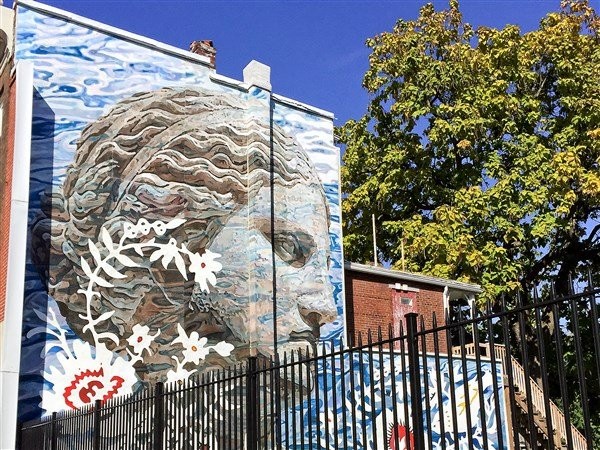 Backstory and Context
Given that the state capital, and all of Central Pennsylvania, had no dedicated art museum back in the late 1980s, a group of art educators collectively decided to remedy that oversight. They worked with local business and government leaders to turn their vision into reality in 1989. The fledgling museum was forced to lease space in Harrisburg's Strawberry Square and, later, the historic Kunkle Building in the city's central business district. It remained there until 2011 when plans were well under way to purchase and expand the old Keystone Trust Company building located in Harrisburg's emerging midtown neighborhood. However, financial issues delayed the expansion and, thus, the move, until January of 2015.
Located at the corner of 3rd and Calder Streets, the Keystone Trust Company building, formerly owned by Greenworks, offered the museum the opportunity to incorporate the beautiful Greek Revival structure into their vision of architecture as art. Once the necessary funds were secured, SAM renovated the original structure and added a large steel and glass expansion. The former bank building now serves as the museum's entrance lobby with a soaring 27-foot gilded ceiling, marble floors, original working clock, and the original, massive York Safe and Lock Company's vault that serves as additional exhibit space. The entrance lobby is now used to display the works of regional artists and its first gallery featured the works of Berks County resident, Harry Bertoia.
The edition, designed by architectural firm EwingCole, features 17-foot ceilings, polished concrete floors and houses SAM's main art gallery, its art education gallery, offices, and conference room. SAM is a non-collecting gallery in that it does not own the works it displays, but rather borrows them from other galleries. Therefore, its galleries are continually rotating which serves to expose its patrons to numerous and varied works of art. When it opened, its first exhibit was titled, Pop Open!: Icons of Pop Art, borrowed from the Castellani Art Museum at Niagara University and featured the works of Andy Warhol, Robert Indiana, and Roy Lichtenstein. Other recent exhibits have included: Ansel Adams: Early Works, Earth and Tide: Connected Through Place, and African-American Art Since 1950. SAM also offers a weekly preschool art program, youth art programs on drawing, painting, sculpture, art history and art appreciation as well as classes, workshops, and lectures for adults. It also sponsors a traveling art exhibit in the form of its VanGo! museum on wheels.
Sources
"Our History." Susquehanna Art Museum. Accessed October 31, 2017. http://www.susquehannaartmuseum.org/about/our-history/
Kalina-Metzger, Stephanie. "Guests toast Susquehanna Art Museum's presence in Harrisburg." Cumberlink. January 22, 2015. Accessed October 31, 2017. http://cumberlink.com/entertainment/local-scene/guests-toast-susquehanna-art-museum-s-presence-in-ha...
Pynes, Mark. "Susquehanna Art Museum finally moves into a home of its own in Harrisburg." Penn Live. December 29, 2014. Accessed October 31, 2017. http://www.pennlive.com/midstate/index.ssf/2014/12/susquehanna_art_museum_finally.html
Wilson, Alison. "Susquehanna Art Museum: Harrisburg Museum Finds a Home." Pennsylvania Homes. April, 2015. Accessed October 31, 2017. http://www.pennsylvaniahomes.com/articles/susquehanna-art-museum
McCormick, Diane. "SAM, Rising: After numerous delays, construction has begun and an opening set for the new Susquehanna Art Museum." The Burg News. March 31, 2014. Accessed October 31, 2017. https://theburgnews.com/home-front/sam-rising-numerous-delays-construction-begun-opening-set-susqueh...
Additional Information