Shakespeare Monument
Introduction
William Shakespeare had written thirteen comedies, thirteen historical dramas, six tragedies, four tragic comedies and 154 sonnets, that are still read all over the world today. Shakespeare has been a big influence on many writers and education majors for many, many years and will continue to do so. The memorial of William Shakespeare in New York City was sculpted by John Quincy Adams Ward and was unveiled at the end of the Mall in Central Park between two elm trees on April 23, 1872. It was reveled 308 years after Shakespeare's birth.
Images
William Shakespeare's portrait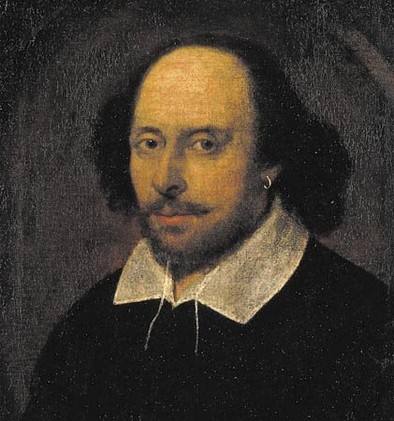 The statue that sits in Central Park.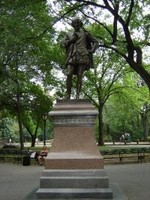 Backstory and Context
William Shakespeare was born in April, in the year of 1564. Not much can be said about Shakespeare's childhood. His father was a local trader before rising in local government in Stratford then failing at that due to misfortunes. Shakespeare married Anne Hathaway in 1582 and had three children. Susanna the oldest and she had two younger siblings, Judith and Hamnet. The boy died at a young age.

Shakespeare's first time out in the spotlight is when he plays as an actor and uses the playwright of Robert Greene's "A Groatsworth of Wilt", from here he would go to London. By 1594, Shakespeare had joined the Chamberlain's Men, a theater company. It would later be known as the King's Men. They would perform at the Globe Theater in London, where a lot of Shakespeare's plays would be performed as well. By the time of Shakespeare's death in 1616, he had written thirteen comedies, thirteen historical dramas, six tragedies, four tragic comedies and 154 sonnets. He also created words by combining different languages. Shakespeare took the world by a literature storm and his writings and words are still used all over the world today.

In 1864, actors and managers within a Shakespearean theater got permission from the Central Park's Board of Commissioners start the construction of a Shakespeare Monument at the end of the Mall between two elm trees. It was not until the end of the Civil War before this project was moved forward. In 1866, John Quincy Adams Ward joined a competition that was held to find someone to sculpt the statue. Ward won the competition. Ward would later be known as "Dean of American Sculptors". Nine of his sculptures can be found in the parks of New York. There were several benefits to raise money to build the sculpture, one was a performance of Julius Caesar. Ward was able to use images of Shakespeare and details of Elizabethan dress and poses in that time period to capture the essence of William Shakespeare.

By 1870, the sculpture was cast at the Robert Wood & Co in Philadelphia. In 1872, the sculpture was unveiled on a temporary base because there were delays with the granite pedestal, that was coming from Scotland. A month later, the temporary base was replaced with the granite pedestal. In 1995, the Central Park Conservancy has paid to restore the memorial throughout the years.
Sources
William Shakespeare. Official Website of the New York City Department of Parks & Recreation. Accessed October 30, 2017. https://www.nycgovparks.org/parks/central-park/monuments/1431.

Brown, John Russell. William Shakespeare. Encyclopedia Britannica. Accessed October 30, 2017. https://www.britannica.com/biography/William-Shakespeare.


Additional Information