Landrum's Hamburger System No. 1
Introduction
A hamburger stand might seem an odd choice for inclusion on the National Register of Historic Places. But Landrum's Hamburger System No. 1 has been part of life in Reno for almost one hundred years, and the idea of the hamburger stand—and its descendant, the drive-thru fast food restaurant—is an ingrained part of American culture.
Images
Landrum's in its current incarnation as Beefy's Burgers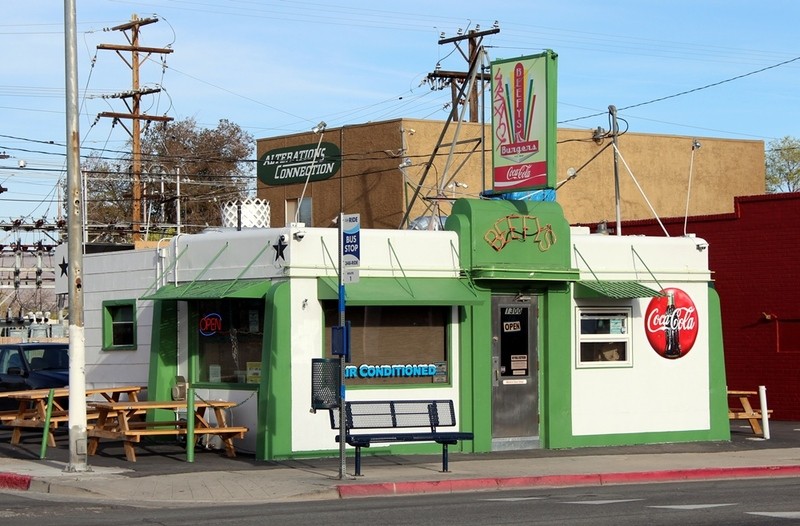 Backstory and Context
The famed Reno institution Landrum's Hamburger System No.1 arrived in the city in 1947 on a flat railroad car. The small restaurant was part of a trend then spreading across the country—prefabricated restaurants that could be assembled quickly and easily and would cater to the growing population of American drivers.
The diner was produced by Valentine Manufacturing, Inc., which was known for its small, prefabricated diners. The building consisted of porcelain-coated steel, and Valentine's most popular model came in six-stool, eight-stool, and ten-stool sizes. The diners offered an easy way to start a business, since each diner was essentially a one-man operation with limited menu options.
Landrum's was designed in the Art Moderne style and is an eight-stool unit. It is the last small dinette left in Nevada and is one of a small number of Valentine diners still in existence.
Eunice Landrum assembled her diner at its present location in 1947 and named it Landrum's Hamburger System No. 1. She intended the diner to be the first of a chain, but the later diners never materialized. She ran the diner until 1953 when she sold it to Olive Calvert, who owned Landrum's until 1986.
Landrum's was added to the National Register of Historic Places in 1998.
Sources
Harmon, Mella. Landrum's Hamburger System No. 1. Reno Historical. Accessed October 30, 2017. http://renohistorical.org/items/show/49.