Johnny Cash Boyhood Home
Introduction
Built in 1934, American country singer Johnny Cash and his entire family moved into this home in 1935. President Roosevelt's administration created the Dyess Colony in Mississippi as an experiment in American socialism. The New Deal relocation program in northeastern Arkansas brought many displaced farmers to the area as land and homes became available for no money down and affordable payments designed to help families who had lost their farms. Cash lived here until he graduated from high school in 1950.
Images
Johnny Cash's Boyhood Home that he lived in until 1950.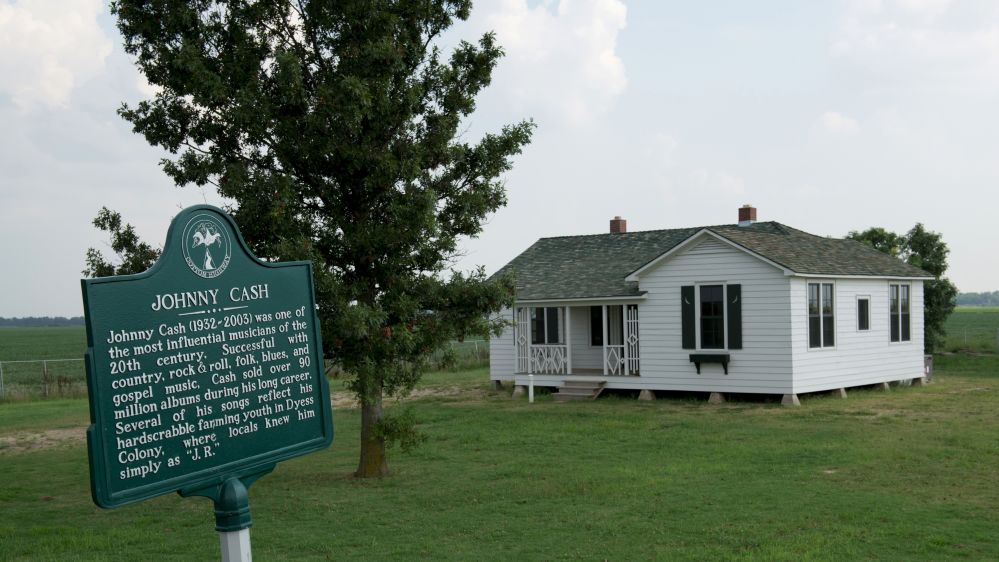 Backstory and Context
During the 1930's, Johnny Cash's family settled in a small town in Arkansas. This small town is known in history as more than just Cash's hometown as President Franklin D. Roosevelt's administration created this community as an experiment in the sustainability of social welfare. It was this experiment that brought Ray Cash to Byess in 1935 as he was able to acquire twenty acres and a five-room home with no money down. Johnny Cash was three years old at that time and the youngest of four sons and three daughters. While living in this home, Johnny experienced the Great Depression and the death of his brother, Jack.
At age 5, Cash worked in his father's cotton fields and sang with his family while they were working. The family farm itself flooded on two occasions during their stay there. These experiences would help inspire Cash's song "Five Feet High and Rising," which is a musical account of the 1937 Mississippi flood Cash endured with his family. The song was released as apart of his album "Columbia." Cash stayed in this family home until he graduated from high school in 1950.
This home now belongs to Arkansas State University. It offers tours of the home which include the larger history of this community and its connection to the federal government. Inside the home, visitors can see the bedroom that Cash shared with his three brothers. The family also has a piano that is stored in the living room. It was added to the National Register of Historic Places in 2018.
Sources
Schmidt, Caitlin. See the Johnny Cash Boyhood Home in Dyess, Arkansas. CNN Travel. undefined 2014, 08. Accessed undefined 2017, 10. http://www.cnn.com/travel/article/johnny-cash-boyhood-home/index.html.
Historic Dyess Colony: Johnny Cash Boyhood Home. Arkansas The Natural State. n/a. Accessed undefined 2017, 10. https://www.arkansas.com/attractions/detail/historic-dyess-colony-johnny-cash-boyhood-home/93405.
Additional Information