Battle of South Mountain
Introduction
On September 14, 1862, Union General Jacob D. Cox attacked Confederate Brigadier-General Samuel Garland at Fox's Gap; this gap was one of only two gaps that led through South Mountain and to Robert E. Lee's main force. Cox's men overran the Confederates, which not only pushed them back but mortally wounded Garland as well. Despite the advantage that Union General George B. McClellan had, he chose to let his subordinates, such as Cox, proceed as they saw fit and did not quickly send reinforcements. As a result Confederate forces were able to recover and prevented McClellan from annihilating Lee's main forces. Despite Union victory, McClellan allowed Lee to regroup and recover before the Battle of Antietam that followed.
Images
South Mountain Battlefield Park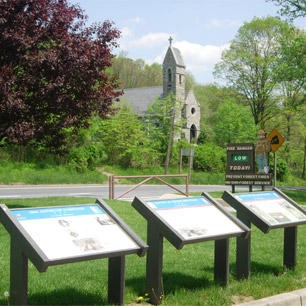 North Carolinian Monument to Battle at Fox's Gap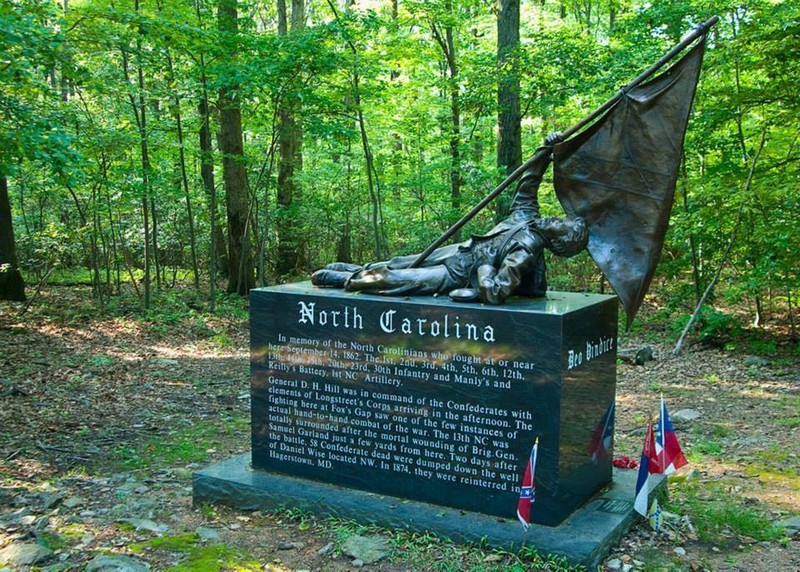 Backstory and Context
Following Second Manassas, onfederate General Robert E. Lee began to gain confidence in his Maryland Campaign. Because of his confidence, he made a bold move and split his forces, sending a large portion to take the Federal arsenal at Harpers Ferry. Unfortunately for Lee, Union General George B. McClellan was given a mislaid copy of Lee's plans that included where his troops were. With this information, McClellan decided to attack and sent General Jacob D. Cox to take Fox's Gap, one of two critical passes through the South Mountain Range.

Going up against Confederate Brigadier-General Samuel Garland, Cox was able to both Overran the Confederates and mortally wound Garland. Despite this initial success, Cox awaited reinforcements before advancing, and the reinforcements were not sent quickly because McClellan did not seem to feel the necessity to keep the pressure up and decided to let his subordinates determine their actions. Consequently, Confederate reinforcements were able to arrive and sure up positions along South Mountain. In addition, the other pass, known as Turner's Gap, was not taken quickly by Union General Ambrose Burnside who decided to await reinforcements from Joseph Hooker.

Meanwhile, Union forces sent to deal with Lee's force at Harpers Ferry were not swift because General William B. Franklin exercised extreme caution in taking Crampton's Gap despite having 12,000 men to the Confederacy's 1,000.Unlike Franklin, Union General Henry W. Slocum wanted to press forward and began an assault at around four in the afternoon. This assault overtook the Confederate position despite Confederate reinforcements. However, the delay in attacking prevented the assault from being completed before night came and more Confederate reinforcements arrived.

Back at Fox's Gap, the united Ninth Corps launched an attack against Confederate forces at Turner's Gap, but Confederate troops under the command of generals John B. Hood and D. H. Hill managed to hold them off. Another attack on Turner's Gap was also being made by Union following reinforcements from Joseph Hooker. Despite a relentless charge under Union generals George Meade and John P. Hatch on the northern end of Turner's Gap against Brigadier-General Robert Rodes brigade of about 1,200 men, Confederate reinforcements managed to hold the line until just before nightfall but by then it was too dark for Hatch to pursue the Rebels.

That night, Lee, Longstreet, and D.H. Hill agreed to abandon South Mountain the next day to regroup and prepare for the next battle. As a result, the Union was able to take South Mountain and was victorious, However, McClellan's decision not to press Lee's forces and destroy them when he had both superior numbers and a copy of Lee's strategy allowed Lee's army the preparation needed for the upcoming Battle of Antietam.

Casualties:Estimated at around 4,500 total.

Sources
http://www.nps.gov/hps/abpp/battles/md002.htm http://www.civilwar.org/battlefields/south-mountain.html?tab=facts http://www.historynet.com/battle-of-south-mountain.htm http://www.dnr.state.md.us/publiclands/western/southmountainbattlefield.asp
Additional Information