West Point Military Academy
Introduction
West Point Military Acedemy was fortified as a military emplacement in 1778 at the order of George Washington, who considered it to be the most important strategic location in the United States at the time. In 1802, Thomas Jefferson established the official United States Military Academy at West Point, recognizing the new nation's need for its own source of military education.
Images
Aeriel view of West Point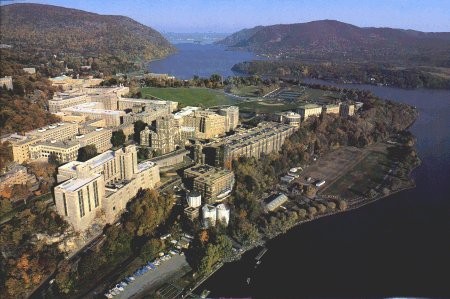 Backstory and Context
During the Revolutionary War, General George Washington recognized the importance of controlling the Hudson River and surrounding areas. He ordered that the plateau to the west of the river be fortified in 1778, and it became known as West Point. Washington's headquarters moved to the Point the following year.

In 1802, Thomas Jefferson, recognizing the new nation's need for its own source of trained military personnel, established the United States Military Academy at the location. Until the establishment of the Academy, the United States' troops had been trained by foreign officers or not at all.

Then, in 1817, Colonel Sylvanus Thayer was appointed Superintendent of West Point. He introduced a reliance on civil engineering and strengthened the Academy's Honor Code. As a result of the increased engineering focus, West Point graduates were able to fill the infrastructure needs of the developing nation, constructing thousands of miles of railway and roads, and dozens of bridges and harbors.

During World War I, the emphasis of the Academy was again broadened. The physical requirements of war were included in the Academy's new "every Cadet an Athlete" philosophy.

In 1964, the Academy's cadet class size was increased from 2,500 to 4,400, corresponding with a dramatic expansion of facilities.

In 1976, the first women were admitted to West Point. 62 women graduated West Point in the class of 1980.

Today, West Point Military Academy remains a selective and prestigious officer school, allowing Cadets to major in fields ranging from sciences to humanities.
Additional Information