DX Service Station Mural
Introduction
The DX service station has had a long and interesting history of constant. The service stations origins can be traced back to the Mid-Continental Oil Company in Tulsa, Oklahoma where they sold DX brand gasoline. Through various mergers, the DX brand no longer stands on its own, but it demonstrates that Jacksonville is very much part of the national economy with the acquisitions of its oil companies. The murals are located on the same corner as the original DX service stations when they were in operation.
Images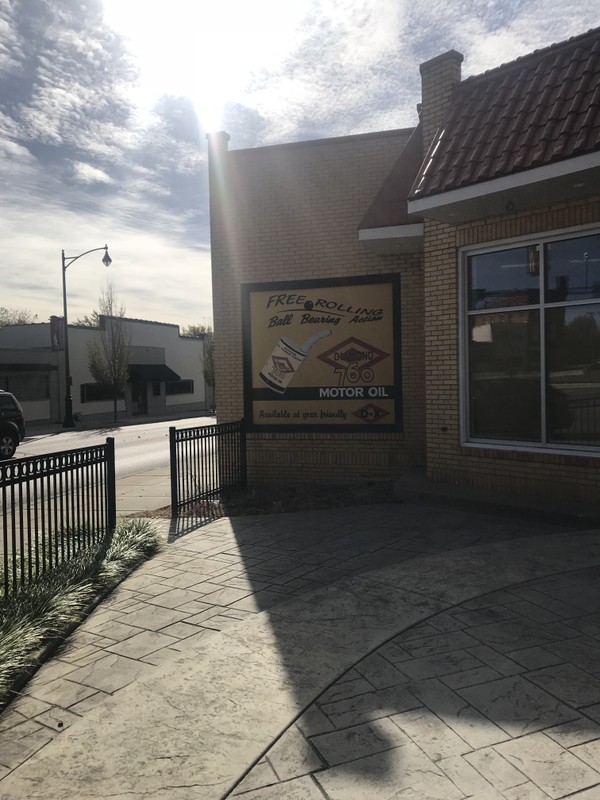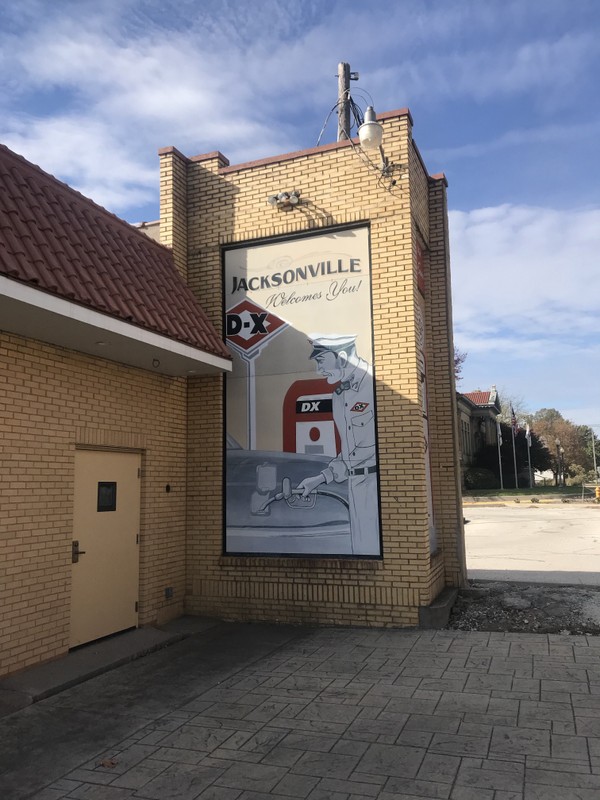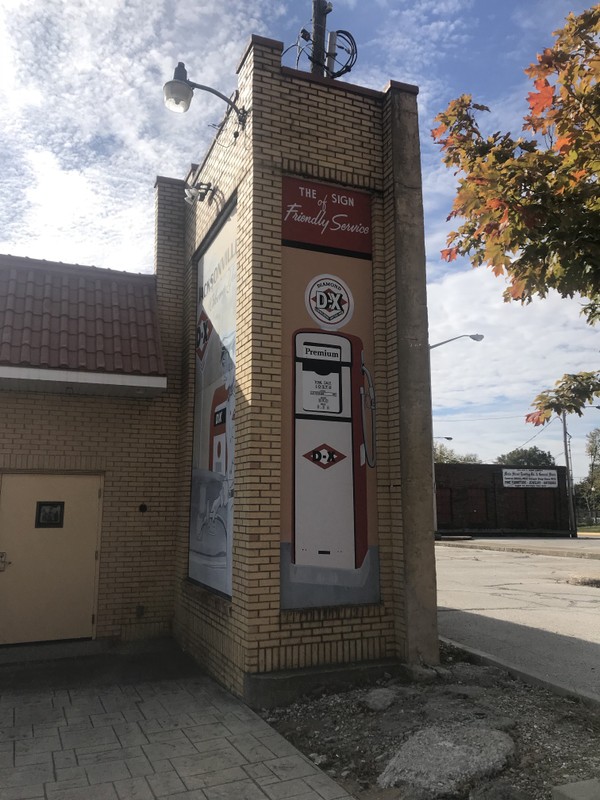 Backstory and Context
The artists for the DX service stations, Kurt Gaber and Dave Utter, took advantage of the service station's popularity and traditional style to create three different murals that all depict various advertisements that the service station put out throughout its time in Jacksonville.
The southwest corner of South Main Street and West College Avenue was where many of the gasoline service stations were located at and is now where the murals of the service stations are.
DX service stations had an interesting journey with its identity and journey throughout the twentieth century. The popular service station's origins are in Tulsa, Oklahoma and started off as the Mid-Continent Petroleum Corporation. It is important to note that the Mid-Continent Petroleum Corporation is only half the story of the DX service stations.
The Sun Oil Line Company was founded in 1890 by the Pew family and it was originally located in Ohio. The Sun Oil Line built its first service station in 1920 and had developed a chain of service stations throughout the United States in states besides Ohio such as Michigan, New York, and Pennsylvania. Sun Oil was famous for its Blue Sunoco gasoline which was advertised as "poison-free" and claimed to reduce engine knocking because of its high octane content yet it didn't contain additional tetraethyl lead.
Another company, the Sunray Oil Company merged with Mid-Continent in 1953 and it was around this time that the DX service station chain began emerge as a result of the merger. Sun Oil eventually bought Sunray Mid-Continent in 1972 and kept both the Sunoco and DX oil brands alive with DX being more prominent in the West.

North and South Main Street contained auto dealerships in the early 20th century, and small service stations were found every few blocks in the historic central business district.
The history of the oil companies here in Jacksonville demonstrates that the city is very much part of the national economy and is looking to grow itself further economically. If you want to help Jacksonville's economy to continue flourishing, stop by Leo's Pizza or the Irish Toad for some great food!
Sources
Jakle, J. and Sculle, K. The Gas Station in America. Baltimore, Md.: Johns Hopkins University Press, 2002.
Additional Information