Star Hall
Introduction
The Star Hall was built in 1905 by the Church of Latter Day Saints. The hall was built as a multi-purpose gathering place for the LDS church and was used for dinners and plays. The building was purchased by the Grand County School District in 1925
Images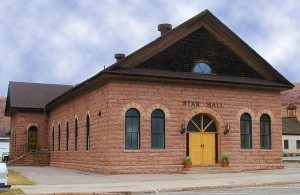 Backstory and Context
The Star Hall was built in 1905 by the Church of Latter Day Saints. The church, by then well-established in the Moab area, wanted a building that could be used for a variety of recreational purposes, including dinners, plays, and dances. The building was constructed by a number of locals, none of whom was trained as an architect, in a style known as Richardson Romanesque.

The LDS church owned Star Hall until 1925, when it was purchased by the Grand County School District. Modifications and repairs were made, and the building was used as classrooms and an auditorium until 1968.

After a number of improvements to the building, including tilting the main floor which faced the stage and the addition of 236 seats on the floor, the building became a community center for Moab. Since 1972, Star Hall has functioned as the Moab Art Theatre, which hosts numerous performances and courses each year. The building is listed on the National Register of Historic Places.
Sources
Star Hall. Noe Hill Travels in Utah. Accessed October 28, 2017. https://noehill.com/ut_grand/nat1993000416.asp.

History. Grand County Utah. Accessed October 28, 2017. http://www.grandcountyutah.net/184/History.