Ebenezer Chapel
Introduction
Built in 1836 by slaves owned by the area's first settler, Ebenezer Chapel was used as a Union headquarters during the Civil War. After the brief Confederate occupation of the area, it was also used as a prison for a three-day period. The Chapel was nearly torn down years later to make way for the construction of the Kanawha Turnpike, but it was recorded in the National Register of Historic Places and preserved.
Images
Ebenezer Chapel as seen from the front of the building.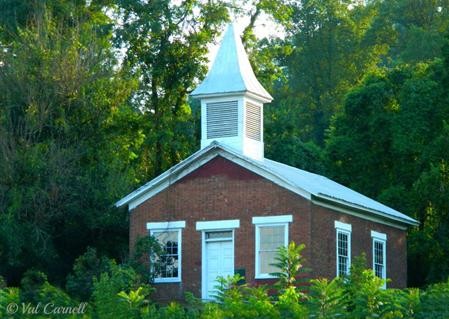 Backstory and Context
Ebenezer Chapel was built in 1836 by slaves owned by Leonard Morris, the first settler in the area. The bricks were made in West Virginia and cut by hand, and the mortar holding them together is composed of crushed mussel shells.
In 1840, a group of Methodists bought the Chapel. However, they were unable to maintain it and soon sold again, this time to a man named Luke Wilcox. Wilcox opened the Chapel to "all good denominations".
During the Civil War, the Chapel functioned as a Union Headquarters for troops stationed in the area. Their mission was to defend Charleston from approaching Confederate forces. During the Union occupation, the soldiers gutted the Chapel for firewood, and it was damaged in a later skirmish and had to be repaired.
Following the brief Confederate occupation of Charleston, a local man who had done business with the Confederates was held in the Chapel for three days before being released. At the end of the war, the US Government paid the Chapel's congregation $731.00 for the damage caused by Union soldiers.
In 1974, during the construction of the new West Virginia Turnpike, the Chapel was slated for demolition. However, a local history teacher named Russel Hansford created a committee to save the Chapel, submitting it to the National Register of Historic Places. It was accepted, and still stands as the oldest structure in the city of Marmet.
Today, the Chapel is the site of Civil War reenactments and historic presentations, and functions as the home of the Elizaville Historical Society.
Additional Information