Apache Motel
Introduction
The iconic Apache Motel was one of the first motor inns built in Moab. The motel's fame owes much to its Hollywood connections, as several movies were filmed in the area and the actors who starred in them often stayed at the Apache. The hotel is easily recognizable because of its sign--an Indian in profile overlooking a twenty-foot pole shaped like an arrow. The motel is listed on the National Register of Historic Places.
Images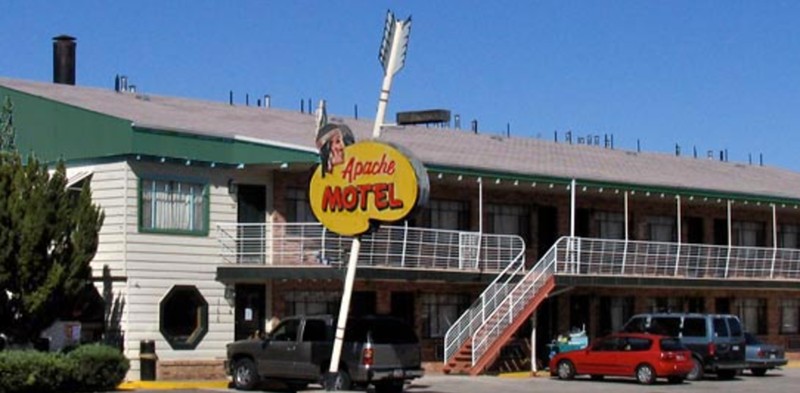 John Wayne at the Apache Motel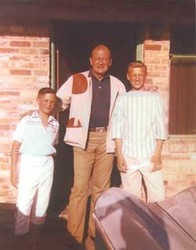 Backstory and Context
The postwar years were a time a dramatic change in Moab. The area's economy was largely based on agriculture up to that time, but the discovery of a major deposit of uranium ore led to a shift to mining as the backbone of the city's economy. The discovery coincided with the dawning of the nuclear age, and tiny Moab became a nuclear boom town.

Uranium wasn't the only thing causing Moab to boom. John Ford, who had been filming westerns in Utah since the late 1930s, began using the area around Moab as a backdrop for his films.

The Apache Motel opened in 1955, just in time to take advantage of the town's postwar prosperity. Since the area had become a popular choice for filmmakers, it was not uncommon for Hollywood stars to book a stay at the Apache for the duration of filming. One of the motel's most famous guests was John Wayne. When Wayne and his family stayed at the Apache, the actor booked a large, two-room upstairs suite, which is now the "John Wayne Suite." The motel's lobby is decorated with photographs and mementos of John Wayne and other actors who stayed at the Apache.

The motel is listed on the National Register of Historic Places, largely because of its association with the golden age of Hollywood westerns.
Sources
Apache Motel. Noe Hill Travels in Utah. Accessed October 28, 2017. https://noehill.com/ut_grand/nat2008000062.asp.


Additional Information