Mesker Brothers Building, Hinton
Introduction
This Italianate-style building, constructed ca. 1890 is the Hinton Historic District's only example of a pressed-metal façade. The building's façade is the product of the prolific Mesker Brothers Company from Evansville, Indiana, which produced a wide variety of pressed metal architectural features. It was likely ordered from a mail-order catalog and shipped to Hinton on the railroad. This was the original home of the Bank of Summers, which was established in 1895. The bank moved in 1905; since then, this building has served as a hardware store, the Fairyland Theater, and a laundry mat.
Images
1894 Catalog. Source: Darius Bryjka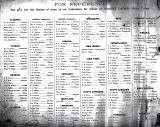 The historic Mesker Brothers Building in 2017.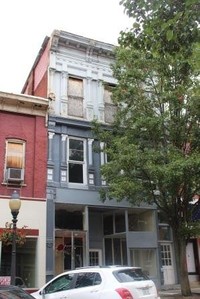 Backstory and Context
This 3-story Italianate building's metal facade is its most significant feature. The only full metal facade in the Hinton Historic District, and one of only 3 other Mesker Brothers products, this building is significant because it is the only local example of a prolific building material used across the United States in the Victorian Era.

Frank and Bernard Mesker founded Mesker and Brother, a structural iron and sheet metal firm, in 1879 in Evansville, Indiana. In 1912, the firm incorporated under the name Mesker Brothers Iron Company. The Hinton building bears the name Mesker and Bro, establishing its construction date between 1879 and 1912. The Mesker Brothers began their prolific mail order service in 1884; by 1887, their print run was up to 500,000 catalog copies. The company specialized in structural iron and sheet metal but also produced cornices, railings, and jail cells. The building at 217-219 Temple Street in Hinton features one of their metal cornices [2].

The design of this metal front was first enacted in 1888 and was featured in a Mesker catalog in 1894, which narrows down the construction date. It's possible but not likely that the metal front was installed years after the building was constructed because other buildings on that block were also built ca. 1890 [3]. The 1894 catalog identifies the owner as J.A. Parker, who more than likely operated the Fairyland Theater out of the building until 1895 when the Bank of Summers moved in. The Bank of Summers worked out of this building until 1905 when it moved two doors down to the building on the corner of Temple and 3rd Avenue, which used to feature a distinctive turret [4]. In recent years, the building has been used as a laundromat but has been vacant for several years.




Sources
[1] S0331 Mesker Brothers Iron Works, Records 1879-1953. State Historical Society of Missouri. http://shsmo.org/manuscripts/stlouis/s0331.pdf
[2] "Where are Meskers?" https://meskerbrothers.wordpress.com/where-are-meskers/
[3] "National Register of Historic Places Nomination (Boundary Revision): Hinton Historic District." 2005.
[4] Robinson, Ed. "Images of America: Summers County" 2003, Arcadia Publishing.


Additional Information