National Nordic Museum
Introduction
The Nordic Heritage Museum is a facility located in central Ballard, dedicated to educating people and preserving Nordic history. The concept was created by a group of Norwegians called the Pacific Nordic Council and was founded in 1980. After much success, the museum was re-established as the Nordic museum in a 57,000 square foot facility on Market street. The museum then became reclassified as the National Nordic Museum due to a bill written by Senator Maria Cantwell. The new museum has many unique nordic exhibits such as immigration, nordic industries, and nordic wildlife. To this day the National Nordic Museum remains the only museum in America based around Nordic culture and traditions.
Images
The entrance to the Nordic Heritage Museum features sculptures by a Finnish artist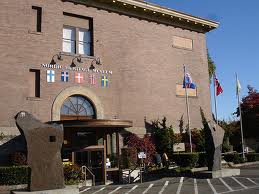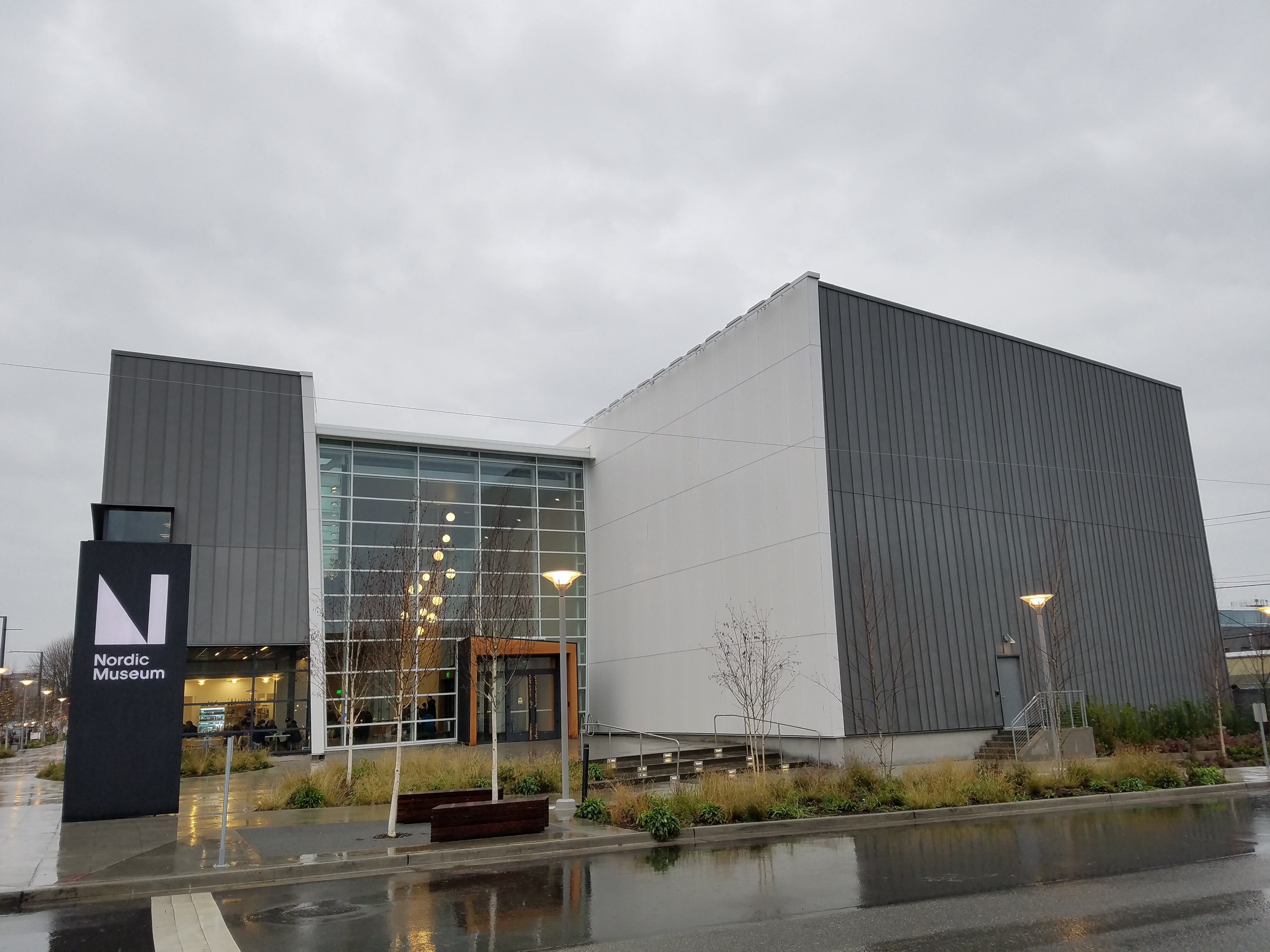 Backstory and Context
Now the National Nordic museum, the Nordic Heritage Museum has been educating people of all backgrounds about Nordic culture ever since it's founding in 1980. The concept of this museum dates even further back to 1932 when a group of Norwegians discussed creating a museum dedicated to educating and preserving Scandinavian culture. Ballard was a perfect location for this museum because it had such a high population of Norwegians and events such as the annual Nordic festival. Another driving factor of this museum took place in 1975 when a large group of Norwegians celebrated the 150th anniversary of nordic immigration to Seattle and none other than King Olav the V of Norway showed up. He was proud of the strength of the Nordic culture in Ballard but was disappointed that there was no permanent home for it. With Olav's approval, the idea of a permanent museum had gained so much momentum that people felt it necessary to create such a place. This plan was finally carried out when Rosanne Royer of the Pacific Nordic Council came across the old Webster School Building which later became the home of the Nordic Heritage Museum. The group earned the money for this building by renting out space to a variety of businesses such as the Skandia Folkdance Society. After they had enough money to afford the lease, they then recruited help from volunteers to help clean up the building and refurbish it. After it was ready for visitors, Marianne Forssblad stepped up as the executive director until 2009 when she resigned. 
Because of the impressive results from the first museum, it was clear that the operation needed to be upgraded. With this in mind, Marianne Forssblad raised over five million dollars to secure a new location for the museum. The new location is a 57,000 square foot building designed by the Mithun architecture firm meant to resemble a linear fjord. The location boasts excellent light exposure and mimics elements of nature native to the Nordic countries. Another addition to the museum was Cafe Freya which offers a unique Norwegian dining experience with dishes such as smorgasbord, danish open-faced sandwiches, and Swedish ginger cookies (pepparkakor). The final addition to the museum was the gift shop which offers a variety of Nordic-themed items available for purchase.
In 2019, Senator Maria Cantwell introduced a new bill that would give the Nordic Museum a national designation. This bill was then signed by the president officially changing the Nordic Museum into the National Nordic Museum. The National Nordic Museum was happy to receive this news because with a national designation it would become more popular and tourism would increase. Eric Nelson even stated that it would "Stimulate economic and cultural bonds between the Nordic region and Washington State". 
The National Nordic Museum has contained a variety of exhibits such as Norwegian Immigration, Vikings, and Pacific NW industry. The largest exhibit they have is the Scandinavian immigration exhibit which shows the journey of Norwegians to the pacific northwest and various events along this period. The exhibit displays the passage of time by having a chronologically ordered collection of objects over 12,000 years. 
To this day, the National Nordic museum remains the only museum in America dedicated to preserving and educating people on the five Nordic countries. The Museum has accumulated a whopping 80,000 objects for its permanent collection.
Sources
http://www.nordicmuseum.org/collections.aspx
Henry, Mary T.. Nordic Heritage Museum (Seattle), History Link. December 15th 2011. Accessed June 4th 2020. https://www.historylink.org/File/9952.
Elliot, Gwendolyn. Inside the New Nordic Museum: Behind the Scenes for One of Seattle's Most Anticipated Cultural Openings of the Year, Seattle Magazine. Accessed June 4th 2020. https://www.seattlemag.com/arts-and-culture/inside-new-nordic-museum-behind-scenes-one-seattles-most-anticipated-cultural.
, NA. Seattle's Nordic Heritage, December 27th 2015. Accessed June 4th 2020. https://wedgwoodinseattlehistory.com/2015/12/27/seattles-nordic-heritage/.
National Nordic Museum. Invalid date. Accessed June 4th 2020. https://www.nordicmuseum.org/about.
Lloyd, Sarah Anne. The brand-new Nordic Museum opens Saturday in Ballard, Curbed Seattle. May 3rd 2018. Accessed June 4th 2020. https://seattle.curbed.com/2018/5/3/17317010/new-nordic-museum-building-photos.
Lloyd, Sarah Anne. The Seattle Nordic Museum is now the National Nordic Museum, Curbed Seattle. March 15th 2019. Accessed June 4th 2020. https://seattle.curbed.com/2019/3/15/18268019/national-nordic-museum-seattle-ballard.
Canevali, Ralph. 50 States of Preservation: Nordic Heritage Museum in Seattle, WA, National Endowment For the Humanities. June 29th 2017. Accessed June 4th 2020. https://www.neh.gov/divisions/preservation/featured-project/50-states-preservation-nordic-heritage-museum-in-seattle-wa.
Additional Information