Birthplace of Governor Sam Houston Jones Historical Marker
Introduction
This historical marker dedicated in 2012 shares the history of the two-room cabin near this location in Merryville that was the birthplace of Sam Houston Jones on July 15, 1897. The property where the cabin stood was homesteaded by Jones' grandfather, Moses Clark Frazar. Jones became the state's 46th governor, serving during World War II, from 1940-1944. He was born in Merryville and was a 1915 graduate of DeRidder High School. Jones defeated Earl K. Long in 1940 for the gubernatorial seat in a bitter campaign. Long had served as governor for about a year following the resignation of Richard Leche. Long was again elected governor for two terms – 1948 and 1956. Jones is credited with leadership in passing reforms related to state contracting, bidding, and dual office-holding. Among his focuses were the state's civil service system and educational system.
Images
The site of the historical marker in Merryville, adjacent to La. 110.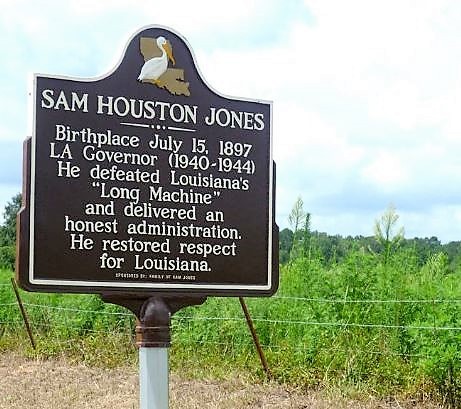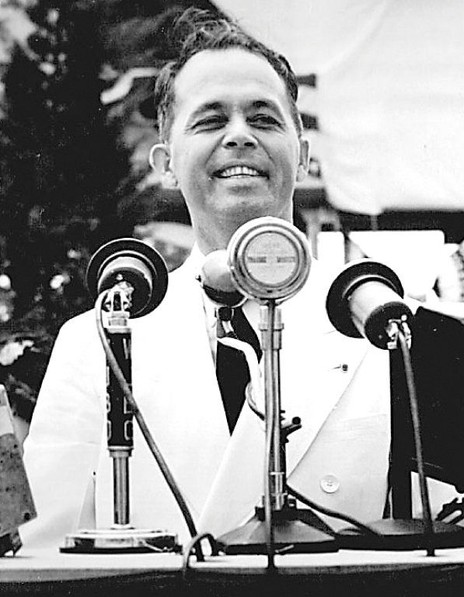 Backstory and Context
ones attended Louisiana State University and quit college in 1917 to volunteer for service in the Army in World War I. He ultimately retired from service in 1957 at the rank of major. He began studying law in 1919 and worked for his father, Robert Jones, who was Beauregard Parish Clerk of Court. He passed the Louisiana Bar in 1922 without a college degree. Jones practiced law in DeRidder and in Lake Charles. He once served as an assistant prosecutor for the Southwest region. He
Sources
Sam Houston Jones Governor of Louisiana, Historical Marker Database. Accessed June 29th 2021. https://www.hmdb.org/m.asp?m=140517.
Additional Information