Marquis de Lafayette Monument
Introduction
The statue of Lafayette, dedicated in 1924, looms over the south end of Mount Vernon Place, just across from Baltimore's Washington Monument on its southern side and facing toward the Inner Harbor. The juxtaposition of the two monuments is no surprise, since the French nobleman and supporter of the American Revolution became one of George Washington's closest allies and friends during the Revolution. The massive bronze equestrian statue, sculpted by Andrew O'Connor, was dedicated in 1924, a century after the aging Lafayette drew massive crowds on an American tour in remembrance of the Revolution.
Images
Image courtesy Wally Gobetz, https://www.flickr.com/photos/wallyg/203406543.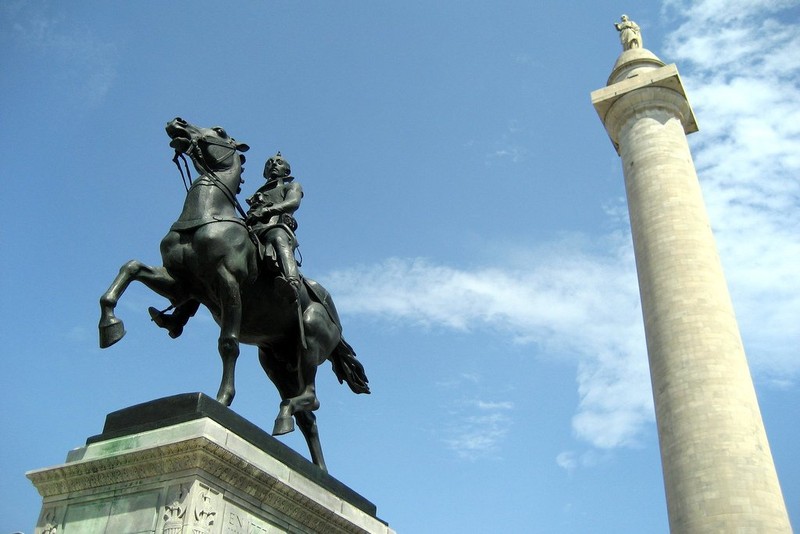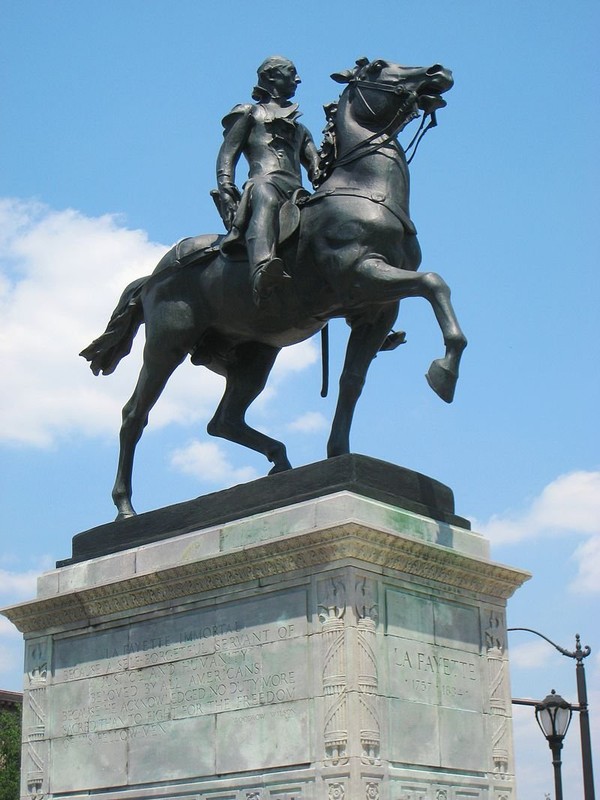 Backstory and Context
In the post-World War fervor-"Lafayette, we are here!"-it is no surprise that Baltimoreans backed an effort to raise a statue to the memory of the Marquis de Lafayette in the shadow of his friend and mentor, George Washington, especially since it was the centennial of Lafayette's feting as he traveled across America in 1824-1825. What was a surprise was the controversy that exploded around the statue.

The controversy arose around its placement, just south of the Washington Monument. Some Baltimoreans feared it would detract from the latter, going as far as to argue that it would obscure the Washington Monument from view when looking from the south. Henry Walters, whose eponymous art gallery had just opened across the street, called in an "artistic crime," and H.L. Mencken, Baltimore's resident wit, said it resembled "Washington's spittoon."

The statue, on its massive plinth, was erected anyway and the controversy died down. Today, it is difficult to imagine Mount Vernon place without the Lafayette Monument. An inscription on one side of the plinth (a quote from Woodrow Wilson) succinctly states the eighteenth-century republican virtues that, to many Americans then and since, Lafayette embodied:

"LA FAYETTE IMMORTAL
BECAUSE A SELF-FORGETFUL SERVANT OF
JUSTICE AND HUMANITY
BELOVED BY ALL AMERICANS
BECAUSE HE ACKNOWLEDGED NO DUTY MORE
SACRED THAN TO FIGHT FOR THE FREEDOM
OF HIS FELLOW-MEN."



Sources
Cindy Kelly, Outdoor Sculpture in Baltimore: A Historical Guide to Public Art in the Monumental City (Baltimore: Johns Hopkins University Press, 2011), 75.
"Marquis de Lafayette Monument in Mount Vernon Square," Monument City Blog, http://monumentcity.net/2009/05/15/marquis-de-lafayette-monument-baltimore-md/, accessed October 23, 2017.
"Lafayette Monuument," Wikipedia, https://en.wikipedia.org/wiki/Lafayette_Monument.