Stoneman's Raid
Introduction
In March of 1865 a raid took place in Blowing Rock under Major General George Stoneman, who was the commander of the Union army District of East Tennessee. The raid is classified as one of the largest cavalry raids in history; with around 5,000 men marching into North Carolina in an attempt "to destroy and not to fight battles". The raid was an attempt to expedite the closing of the Civil War.
Images
Sign in Blowing Rock next to 1888 Museum about Stoneman's Raid of 1865.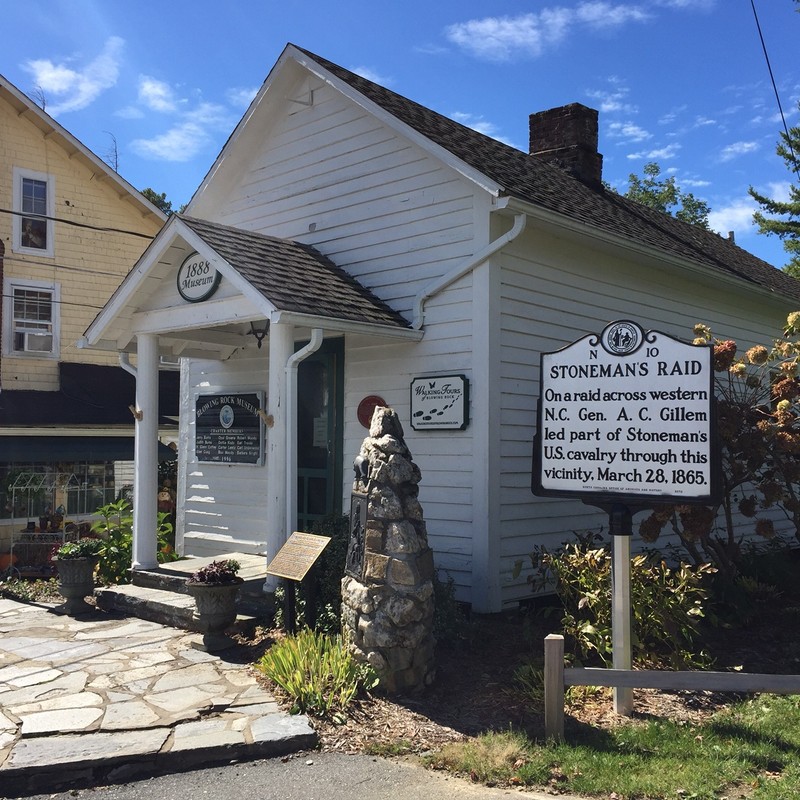 A picture of Gen. Stoneman and another historical sign on the Lenoir Turnpike of the 1865 raid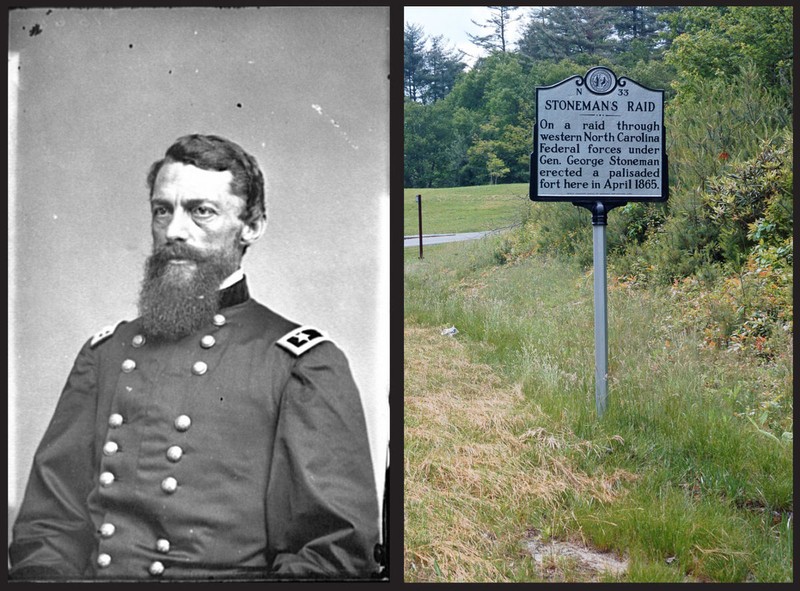 A guided map on the raids of Stoneman and his men.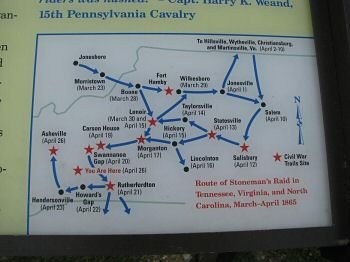 Backstory and Context
While Stoneman's Raid was taking place, William T. Sherman was leading raids on the other side of the state. The raids were planned to coincide with each other in an attempt to stretch militias thin and force Confederate commanders to make tough decisions on where their men were needed most. Stoneman sent troops in all directions, pillaging, destroying, and taking civilians captive. The big skirmish took place in Boone, with little resistance in Blowing Rock, Deep Gap, and surrounding areas.
Stoneman's men relied on the local residents for food and shelter while obtaining supplies and fresh horses from Wilkesboro. The raids were also an attempt to locate the fleeing Confederate President, Jefferson Davis. The Union Army won these series of skirmishes and took out pretty much every Confederate troop.
One of the most interesting parts of this raid is that the Confederate Army split up into many smaller cavalries to disperse among the Western North Carolina region. Stoneman decided to oversee a cavalry led by Maj. Gillem. The original mission was to move into South Carolina, but other raids in the south moved swiftly, which eliminated their need to deploy to South Carolina. From Eastern Tennessee, the cavalry moved into the Watauga region, pillaging and destroying everything they did not steal, and using local residents as workers to retrieve anything the cavalry needed.
Overall, Ulysses S. Grant believed that these raids from all sides would leave the Union nothing to stand on. With Grant's army scattered across the state, there was little if any resistance for the smaller raids, which ultimately led to an easy sweep of Western NC. When the Confederates reached Boone, they were met with an unexpected opposition that fired at anything and everything moving. After one of the biggest battles of their journey, Stoneman and his men neutralized Boone and then proceeded down to Wilkesboro and beyond. This raid changed the entire history of Watauga County as well as North Carolina.


Sources
"Stoneman's Raid." Stopping Points Historical Markers & Points of Interest. Accessed October 18, 2017. https://www.stoppingpoints.com/north-carolina/sights.cgi?marker=Stoneman%27s%2BRaid&cnty=Watauga.

"Major General George Stoneman Led the Last American Civil War Cavalry Raid." HistoryNet. August 04, 2016. Accessed October 18, 2017. http://www.historynet.com/major-general-george-stoneman-led-the-last-american-civil-war-cavalry-raid....
Additional Information