Cullars Rotation
Introduction
Located behind the Julie Collins Smith Museum of Fine Art, is the Cullars Rotation, the oldest continuous agricultural fertility experiment in the country and the second oldest in the world (the nearby Old Rotation experiment the world's oldest). It was established in 1911 to discern how much potassium crops needed to stay alive. Without this nutrient, crops would begin to turn brown in late July and early August and die. Farmers started to call this phenomenon cotton rust disease. Thanks to the initial three-year experiment—which included corn, cotton, soybeans, and wheat—the correct amount of potassium crops needed was discovered. The findings from the experiment were widely disseminated all over the world. Ever since, students and researchers, including foreigners, have come to Cullars Rotation to conduct other experiments. Given its role in advancing agricultural science, Cullars Rotation was added to the National Register of Historic Places in 2003. The experiment's name is derived from J.A. Cullars, one of the farmers who owned the property.
Images
Cullars Rotation was established in 1911.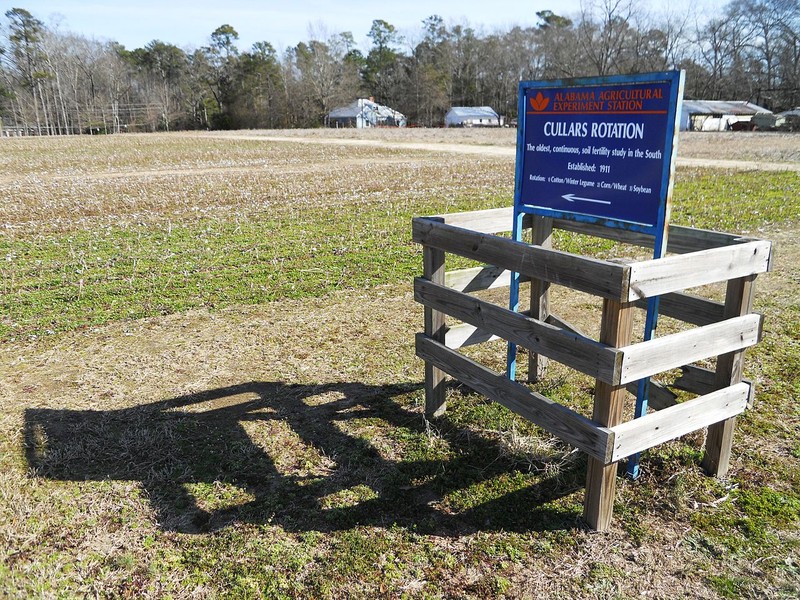 Backstory and Context
Crops were dying because they were not getting enough potassium in the deep sandy soils of the coastal plains. Scientists discovered this in the late 1800s. One of these researchers was George F. Atkinson, who likely conducted tests on the Cullars Rotation site before 1911. In 1938, the Alabama Polytechnic Institute (the forerunner to Auburn University) bought the field and continues to own it today.
Sources
Mitchell, Charles. "Cullars Rotation." Encyclopedia of Alabama. September 24, 2013 (Updated November 20, 2013). http://www.encyclopediaofalabama.org/article/h-3523.
Mitchell, Charles C. "Cullars Rotation." National Park Service - National Register of Historic Places Nomination Form.
April 18, 2003.
https://npgallery.nps.gov/GetAsset/dd141f0a-bebd-4d04-958d-376addc9cd60.
Photo: Rivers Langley, via Wikimedia Commons
https://en.wikipedia.org/wiki/Cullars_Rotation#/media/File:Cullars_Rotation_Auburn_University.JPG