Princeton Battle Monument
Introduction
Located in the Princeton Battlefield State Park in Princeton, New Jersey, the Princeton Battle Monument commemorates the January 3, 1777, Battle of Princeton that took place during the American Revolutionary War. The monument shows General George Washington representing his defeat over the British forces during this battle. The monument also commemorates the death of General Hugh Mercer, a close friend of Washington's who lost his life as a result of lethal wounds received during the Battle of Princeton.
Images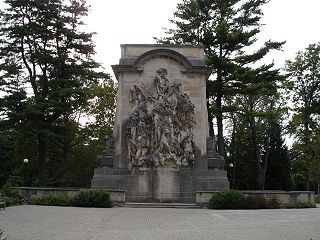 Backstory and Context
The monument was unveiled in 1922 after being designed by Frederick MacMonnies with Thomas Hastings assisting with the architecture. In 2007, a new addition was added to the monument, a light that illuminates the monument at night, although the illumination effect was in the original plan 85 years prior it did not get completed until 2007. The Monument is a focal point of the park and is visited by many.
As noted, the Monument shows General George Washington on horseback, leading the defeat over the British troops while also commemorating the death of General Hugh Mercer. On the back of the Monument, an inscription written by Andrew Fleming West reads: "Here memory lingers to recall the guiding mind whose daring plan outflanked the foe and turned dismay to hope when Washington with swift resolve marched through the night to fight at dawn and venture all in one victorious battle for our freedom." Warren G. Harding was present when the Monument was unveiled on June 9, 1922.
Sources
http://www.revolutionarywarnewjersey.com/new_jersey_revolutionary_war_sites/towns/princeton_nj_revolutionary_war_sites.htm http://en.wikipedia.org/wiki/Battle_of_Princeton http://en.wikipedia.org/wiki/Princeton_Battle_Monument
Additional Information