Historic Central Ave Jazz Corridor
Introduction
The Historic Central Ave Jazz Corridor Marks the Historic Site for Jazz Musicians in California. The style of Jazz has come to be known as America's greatest contribution to music that rose from the African American Culture. At this location, many well-known musicians gathered and shared their cultures with the celebrities and upper class of Angelenos, creating an atmosphere that fostered diversity. The marker was erected in 1997 as a commemoration to Willard H. Murray and his actions to preserve Jazz as an Art Form.
Images
Billie Holiday singing at the Downbeat club (1947). Photo Credit: See footnote 6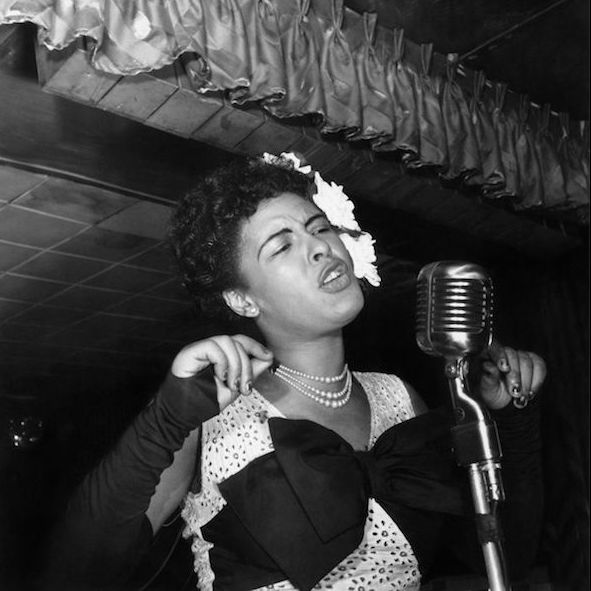 Jazz Park located on Central Avenue which since 1997 has held the annual Jazz Festival in honor of Jazz Corridor's legacy. Photo Credit: See footnote 7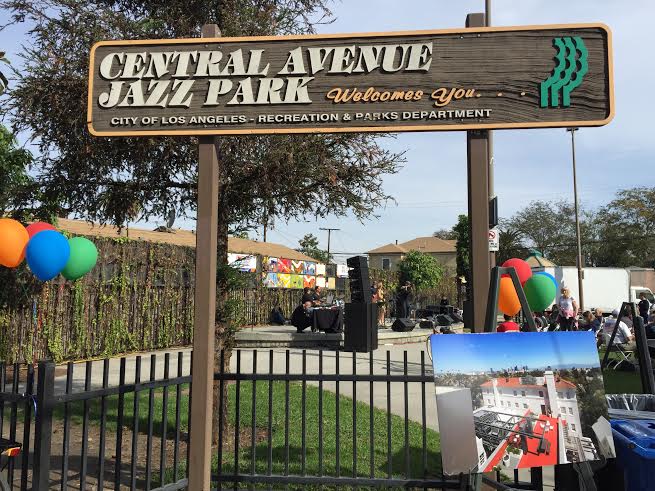 Backstory and Context
From the beginning of the Twentieth Century, African American culture began to claim a strong foothold in the American Identity with the introduction of Jazz. Starting from slave music, and climbing up the social ladder through its integration of gospel, Jazz came to be known as America's greatest contribution to music.1 Today we find this unique style of music in concert halls all across the United States and as a result, we have multiple venues that helped push Jazz into the limelight. One such location was the Central Ave Jazz Corridor in Los Angeles California otherwise known as "Little Harlem".2
Unique in its ability to stand apart from the Western European tradition of musical composition, Jazz allowed performers to express themselves in a manner that illustrated their own personal approach to music. It was music that swung, and during the 1940s "Little Harlem," became a popular attraction to Hollywood Celebrities and upper class residents.3 All along Central Ave, one could find multiple jazz joints such as The Downbeat Club which hosted some of the most recognized jazz artist in modern history. Black artists such as Charles Mingus, Art Blakey, Dizzy Gillespie, and Buddy Collette who helped transform music from the Swing era to Bebop, West Coast Jazz, and ultimately Fusion Jazz.4
In 1997 the California Legislative Assembly introduced and passed Bill ACR 78 designating that special markers be erected to commemorate small business owners. Among those selected was Willard H. Murray, a leading community member who established the preservation of Jazz as an Art form at California State University, Long Beach and garnered funding to improve district schools, including the Compton Unified School district, for which he fought for the improvement of conditions within the community. 5 It now stands as a reminder of a historic site that once fostered the diversity found within Jazz music.
Sources
1. Gioia, Ted.
The History of Jazz
. 2nd ed., Oxford University Press, 2011.
2.
"The Downbeat Club Historical Marker."
Historical Marker
, 16 June 2016, www.hmdb.org/marker.asp?marker=51234.
3. Ibid
4.
Gioia, Ted.
The History of Jazz
. 2nd ed., Oxford University Press, 2011.
5. Bordonaro. "California Bil ACRl 78."
ACR 78 Assembly Concurrent Resolution - ENROLLED
, 13 Sept. 1997, www.leginfo.ca.gov/pub/97-98/bill/asm/ab_0051-0100/acr_78_bill_19970913_enrolled.html.
6.
Teicher, Jordan G. "Rare Photographs of Jazz Icons From the Archives of Metronome Magazine."
Slate Magazine
, Slate, 11 Aug. 2015, www.slate.com/blogs/behold/2015/08/11/photographs_from_metronome_magazine_s_jazz_archives_in_pierre_....
7.
"Community Outreach and 'Booth-Ing' at CicLAvia South LA."
Community Outreach and "Booth-Ing" at CicLAvia South LA | Meta Connects
, www.metaconnects.org/project/community-outreach-and-%E2%80%9Cbooth-ing%E2%80%9D-ciclavia-south-la.
Additional Information