Integration With Dignity Historical Marker, Harvey B. Gantt and Clemson University
Introduction
Despite the 1954 Supreme Court ruling in Brown vs. Board of Education declaring racial segregation in schools and colleges unlawful, not a single university or college in South Carolina ended their policy of segregation. This changed when Clemson College (currently Clemson University) became the first integrated college or university in South Carolina in 1963. Harvey B. Gantt, a Black architectural student, applied for admission to the college in 1961. After being denied admission, Gantt filed a lawsuit against the college for discriminating against applicants because of their race. And while the courts of South Carolina did not respond to his suit, Gantt took his case to federal courts. In January of 1963. the Fourth Circuit Court of Richmond ordered Clemson College to accept Gantt as a student. This marker commemorates the history of the case and the integration of Clemson University.
Images
Clemson College campus homecoming early 1960s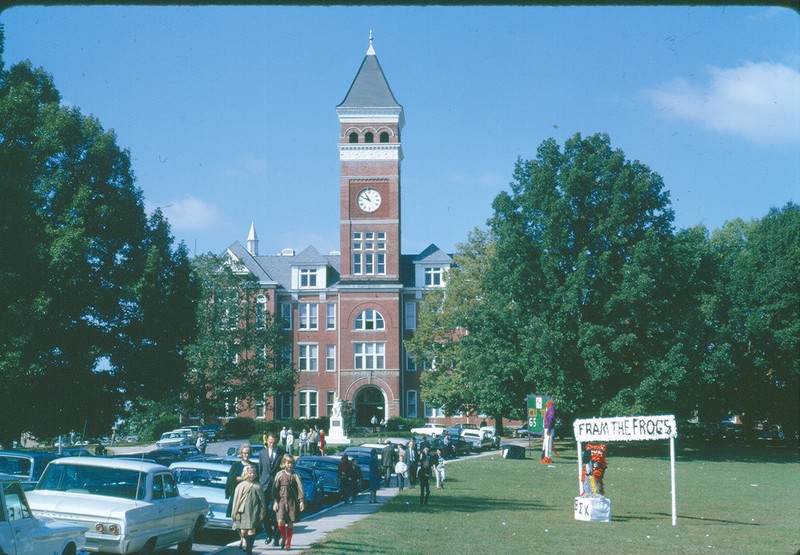 Historical Marker on Clemson Universities campus: Integration with Dignity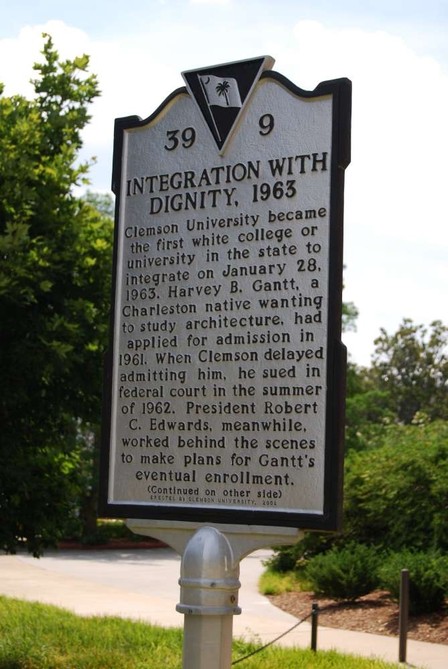 Harvey Gantt being interviewed upon arrival to Clemson's campus, 1963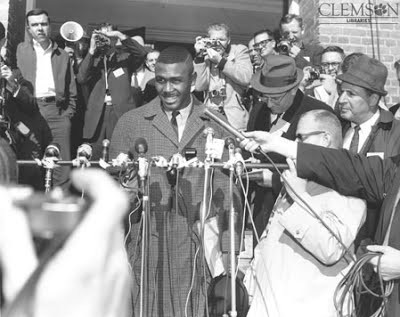 Gantt holding models at Clemson College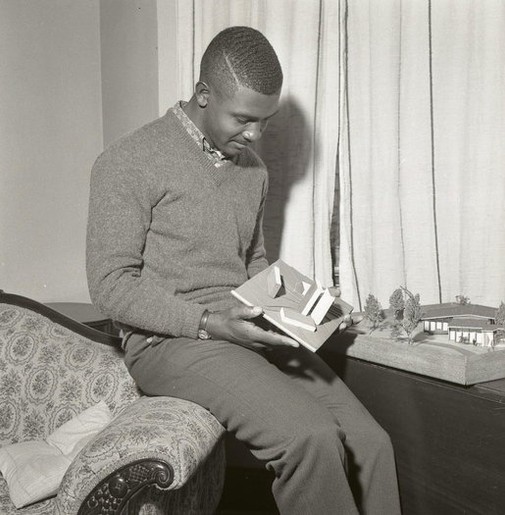 Backstory and Context
Gantt's courage in challenging his exclusion from Clemson can only be understood by considering the violence and discriminatory actions African Americans faced when they challenged their exclusion. African American students at the University of Mississippi and other institutions faced death threats and their appearance on campus sparked acts of racial violence by white supremacists throughout the late 1950s and early 1960s.
The leaders of Clemson College opposed integration, as did the white leaders of South Carolina/ Gantt and others were limited to historically-Black colleges such as South Carolina State, and when these colleges did not offer specialized degrees, the state chose to pay tuition at universities in different states rather than change their admission policies. Gantt wanted to attend Clemson because they had one of the best architecture programs in the country.
Harvey B. Gantt was born in 1943 and raised in Charleston, South Carolina. In his senior year of high school (1960) Gantt knew he wanted to be an architect and Clemson had the only architectural program in the state. Upon reviewing his application and seeing he was Black, Gantt was denied enrollment but encouraged to go to his other choice, Iowa State University. He received a quarterly payment of $149.51 to pay the difference since no Black South Carolina college, had an architecture program. Gantt went to Iowa State but soon felt a sense of loneliness and isolation. "I realized I was a child of the South," said Gantt in an interview with a Clemson historian.
Gantt applied to Clemson again, this time as a transfer student. Clemson claimed his transcripts were never completed and rejected him again. Gantt decided the only way he was going to get enrolled was if he took legal action and on July 7th, 1962 Gantt's father filed a lawsuit on his behalf (Gantt was a minor).

"The plaintiff has not been granted admission to Clemson College although he is fully qualified for such admission and has met all requirements for such admission and although white students who applied after plaintiff applied and whose academic records are inferior to those of the plaintiff have been admitted. The admission of the plaintiff has been denied by the registrar of Clemson College solely because of the race and color of the plaintiff and pursuant to the policy, practice, custom and usage of limiting admission to Clemson College to white persons only."

- Complaint, Harvey Gantt v. Clemson Agricultural College of South Carolina
The case was heard in Anderson, South Carolina by Judge C. C. Wyche. Clemson's defense relied on the notion that Gantt never completed the application process and that his application was reviewed the same way as any other student application they receive. Gantt believed that Clemson was somehow twisting the admission guidelines to keep him out of the school. On December 22, 1962 Wyche ruled that Clemson had legal rights to deny the application since it was "incomplete". Gantt then took the case to the Fourth Circuit Court of Richmond where they ruled to repeal Wyche's verdict and ordered Gantt be enrolled. After Wyche tries to rule in favor against Gantt again and fails, Clemson's lawyer takes the case to the Supreme Court where he loses the case. Clemson was ordered to enroll Gantt into school on January 28th, 1963.
Once the verdict was made, President Edwards and other leading men at the college vowed to make Clemson's integration experience different from many other colleges and universities in the South that experienced violence. Edwards is quoted on the marker as saying the process will be a "conspiracy for peace." He and other university leaders had worked to prevent integration, but once the federal government had ruled against his administration, he wanted to ensure that Gantt's arrival would not spark national attention.
Despite the leadership's desire to integrate quietly, white people around the state were outraged. KKK members sent the school hate mail and held rallies all round South Carolina. Edwards issued I.D cards to keep whoever wasn't supposed to be on campus out and kept a close eye on the press and what they released. When Gantt arrived, the press was there to document this historic moment of South Carolina history.
Sources
Scott, Brian. Intergration with Dignity, 1963. The Historical Marker Database. July 25, 2008. https://www.hmdb.org/marker.asp?marker=9530. Gave the inscription of the landmark that describes the integration of Clemson College

Click, Carolyn. Gantt revisits integration journey. The State. September 22, 2012. http://www.thestate.com/latest-news/article14408525.html. Gives quotes from Gantt's interviews in relation to the integration of Clemson

Harvey Gantt and the Desegregation of Clemson University. Clemson University. January 28, 2003. http://www.clemson.edu/oirweb1/FB/factbook/Historical%20Enrollment/Integration.htm. Detailed Clemson information about the process of desegregating the college

Harvey Gantt and "Integration with Dignity". The African American Experience at Clemson. https://sites.google.com/site/hon221finalproject/harvey-gantt. Overview of the climate of society and the integration of Clemson

Additional Information