West Point Monument
Introduction
The West Point Monument, honor to William Carney and also a tribute to African American veterans of the Spanish and Civil War in Norfolk, VA. The monument marker is located at the Elmwood cemetery, which is the burial site for Norfolk's African American soldiers. The bronze statue stands tall at six-feet and at the top a figure of Carney. The monument was the work of James A Fuller, a former slave and veteran of the first US Colored Calvary. The work on the monument began in 1909 but was not until 1920 when finalized.
Images
West Point Memorial Marker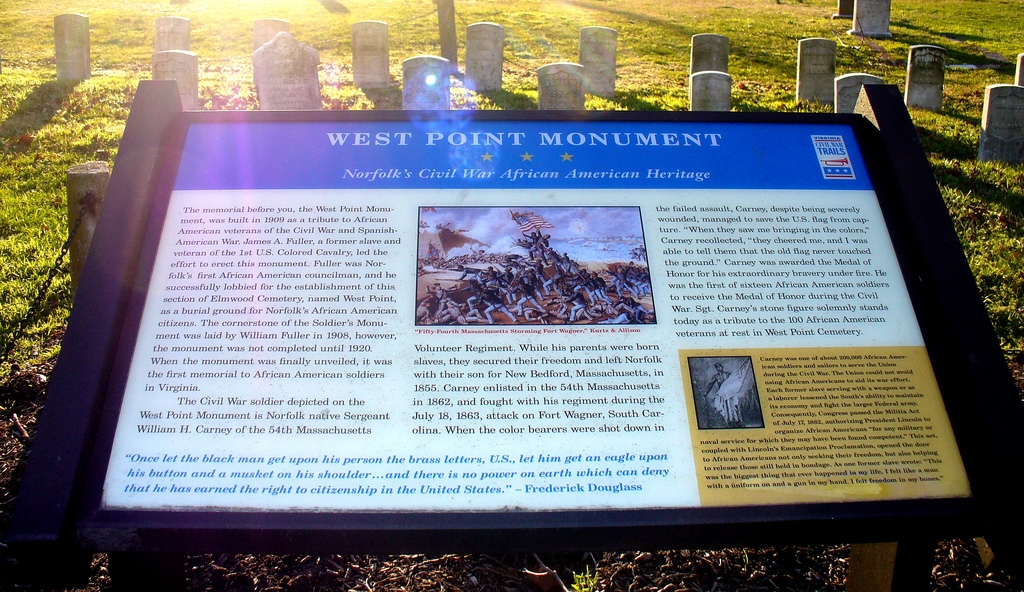 Sgt. Standing Tall overlooking the West Point Cemetery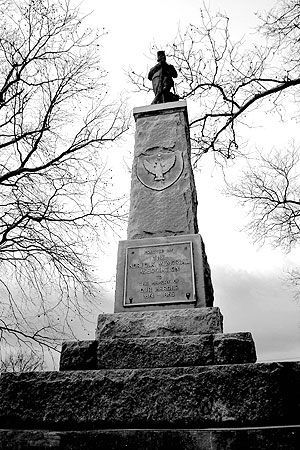 Backstory and Context
The city of Norfolk, VA gave land to the veteran association and it was then that James Fuller took upon himself to build a monument. The West Point Monument built to honor William Carney is located in Elmwood Cemetery, Norfolk, VA, the resting place for nearly one hundred soldiers who passed away in the Spanish and Civil War. With hardly any funding for the monument Fuller himself did fundraisers to raise money for the monuments completion. Taking nearly eleven years to complete the monument, once completed was the first memorial known in Virginia for African American's.
William Carney, the first African American solider to earn a Medal of Honor for his courageous bravery during the war. After being shot four times during the 54th Massachusetts Regiment, he recovered but due to the wounds damages he was shortly discharged from service. He protected the flag from capture even after being severely injured. He received his Medal of Honor nearly forty-years after the battle.
In 2012 a large number of monuments through out the cemetery had been displaced. The goal for the future of the cemetery is to preserve the cemetery remaining's. In 2007 the monument and cemetery was listed on the National Register of Historic Places.
Sources
1. History of Norfolk Cemetery. NSCC. Accessed October 15, 2017. http://www.norfolksocietyforcemeteryconservation.org/west-point-cemetery.

2. West Point Monument Honoring William Carney in the Elmwood Cemetery. African American Historic Sites Database. Accessed October 15, 2017. http://www.aahistoricsitesva.org/items/show/480.

3. West Point Monument Norfolk's Civil War African American Heritage. HMdb. Accessed October 21, 2017. https://www.hmdb.org/marker.asp?marker=84001.






Additional Information