Greenwood Cemetery
Introduction
Greenwood is one of the oldest cemeteries in Tuscaloosa County, having been laid out shortly after the first survey of the city of Tuscaloosa in 1821 (or possibly earlier, in 1819). In it are the graves of many of early Tuscaloosa's most prominent citizens. Among those is Dr. John Drish, a famed doctor and landowner; Solomon Perteat, a prominent free, Black craftsman who lived in Tuscaloosa prior to the Civil War; and Rev. Charles Stillman, the founder of Stillman College.
Images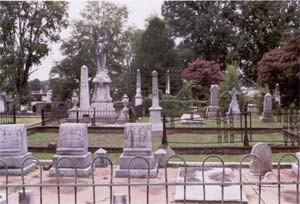 Backstory and Context
The cemetery is also the location of the grave of Confederate General Philip Dale Roddey, whose life after the Civil War has puzzled historians and remains unclear. Even the exact date of death, interestingly, is not certain. He was born in Moulton, Alabama and despite not receiving much education growing up (he did get an apprenticeship with a tailor) he became Sheriff of Lawrence County at 26 years old. He then eventually became a steamboat captain. During the Civil War, he led a cavalry force called the Tishomingo Rangers and earned a solid fighting reputation. He finally surrendered in May, 1865.

After the war his reputation suffered from accusations of being to close to the North. Some claimed he surrendered on condition of receiving a full pardon, which he did eventually obtain. After working for a time in Tuscaloosa, he and his wife went to New York City. This was an odd move for a southerner who fought vigorously against the North. In New York, he became involved with another woman, and was accused of participating in a scheme to steal cotton. He fled, it seems, to England to avoid jail time and one theory argues that Roddey died in London in 1897. As to how his remains were transported back to America, it is unknown. What is certain is that he is interred next to his wife, who died in 1881.
Sources
"Greenwood Cemetery is full of history, raises questions about Confederate general." Tuscaloosanews.com. May 23, 2015. http://www.tuscaloosanews.com/opinion/20150523/southern-lights-greenwood-cemetery-is-full-of-history...