Ray Charles Memorial Plaza
Introduction
This memorial plaza was created by the city of Albany in honor of their most famous entertainer and a man who pushed the boundaries music and race and demonstrated what handicapped people could accomplish. The plaza was completed in 2006 and offers a sprawling landscape of musical notes and benches surrounding the statue of Charles and his piano. The monument puts on a show every night, lighting up while speakers play Charles' music. Cast in bronze, the statue was sculpted by Andy Davis and is one of only two statues of Ray Charles. Charles pushed the boundaries of music, African American culture, and public perception of what it meant to be handicapped. The plaza was designed by architectural firm Jordan, Jones and Houlding with the help of students from the Georgia Academy for the Blind.
Images
This memorial park opened in 2006.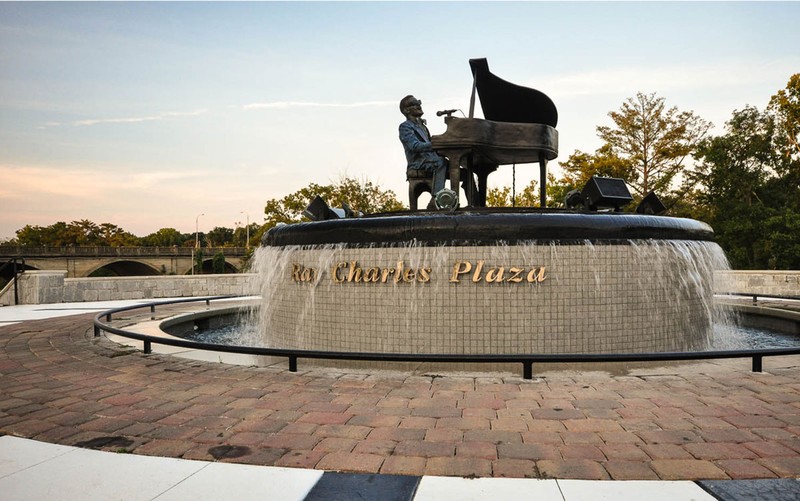 At night, the statue lights up, rotates, and plays songs like "Georgia on my Mind". This song is became Georgia's state song.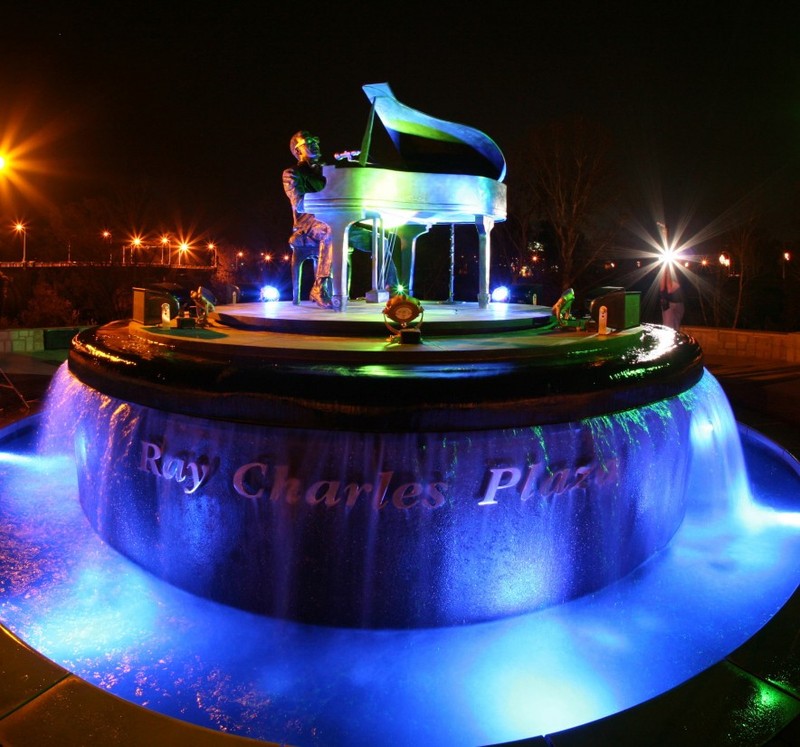 Backstory and Context
Ray Charles Robinson was born on September 23, 1930 in Albany. Raised in Greenville, Florida, Ray Charles began to play the piano before he turned 5. He would lose his sight at the age of 6 due to untreated glaucoma. Having been musically inclined, he would focus on the subject in his blindness. Charles would go on to study music at the St. Augustine School for the Deaf and Blind. There he would learn to compose music in braille and learn other instruments other than the piano. Charles would attend the school from 1937 to 1945.
Besides his blindness, Charles lost both of his parents before the age of 15. Putting his focus into music, he would go to work in various jazz bands around Greenville. It was here that he would drop the last name of Robinson to separate his name from the famous boxer with the same name. After years of work, Charles knew that if he was going to make it big, it wouldn't be in Florida. Setting his sites on stardom, he made his way to the West Coast.
Charles would score his first Top 10 R&B hit with "Baby Let Me Hold Your Hand" in 1951. Shortly after Charles would start his first national tour after. In the years after his first hit, he would go on to arrange for some prominent names in the 1950s music industry. One of the more prominent acts would be his piano work on Guitar Slim's, "The Things I Used to Do". During his arrangement days, musicians would come to know him as "Genius" because everything he touched did well in the charts. After arranging for others, Charles would go back to writing and arrange for himself.
Starting in 1959, Charles began to record his own hits. He would record 5 number 1 singles and win a Grammy for "I Can't Stop Loving You". In 1965, Charles would be arrested for the possession of illegal substances. Charles would take a break from work, to focus on getting clean. When Charles returned to music, he would continue making hits but his tastes were shifting from his original works. Charles would go on to make some country records that would feature other prominent artists.

Charles would not only be active in the music scene. He would star in a number of films and also be active on the political scene. Charles was a big supporter of Martin Luther King Jr, providing much of the funding that allowed King and his Southern Christian Leadership Council to operate in the face of opposition. Robinson would also start the Robinson Foundation for Hearing Disorders in 1987.
Charles passed away in June, 2004. The same year that Jamie Fox, won best actor for his portrayal of Charles in the film "Ray". Charles won seventeen Grammies, a Lifetime Achievement Award, and was awarded the National Medal of the Arts by President Bill Clinton. Charles made his mark on the world not just his music but in the things that he helped create. However, his biggest contributions were to music and showing the world what a blind person could accomplish with willpower.
Sources
Kemp, Mark. Ray Charles Bio. Rolling Stone. Accessed October 02, 2017. http://www.rollingstone.com/music/artists/ray-charles/biography.

Charles, Ray. Ritz, David. Brother Ray: Ray Charles' Own Story. Boston, MA. De Capo Press, 2004.

Ray Charles Plaza. Albany Georgia. Accessed October 02, 2017. http://www.albanygeorgia.biz/raycharles/plaza.html.

Additional Information