Simpsonville Massacre
Introduction
January 25, 1865 - Twenty-two soldiers of the 5th U.S. Colored Calvary, Co. E were ambushed by Confederate guerrilla soldiers while en route to Louisville, KY. Reports indicate that most of the men buried here were killed while attempting to surrender or after surrendering. Despite efforts of some local citizens, there was not an official investigation as to whether the men were killed in a skirmish or after they surrendered as reported by survivors. If killed while surrendering, the episode is one of many instances where Black soldiers were not properly armed or trained and then slaughtered by Confederate soldiers after they surrendered. A local African American fraternal organization maintained the gravesite until 1965 when their final member died.
Images
This historical marker and twenty-two gravestones honor the USCT soldiers who were buried in a mass grave.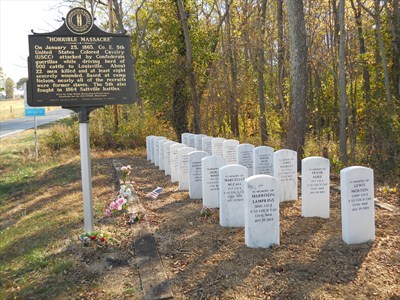 Backstory and Context
On January 25, 1865, while driving 900 head of cattle, members of the 5th U.S. Colored Calvary was attacked by Confederate guerrilla soldiers while driving 900 head of cattle from Camp Nelson to Louisville, KY. Under the command of 2nd Lt. Augustus Flint, most of the men had been assigned to either the front or the rear of the spread out herd.
As the unit approached Simpsonville, they were attacked by 15 Confederate guerillas led by Capt. Dick Taylor. The 5th USCC, carrying muzzle-loaded Enfield infantry rifles were outgunned by the Confederate guerrillas who carried 6-shot revolvers. All but two of the Black Union soldiers bringing up the rear were either wounded or killed. In total, 22 Union soldiers were killed--19 while either trying to surrender or after they were disarmed.
The citizens of Simpsonville helped care for the wounded and buried the dead in a mass grave. Regiment Commander Louis Henry Carpenter documented the names of the Confederate guerrilla soldiers and wrote a letter encouraging their prosecution. There is no record that the Confederate soldiers were held accountable.


Sources
http://www.armchairgeneral.com/simpsonville-civil-war-massacre.htm cihttp://www.waymarking.com/waymarks/WM9ZJN_Horrible_Massacre_African_American_Cemetery_Simpsonville_K Comhttp://www.lrc.ky.gov/record/Moments11RS/web/legislative%20moment%2028.pdfmande