Duke Hall of Citizenship
Introduction
Benjamin N. Duke, of tobacco, textile, and energy fame, donated the funds to build Duke Hall, which was completed in 1928. It has variously housed classrooms, the university's Lincoln collection, religious services, convocations, offices, and a performance center.
Images
Duke Hall as it appears today.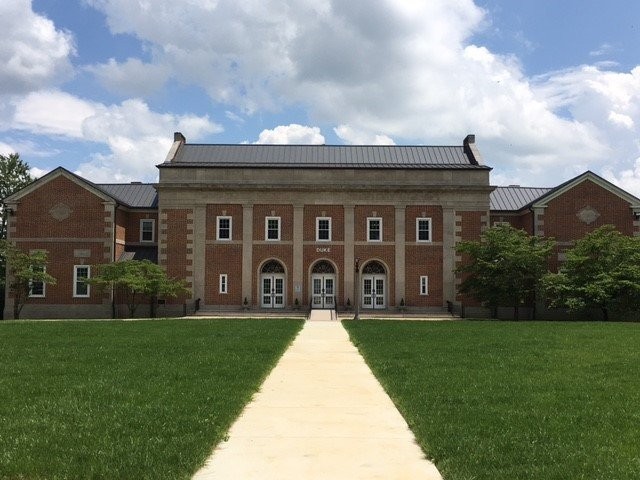 The World War II memorial located within Duke Hall.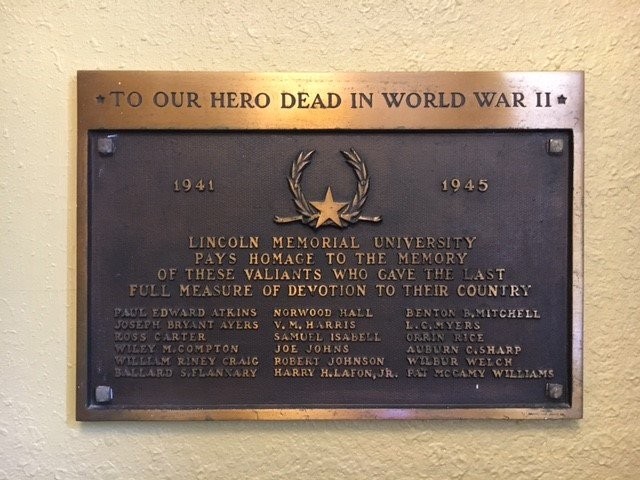 Numerous renovations have taken place within Duke Hall over the years. In this photo, items from the Lincoln Room were loaded up to be transferred to their new permanent home at the new Abraham Lincoln Library and Museum.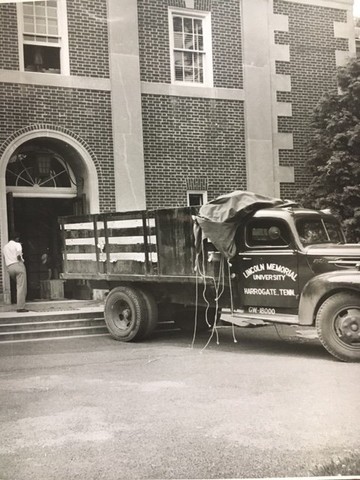 The Lincoln Room, as it was once known, housed the university's Lincoln collection prior to the construction of the Abraham Lincoln Library and Museum.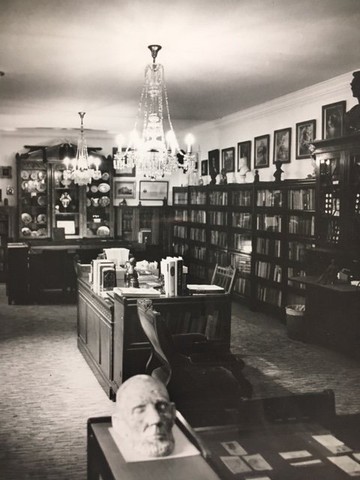 Many of the items seen in this picture of Duke Hall's Lincoln Room can be currently viewed at the Abraham Lincoln Library and Museum.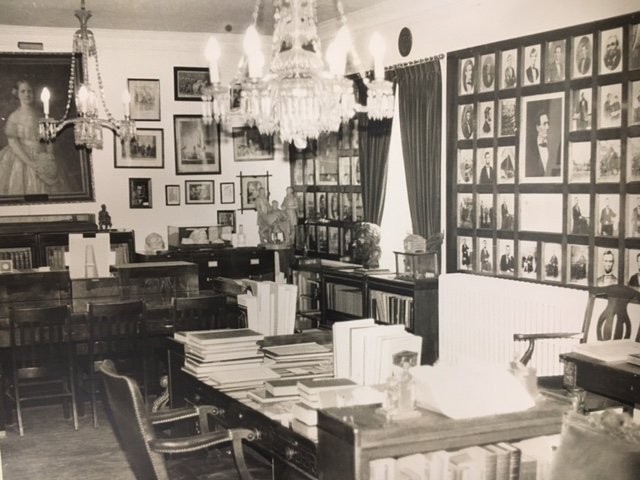 Backstory and Context
Numerous campus memories have been formed in Duke Hall. For many, this was the location of their university graduation, or a community performance. It has also welcomed several famous guests - on June 4, 1939, former president Herbert Hoover delivered the commencement address. After noting that his own past had "started from scratch," he declared, "Here at Lincoln Memorial University all of you have fought your own way to higher education." At the same time that Hoover visited, famed actor William Massey, who had recently portrayed Abraham Lincoln on both stage and in film, received the Lincoln Diploma of Honor. Massey's appearance with Hoover was a small coup for the university, as the national media covered the event.
Duke Hall's auditorium was also the scene of patriotism and sorrow during WWII. Today, a plaque just inside the entrance commemorates LMU's WWII dead. Their names along with the location and dates of their death are as follows:
Lt. Joseph Bryant Ayers, September 24, 1944, in Klene, Germany
Lt. Col. William Riney Craig, December 15, 1944, in Subic Bay, LuzonCpl. Wiley M. Compton, June 26, 1944, in Normandy, FrancePfc. Ballard S. Flannary, June 13, 1944, in Normandy, FranceT/Sgt. Norwood hall, March 10, 1945Sgt. V.M. Harris, January 12, 1944, in the Asiatic TheatreLt. Samuel Isabell, February, 1944 in North AfricaSgt. Joe Johns, April 4, 1945, in GermanyLt. Robert Johnson, May 18, 1945, in Corpus Christi, TexasLt. Harry Lafon, Jr., September 7, 1944 in the Pacific TheatrePfc. Orrin Rice, June 11, 1944, during the Invasion of FranceCapt. Wilbur Welch, 1943Lt. L.C. Myers, December 6, 1941, in Leige, BelgiumLt. Pat McCamy William, May 31, 1943, in Coutrai, BelgiumPaul Adkins


The following account was written by Lou Odle Richards, Class of 1943:
On the day our nation declared war all classes were dismissed, and we were instructed to assemble in the auditorium. A radio with sound amplification was set up on the stage. We sat in silence, and listened to a history-making event about which we could not fully comprehend. A few seats in front of me our Dean of the college sat with his white head bowed. After a while, I saw that he was sobbing and shaking. I felt a great sorrow or him, and was at a loss to understand his emotions...

Many boys left the campus for service, and our enrollment dropped fast. We who were there experienced some grievous days when word came that one was missing or killed in action. Some of the local boys' funeral services were held in the same auditorium where they had heard the declaration of war.

One afternoon some of us girls gathered at our dorm window when the college president's secretary was brought down from her office. She had just received word that her fiance, one of our fellow students, had been killed. We grieved for both of them.

Our graduating class was small in 1943. The night before commencement some of us went up to a class building to find the old campus bell. Traditionally we tolled it once for each graduate, and went our way with sadness for our friends, those who would have graduated with us, classmates who were absent, those whom we had lost and those still in service. Graduation was not a particularly happy occasion at Lincoln Memorial University on that June day in 1943.



Sources
Hess, Earl. Lincoln Memorial University and the Shaping of Appalachia. Knoxville, TN: University of Tennessee Press, 2011.

Page, Bonnie and Cindy Stephenson. Lincoln Memorial University (Memories and More). Harrogate, Tennessee: PrintOne, 2001.

Sweet, Natalie. Images of America: Harrogate and Cumberland Gap. Charleston, South Carolina. Arcadia Publishing, 2014.

Suppiger, Joseph E. Phoenix of the Mountains: The Story of Lincoln Memorial University. Harrogate, TN: Lincoln Memorial University Press, 2001 (originally published in 1977).
Additional Information