Grant Lee Hall
Introduction
Originally the Four Seasons Hotel's luxurious Sanatorium, Grant-Lee Hall took its name from the Civil War's two most famous generals: Ulysses S Grant and Robert E. Lee. Over the years, it has burned down on two locations, been rebuilt, served as both student and faculty housing, and now serves as administrative offices.
Images
The Sanitarium as it looked during the days of the Four Seasons Hotel.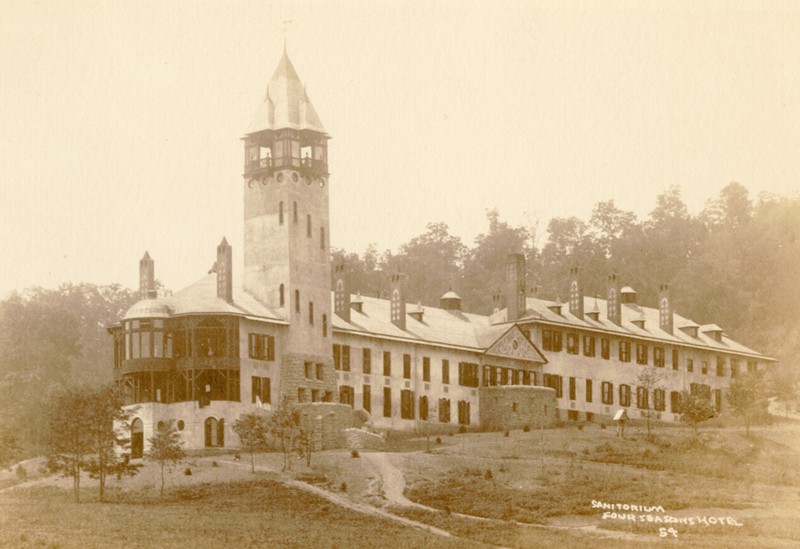 A visitor stares off to the South in this early picture from the building.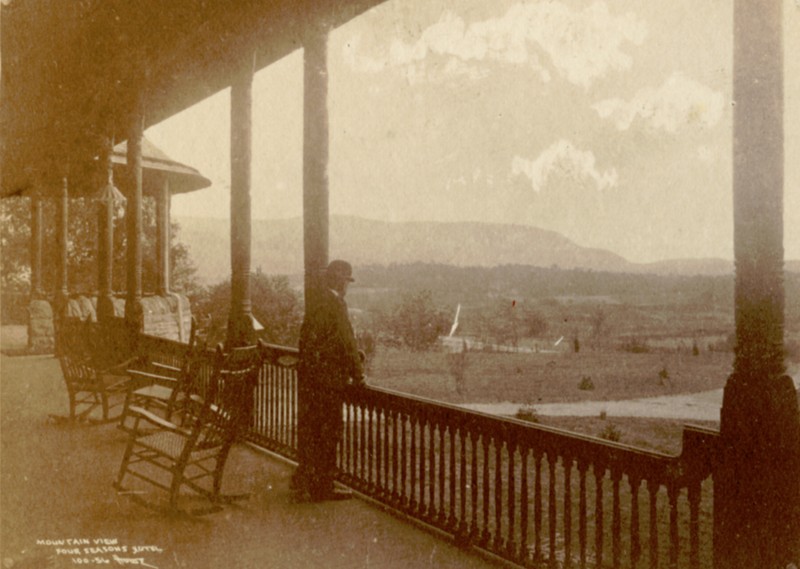 Backstory and Context
Built along with the Four Seasons Hotel, Grant-Lee Hall began as a luxurious sanatorium that could house up to 200 guests. The sanitarium was not completely a hospital for potentially ill guests, however (indeed, only one person was supposedly ever treated for illness); it was the Victorian equivalent of a spa getaway. Guests could indulge in hot baths, utilize gymnastic equipment, or receive a relaxing massage.

Unfortunately, the sluggish pace of visitor growth throughout 1892 was a sign of the bad times to come for the sanitarium. When financial difficulties hit during the Panic of 1893, the Four Seasons Hotel and its Sanitarium, a 20 million dollar investment, collapsed. The Four Seasons Hotel was demolished and dismantled for scrap, leaving only the sanitarium and grounds to be sold by the Columbia Finance and Trust Company of Louisville. Eventually, Lincoln Memorial University rose up from the remains.

Grant-Lee Hall took its name from university founders who hoped that LMU would become "an expression of renewed good will and fraternal feeling" between what was once a divided nation. Board members had served in both the Union and Confederate armies. As such, some wanted to name the former sanitarium for one of the prominent generals from that war. Howard suggested that the two names come together, "joining hands."

Now Grant-Lee Hall, the former sanitarium acted as housing for faculty. In 1904, however, the building burned to the ground after a massive fire swept through it. Workers had to sort through the rubble, with largely only the stone arches and base of building remaining. The building burned down again in 1950, giving birth to the story of "the Lady in Red." According to campus legend, a woman dressed in red signaled to the students that a fire was about to occur just before the flames began.






Sources
Hess, Earl. Lincoln Memorial University and the Shaping of Appalachia. Knoxville, TN: University of Tennessee Press, 2011.

Page, Bonnie and Cindy Stephenson. Lincoln Memorial University (Memories and More). Harrogate, Tennessee: PrintOne, 2001.

Sweet, Natalie. Images of America: Harrogate and Cumberland Gap. Charleston, South Carolina. Arcadia Publishing, 2014.

Suppiger, Joseph E. Phoenix of the Mountains: The Story of Lincoln Memorial University. Harrogate, TN: Lincoln Memorial University Press, 2001 (originally published in 1977).
Additional Information