Buckley House
Introduction
Resource No. 75, Carpenter Gothic Revival (vernacularized) built around 1890. The home is representative of a rare type of construction and exterior sheathing. This is a private residence and is not open to the public.
Images
777 Johnson St. San Luis Obispo, CA 93401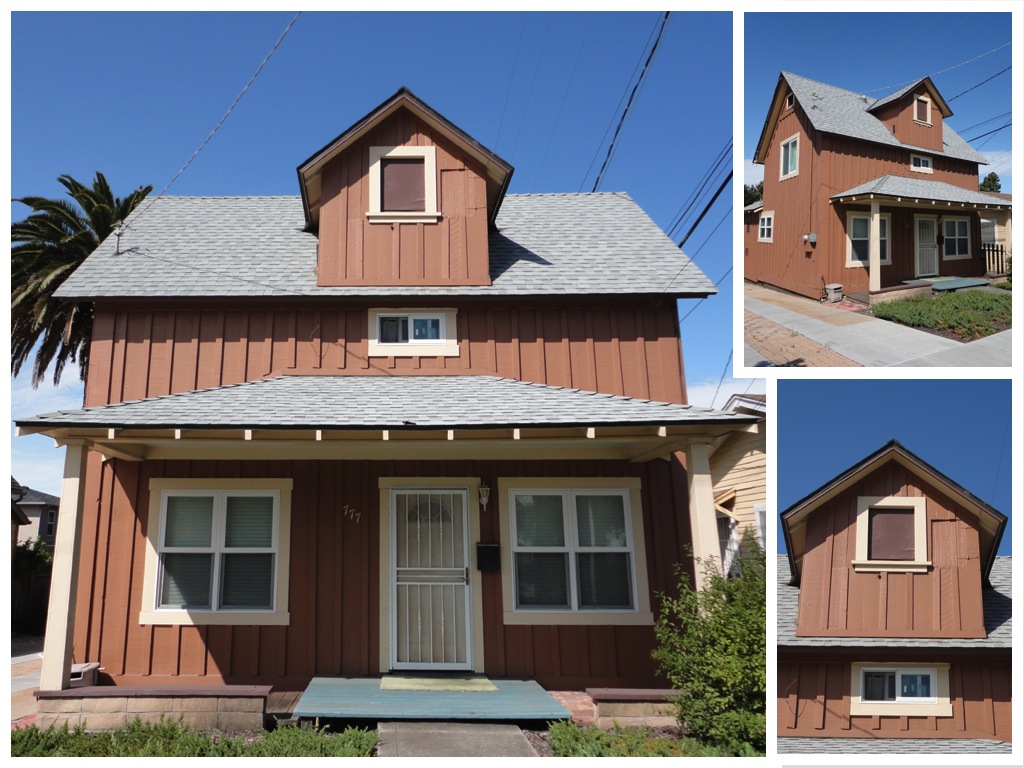 Backstory and Context
This structure might best be described as vernacular Carpenter Gothic Revival. It is a simple rectangular building with a steeply pitched main gable roof and a street-facing dormer. The newer covered porch protects a central entrance flanked by multi-paned double-hung windows. The building is clad in vertical board and batten redwood siding typically found in residential and agrarian structures of that period.
Sources
Now converted to residential use, this building was originally the carriage house for the Shipsey family at 1266 Mill Street (No. 12 on our photo). The carriage house was used to store the family's wagon or buggy, the horse and horse feed, and associated gear. The building was actually used as a carriage house up until the early 1980s for a local businessman who used a horse-drawn carriage to offer rides to visitors to our downtown.
Since San Luis Obispo was a small town in 1906, there was not a great demand for commuter vehicles. Most people could easily walk to work from where they lived. Carriages were not mass-produced as automobiles are today. They were individually assembled by craftsmen and were thus relatively more expensive than today's vehicles.
In 1906, San Luis Obispo had at least eleven carriage-related businesses: Blacksmiths who made horseshoes and metal wagon parts, harness makers and wagon sellers.
During that time, typical vehicles on the streets would have included: spring wagons, buckboards, buggies, carts, chaises, surreys, and phaetons. Specialized vehicles would have included bread wagons, meat wagons, mail wagons, farm wagons and drays. In 1897, the County bought a sprinkling wagon to keep the dust on the roads under control.