Marsalis Mansion Motel Historical Marker
Introduction
From its opening in 1943, Marsalis Mansion Motel offered lodging for people of color in New Orleans during the era of segregation. The structure was originally intended for use to support a chicken farm for Ellis Marsalis Sr, but eventually the owners eventually converted the structure as a small luxury motel and an important institution for the Black community in this section of New Orleans. The hotel saw many famous guests such as Martin Luther King, Ray Charles, Thurgood Marshall, and more. The hotel closed in 1986 and was razed in the early 1990s. This historical marker was dedicated in 2015 and preserves the history of the hotel and its significance.
Images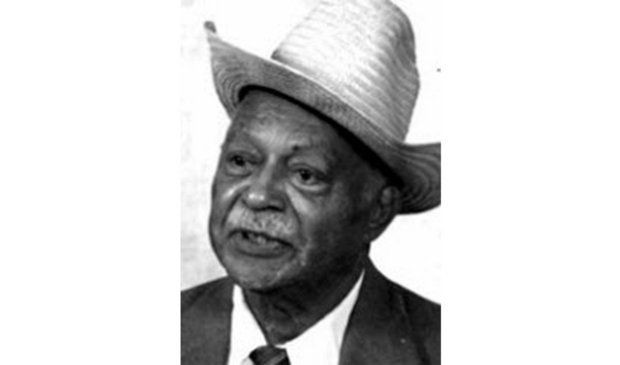 Ellis Marsallis Sr strikes a pose in front of the motel's pool sign.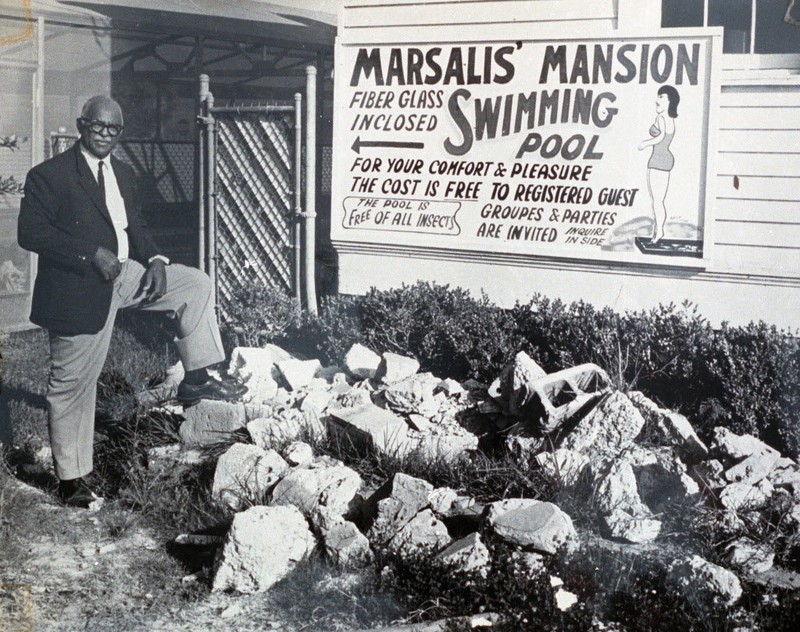 This is all that is left of the motel after it's complete demolition in 1993.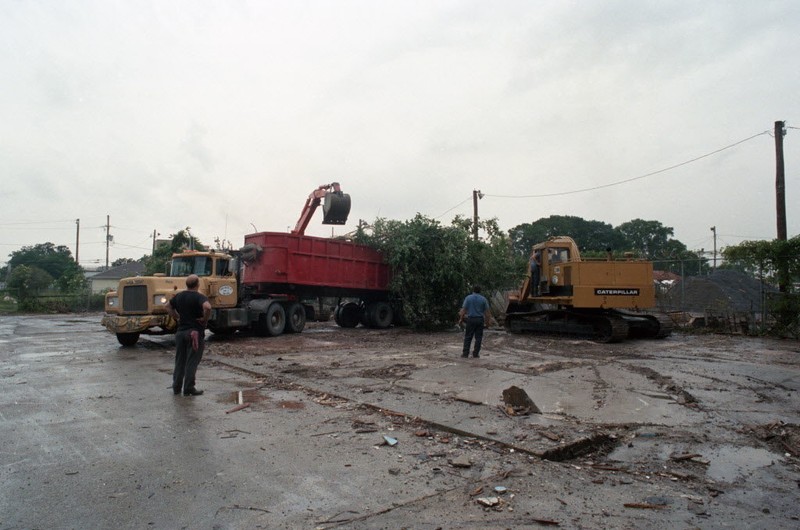 Ellis Marsalis Jr and his sister Yvette Washington at the dedication of the historical marker for his family's famous motel.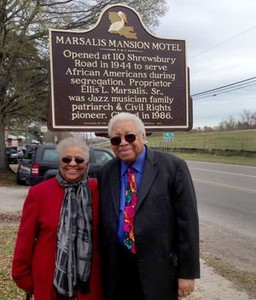 Backstory and Context
Born in Summit, MS in 1908, Ellis Marsalis Sr witnessed quite a bit of racial violence and injustice. As a result, when he was a young man he was determined to purchase his own land, fend for himself and not have to depend on anyone for anything. He had his sights set on being a self-made man with his own business. In 1936, he owned an Esso filling station, becoming the first Black owner of such an establishment in Uptown New Orleans. He also worked many different jobs and saved his money with the goal being to purchase his own property. A few years later, after Marsalis had saved up $5000, he purchased a parcel of land that was once part of the Rosedale Plantation.
Marsalis originally had intended for his purchased land to be a home for his family and a chicken farm. Marsalis had a barn, a home, and tended a couple of cows. After the purchase, though, he discovered it was not suitable for chicken farming and he had to come up with another plan. After being asked to use his barn as a meeting place for people of color – Marsalis revamped the loft of the barn for use as a meeting place and a couple of sleeping rooms. During segregation – people of color could not stay in white hotels/motels and any sort of meetings of groups of such people would not be encouraged either. One of the groups that utilized his space was the National Urban League. With the understanding that Marsalis was not one to stir up trouble, he asked that they remain low key and not take pictures and shake hands outside in the yard. Eventually, though, Marsalis would discover that trouble was unavoidable.
Marsalis expanded his motel to include 40 sleeping rooms, a covered pool, a restaurant, and a nightclub. The barn was always central to all the expansion projects of the motel. The motel hosted sophisticated parties, card games, and the nightclub hosted famous musicians such as Ray Charles, Ike and Tina Turner, and Dinah Washington. The guests were veritable whos-who in the areas of civil rights and music. Marsalis Sr's son, Ellis Marsalis Jr, ended up as a very talented jazz musician himself, which no doubt had some roots in him growing up in the atmosphere of his family's business. The motel had a covered pool that they advertised as having "no bugs" and had other luxuries such as color TVs in the rooms, telephones, and a built-in music system in all the sleeping rooms where the guests could request the music they wanted to hear.

The motel was beautiful but just as other Black-owned businesses of its time, it faced racial attack including smoke bombs and one incident where a white man tried to get into a Black woman's room by breaking the window with a brick. Marsalis had been paying a police officer for extra protection for the motel, who later attempted and failed to extort Marsalis for more money. He had threatened that if Marsalis did not increase the payment from $5 to $20 per week – that the officer would see to it that the motel would be forced to close its doors. Marsalis stood up to him and wasn't subject to extortion attempts again. As the man who formerly didn't want to stir up racial trouble, ironically Marsalis went on to champion the cause of getting people of color to register to vote and even formed a booster club that helped with Black voter registration and raised money to assist Black students in paying for higher education. He grew to be a highly valued businessman and civil rights, activist.

As racial integration became more widespread throughout the region, the Marsalis Mansion Motel saw a decline in clientele as there were no other options for people of color. Motel patrons went from people of wealth or distinction to more questionable characters. The motel gained the reputation as a "flophouse" and place to go to cheat on your spouse. The motel fell into disrepair and eventually closed in 1986. However, Marsalis continued to live in his home on the motel property until he passed away in 2004. He was survived by his son the famous jazz pianist, Ellis Marsalis Jr, and his daughter who helped run the motel for its final 30 years, Yvette Washington. The entire property was condemned and then demolished in 1993, with nothing remaining of the motel or the home except in people's memories of the grandeur of what it once was. All that physically remains now is the historical marker on the property, dedicated in 2005.

Sources
Quinlan, Adriane. Do you remember the Marsalis Mansion Motel?. Nola.com. December 31, 2017. http://www.nola.com/politics/index.ssf/2014/12/do_you_remember_the_marsalis_m.html.

Quinlan, Adriane. With a River Road historical marker, Ellis Marsalis Sr. gets his due. nola.com. January 08, 2015. http://www.nola.com/politics/index.ssf/2015/01/marsalis_mansion_motel_honored.html.

Parker, Nancy. Marsalis Mansion owner leaves a legacy of giving. fox8live.com. January 09, 2015. http://www.fox8live.com/story/27808171/marsalis-mansion-owner-leaves-a-legacy-of-giving.


Additional Information