Central Presbyterian Church
Introduction
Central Presbyterian Church has been an active and integral religious institution in Atlanta since its inception in 1858. The church building was erected in 1885 and designed by Edmund G. Lind, an English native who lived in Atlanta for ten years. Lind designed the building in the English Gothic style. The church is perhaps better known for its long-standing support to social and economic justice, a characteristic that has kept it at the forefront of pressing issues of the day, such as labor and civil rights. For these reasons, the church was listed on the National Register of Historic Places in 1986.
Images
Central Presbyterian Church was founded in 1858 and built its current church in 1885.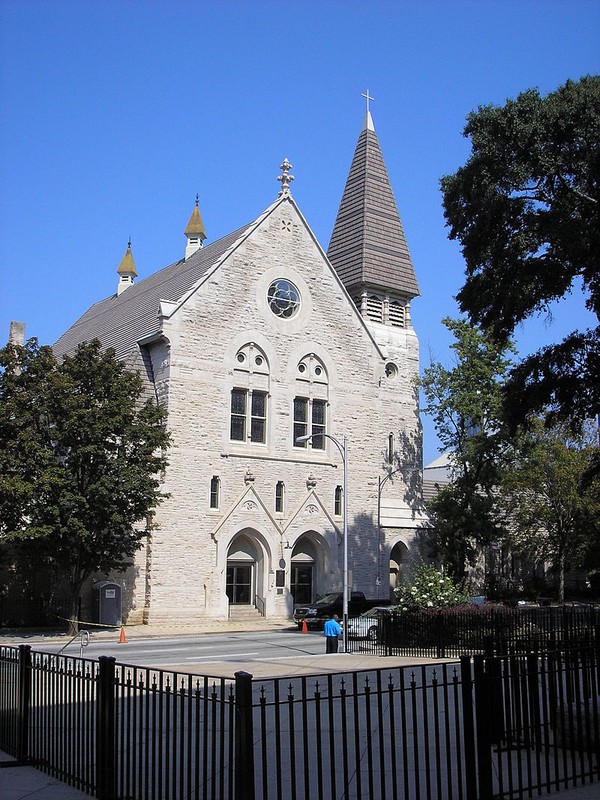 Backstory and Context
The church had a tumultuous beginning. Thirty-nine members of the Atlanta Presbyterian Church (the first Presbyterian church in the city) decided to split and form a new church. It is unclear exactly why but accounts state that there was some kind of serious intractable dispute that led those members to leave. After first holding services in the capitol building, the first church building was constructed in 1860.
The Civil War and post-war period was difficult. Two of the church's pastors fought for the Confederacy and one of them was captured. When Union troops occupied the city, the Sunday School building was used as a slaughterhouse. After the war, the church became focused on enforcing individual morality. This rose to another level in 1877, when a "reign of terror" began, which entailed trials and public shaming of members who failed to follow strict rules against activities such as card playing, attending the theater, and dancing. One case was particularly infamous. The church put on trial a father who allowed dancing at his daughter's Christmas party.
Thankfully, by 1890, the church returned to a less stringent focus, and began to emphasize its commitment to serving the needs of the community. In the coming decades, the church would start outreach programs, support labor strikes and the demand for fair wages and treatment, and call for racial equality. For example, in 1907 the church formed the Atlanta Union Mission, which provided food and shelter to the homeless (this still exists today), and in 1912, the
Young Women's Bible Class led the effort to establish dormitories for single female workers, who previously had to resort to prostitution to support themselves
.
In 1968 following the murder of Martin Luther King Jr., the church offered shelter and food to the thousands of people who came to King's funeral. Church leaders soon made a commitment to build bridges between the white and Black communities.
Central Presbyterian continues its tradition of supporting social justice today.
Sources
"History and Mission." Central Presbyterian Church. Accessed October 8, 2017. https://cpcatlanta.org/history-mission.

Thomas, Kenneth. "Central Presbyterian Church." National Park Service - National Register of Historic Places Nomination Form. https://npgallery.nps.gov/GetAsset/5263e26e-392a-4491-8fdb-f64a99bd3696.

Photo: Blastoids, via Wikimedia Commons
https://en.wikipedia.org/wiki/Central_Presbyterian_Church_(Atlanta)#/media/File:Central_Presbyterian...

Additional Information