Coeur d'Alene Park - Spokane's First Park
Introduction
The land that would become the first park in Spokane's history was given to the city in 1891 by two real estate developers; John J. Browne and A.M. Cannon. The two developers thought that their property would be more appealing and commercially valuable if a grand park was located in the midst of the homes and other property they were building. The park was beloved and inspired future parks, but developers came close to acquiring the land and closing the park in 1896. The local community galvanized around the preservation of the park and also worked to revitalize the park with the construction of a bandstand that led to the area being the site of many concerts and political events. That same gazebo has been maintained through the years and is a hallmark of the park's history. Today the park is used by all ages and host to small music festivals in the summer.
Images
Gazebo at Coeur d'Alene Park cirque it's original construction. (1908)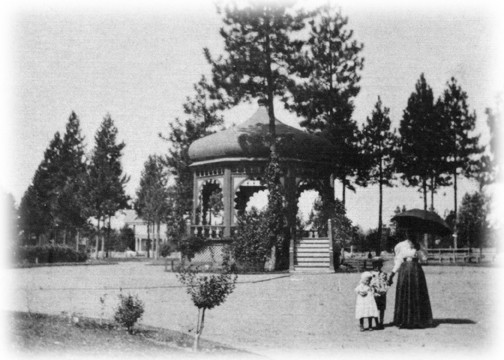 Backstory and Context
Coeur d'Alene Park was established in 1891 and became the first public park in the city. The land for the park was ceded to the city by two wealthy real estate developers. J.J. Browne and A.M. Cannon donated the land in an effort to make their property more appealing. A park, they correctly figured, would surely increase their property value.

On March 18th, 1897, an article titled May Close The Park appeared in the Spokane Daily Chronicle. There was general frustration among the Park Commission as they struggled with minor vandalism and a lack of maintenance funds. The park did not close, however. The community came together to save the public space, and a bandstand was built in the center of the park. The bandstand - twenty feet by twenty feet - was converted into a gazebo in 1908. The structure slowly degraded over the years and a replica was built in 1990, by which time the original had rotted away. In 2013 a renovation effort was directed towards the again rotting gazebo, and it was retrofitted with durable, lasting materials. Today, the onion dome and the base remain from 1990, but the rest of the structure is relatively new.

The park celebrated one hundred and twenty-five years in 2016 with a month-long celebration. Maintenance and fundraising for the park today comes largely from the community organization Friends of Coeur d'Alene Park, which came together with the 2013 renovation of the gazebo. The park is open from dawn to dusk and can be enjoyed by all ages. Events, such as concerts, are sometimes held in the park.
Sources
Friends of Coeur d'Alene Park correspondence of members with author.
Hallenburg, Pia, "Coeur d'Alene Park Gets a Facelift," Spokesman Review, Aug. 8th, 2013, accessed October 7th, 2017.
Prager, Mike, "Neighbors Plan 2016 Celebration for Coeur d'Alene Park," Spokesman Review, Oct. 28th, 2015, accessed October 7th 2017.
Additional Information