Atlanta Holocaust Memorial "The Six Million"
Introduction
Nationally recognized architect and Holocaust survivor Benjamin Hirsch designed this award-winning memorial to the six million Jews who were killed in Europe during World War II. The monument was dedicated in April 1965 and consists of four stone walls and four entrances that guide visitors to a central area for quiet contemplation and remembrance. On the front wall is a plaque with an inscription from the book of Genesis in Hebrew, Yiddish, and English: "The voice of the blood of they brother crieth out to me from the ground." Hirsch chose four walls to represent the corners of the earth, therefore welcoming anyone to visit the memorial. This area features six tall poles meant to mimic torches; each represents one million of the six million who perished. They are lit during events held at the memorial, including the annual Holocaust Remembrance Day. Listed on the National Register of Historic Places, the memorial was the second Holocaust memorial built in the country.
Images
This is a view of the inner part of the memorial where the six torches are located.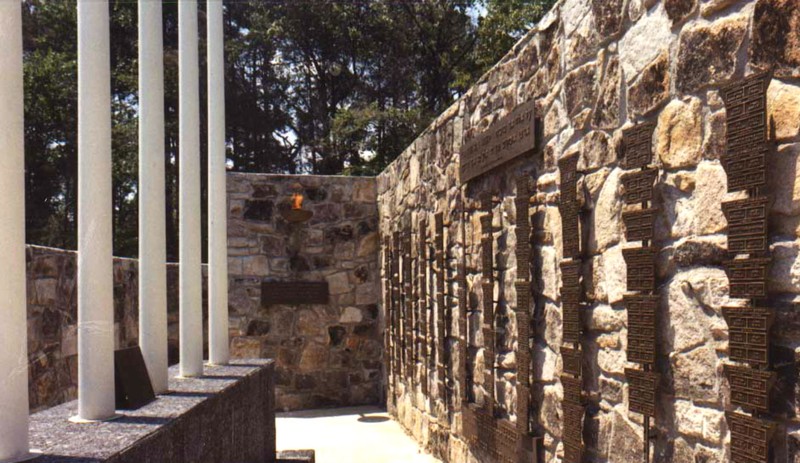 Backstory and Context
Benjamin Hirsch earned his degree from Georgia Tech in 1958 and his architecture license in 1962. That same year he saw an announcement published in the predecessor to the Atlanta Jewish Times about a meeting to create a Holocaust memorial in Greenwood Cemetery. Hirsch offered to design the memorial and helped the plan grow from its initial vision of a singular six-foot tall monument to its more ambitious design.

Hirsch was able to flee to Paris from Frankfurt, Germany in 1938, on a train transporting children away called the Kindertransport. That was the last time he saw his mother. He had two younger siblings but they were too young to go with him. Later that day his father was arrested and taken to Buchenwald concentration camp and then to Auschwitz, where he was killed in 1942. In 1943, his mother and siblings were killed at Auschwitz.
Sources
Moffson, Steven. "Memorial to the Six Million." National Park Service - National Register of Historic Places Nomination Form. April 21, 2008. https://npgallery.nps.gov/GetAsset/a7398c32-6d2b-4dfb-a0a7-84872c63ae5b.

Staples, Gracie B. "Remembering the six million Holocaust victims." The Atlanta Journal-Constitution. April 09, 2015. http://www.myajc.com/events/remembering-the-six-million-holocaust-victims/Z4eYmagjhSO9fHmqIXrEWK.

Photo: The Breman Museum
http://www.thebreman.org/Events/Archived-Events/06-05-2016-Historic-Jewish-Atlanta-Tours-Memorial-to...

Additional Information