Alexander Hamilton Willard Grave & Historic Marker
Introduction
A small marker in Franklin Cemetery identifies the grave of Alexander Hamilton Willard, one of the last surviving members of the Lewis and Clark expedition. A native of New Hampshire, Willard died in Franklin in 1865.
Images
Marker at the grave of Alexander Hamilton Willard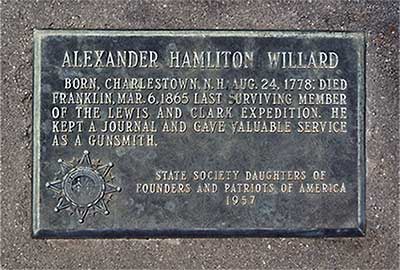 Alexander Hamilton Willard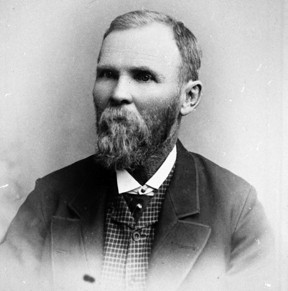 Backstory and Context
Alexander Hamilton Willard was born in either 1777 or 1778 in New Hampshire. He enlisted in the Corps of Discovery at the age of twenty-five and served the expedition as its primary Blacksmith, a skill he developed while serving in the army. Willard was also one of a few men on the expedition who were selected by Clark to assist in surveying the falls of the Missouri River. It was during this part of the expedition that Willard narrowly missed being attacked by a bear.
Willard's time with the expedition was not without other troubles. In 1806, while serving with Clark in his advance party as the Corps moved back up the Columbia River, Willard failed to picket his horse, which wandered off during the night and was not found. The Corps was already suffering for lack of horses, and the mistake angered Lewis. A daughter of Willard would remember, many years later, that her father was fond of Clark but did not speak often of Lewis. On another occasion, Willard was swept out of a canoe into the Missouri River.
Following the expedition, Willard lived with his wife in Missouri, where Clark helped him secure work as a Blacksmith. In 1852, the extended Willard family became one of thousands of American families who moved westward because of the Gold Rush. Willard died in Sacramento in 1865.
Sources
Alexander Hamilton Willard. Discovering Lewis and Clark. Accessed October 04, 2017. http://www.lewis-clark.org/article/2634.