Randolph Boat Ramp and Conway Chain of Lakes Historical Marker
Introduction
This historical marker shares the story of the Conway Chain of Lakes and the various docks that have been located here over the past centuries. The site has been maintained by Orange County Parks & Recreation since 2000, and has served as an access point to the Conway Chain of Lakes since the pioneer era. In the early years, the site was known by area residents as "Crittenden's Dock."
Images
Orange County historical marker at the Randolph Boat Ramp details the impact of the Conway Chain of Lakes on the region.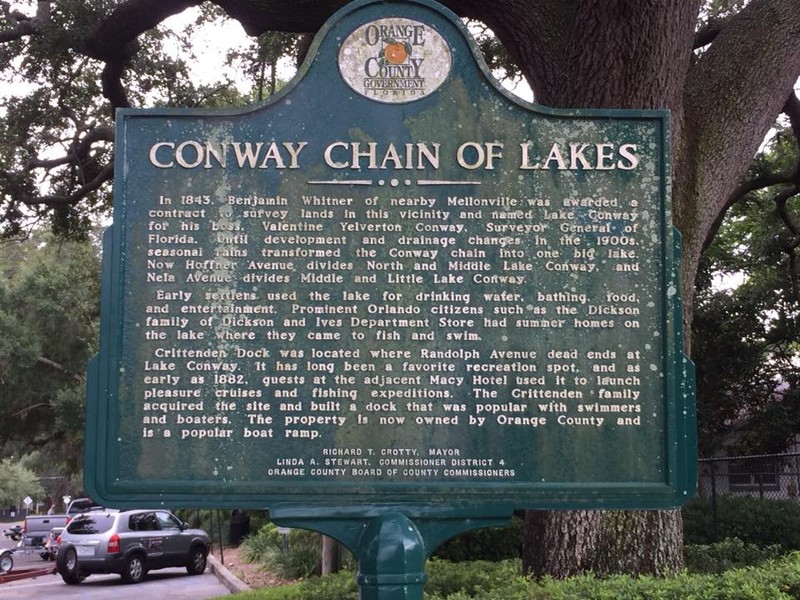 Backstory and Context
Native Americans called the region surrounding the Conway chain of lakes "Okehitanatchee," translated as "land of fair waters." In 1843, Benjamin Whitner of nearby Mellonville was awarded a contract to survey lands in this vicinity, and named Lake Conway for his superior Valentine Yelverton Conway, Surveyor General of Florida. Until development and drainage changes in the 1900s, seasonal rains transformed the Conway chain into one big lake. Now Hoffner Avenue divides North and Middle Lake Conway, and Nela Avenue divides Middle and Little Lake Conway.

Early settlers used the lake for drinking water, bathing, food, and entertainment. Prominent Orlando citizens such as the Dickson family of Dickson and Ives Department Store had summer homes on the lake where they came to fish and swim.

Crittenden Dock was located where Randolph Avenue, a road Will Wallace Harney named for his wife's family, dead ends at Lake Conway. It has long been a favorite recreation spot, and as early as 1882 guests at the adjacent Macy Hotel used it to launch pleasure cruises and fishing expeditions. The Crittenden family acquired the site and built a dock that was popular with swimmers and boaters. In 2000, Charles and Pearl Crittenden deeded the property to Orange County for use as a public boat ramp.
Sources
Additional Information