Angel House
Introduction
19th Century American Farmhouse constructed around 1880 is on the National Register of Historic Places. It was the residence of Myron Angel from 1896-1911; Angel was a writer, journalist/editor and County historian. He was an early owner/editor of the Tribune and later the Daily Republic newspapers. He was a founding father of Cal Poly. This building is a private residence and is not open to the public.
Images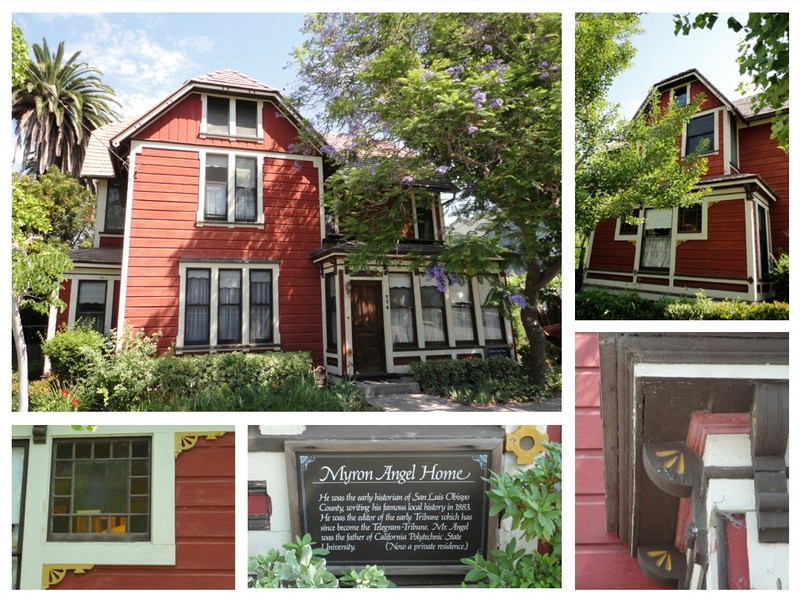 Backstory and Context
Many people, when they heard about the discovery of gold in California, dropped whatever they were doing and rushed to find their fortune. Not for Myron Angel. He had to be persuaded by his brother to resign his appointment to the United States Military Academy. After eleven months wandering and having an unpleasant journey, the brothers arrived broke in San Francisco in December 1849.Myron had just turned twenty-one.
For the next ten years, he worked at mining. The Feather River, the Sacramento, a claim in Nevada County, and hydraulic mining in El Dorado County were stops along the way, mostly with marginal results.
As a child Myron had helped his father produce a small hometown newspaper. That early experience helped him ease into a new career in journalism and writing. Several small town jobs eventually led him to the Editors desk at the Oakland Daily News. He also wrote for publications. His first major manuscript, a history of California, was never published. His History of Nevada was published.
In 1881 he came to San Luis Obispo to write a history of the county. The finished product, published in 1883, is the "Bible" of our local history. Myron remained in San Luis Obispo. He bought The Tribune newspaper in 1883 and the house at 714 Buchon Street in 1896.
The house was built between 1870 and 1880, the exact date is unknown due to lack of documentation. It was constructed of redwood connected by square head nails. The foundation of the house is made from 4x5 redwood posts upon redwood mudsills. The posts are spaced five feet on center of one another and trussed together to form an unbelievably secure foundation. The house was restored in 1974 by owners Leo and Peg Pinard.
Myron Angel lived in the house until his death in 1911.The funeral took place at his home.
Sources
http://gis.slocity.org/documents/Historic/714Buchon.pdf

Additional Information