Asia Society and Museum
Introduction
The Asia Society Museum was one of the first American museums to establish a program of contemporary Asian art. The Society was founded by John D. Rockefeller 3rd in 1956. The goal of the Society is to foster an understanding between peoples, leaders, and institutions in Asia and the United States. The Museum uses art and culture to encourage a global understanding of one another in order to ensure a shared future. The Museum holds tours, rotating exhibitions, and family events for visitors to enjoy.
Images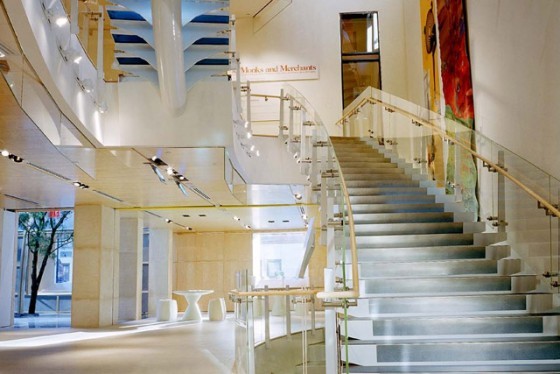 Outside of the Asia Society and Museum in New York City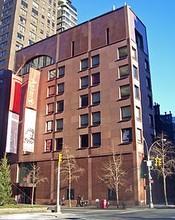 Backstory and Context
When the Asia Society was founded in 1956 by John D. Rockefeller 3rd, it sought to bring an understanding of societies in Asia to the United States. Since the founding, the Society has become a global institution with offices across both the United States and Asia. The institution continues to grow today as economies, social issues, and cultures between the two regions become more and more interconnected.
The building that houses the Asian Society and Museum was designed by
Edward Larrabee Barnes, and it was opened in 1981. The eight-story building was designed for the museum, offices, and conference space. The exterior of the building is made out of Oklahoma granite and consists of rectangular office windows along with two large semi-circular windows.

The artwork for the Museum began with a collection that was amassed by John D. Rockefeller 3rd, who believed that art was a way to merge societies through cultural understanding. From 1963 to 1978,
Sherman E. Lee, an art historian, helped Rockefeller expand this collection, which included sculptures, paintings, and decorative art from various regions across Asia. In 2007, the Museum began expanding its contemporary collection of Asian art, which has added nearly 100 works to the collection. The Rockefeller collection, along with rotating exhibitions, make the museum a worthwhile visit.
Sources
About Asia Society. Asia Society. Accessed 4/26/17. http://asiasociety.org/new-york/about.

Goldberger, Paul. ARCHITECTURE: ASIA SOCIETY BUILDING, A DESIGN FULL OF CIVILIZED. The New York Times. 4/11/81. Accessed 4/26/17. http://www.nytimes.com/1981/04/11/arts/architecture-asia-society-building-a-design-full-of-civilized.html.


Additional Information